Doo Wop Eras
The "Paleo-Doo-Wop Era" (approximately 1952-1954)
"Doo-wop music evolved slowly, unlike rockabilly which seemed to explode onto the scene in the 1955-1956 period. Between 1948 and 1951 the doo-wop characteristics of nonsense syllables and falsetto began to emerge in songs such as "It's Too Soon To Know" by the Orioles, "Count Every Star" by the Ravens, "Harbor Lights" by the Dominoes, and even in the immensely popular "Sixty-Minute Man," also by the Dominoes. That is not to say that these songs were even mostly doo-wop style; their backgrounds show that they are still oriented to jazz (Ravens) or rhythm and blues (Dominoes). By the period 1952-1954, however, a significant number of doo-wop characteristics can be discerned in slow songs by the Five Keys, Feathers, Orioles, And Vocaleers, and in fast song by the Chords, Crows, Drifters, and Shirley Gunter & the Queens. We labeled the style of this era "paleo-doo-wop," since the prefix "paleo-" means ancient, early or primitive.

Instrumentation, vocal arrangement and overall "feel" of paleo-doo-wop was still based in r&b and other progenitors. For example, the influence of r&b can be heard in "Hey, Baby Doll" by the Clovers and "Money Honey" by the Drifters. Gospel techniques are heard in such songs as "Heavenly Father" by the Castelles and
"The Bells Of St. Mary's" by Lee Andrews and the Hearts, and the influence of black popular vocal group harmony is found in "Foolishly" by the Three Chuckles and "Only You" by the Platters.

The changes that signaled the dawn of the doo-wop era were the appearances of blow harmonies and nonsense syllables, the use of falsetto to "run over" the lead (especially in ballads), and the punctuation of choruses by bass (especially in jump tunes). Lead singers in paleo-doo-wop were cut from the silky tenor mold of Clyde McPhatter of the Drifters and Rudy West of the Five Keys. Melisma was employed frequently, especially in ballads. Subject matter was at times suggestive in up tempo numbers, as it had been in rhythm and blues. The primary theme of classical doo-wop, namely innocent love, began to emerge here (as in such songs as "Gee" by the Crows and "Be True" by the Vocaleers). Many of the girls addressed by paleo-doo-woppers had already "done it," while those glorified in later stages were waiting for the church bells to ring."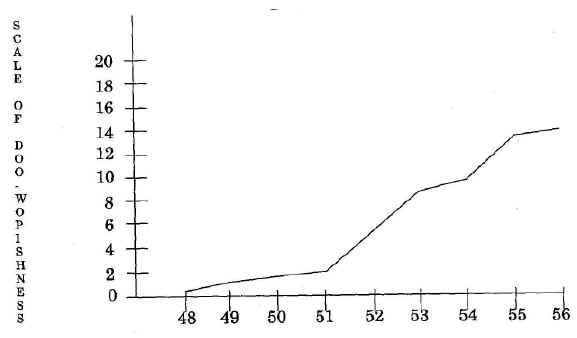 Prominent Examples of the Paleo-Doo-Wop Era:
Group
Song
Tempo
Year
Cadillacs
Chords
Clovers
Crows
Diablos
Drifters
Five Keys
Harptones
Hearts
Jewels
Meadlarks
Medallions
Moonglows
Orioles
Penguins
Rivileers
Robins
Wrens
Gloria
Sh-Boom
One Mint Julep
Gee
The Wind
Honey Love
Out Of Sight, Out Of Mind
A Sunday Kind Of Love
Long Lonely Nights
Hearts Of Stone
Heaven and Paradise
Buick 1959'
In My Diary
Crying In The Chapel
Earth Angel
A Thousand Stars
Smokey Joe's Cafe
Come Back My Love
Slow
Fast
Medium
Fast
Slow
Fast
Slow
Slow
Slow
Fast
Slow
Fast
Slow
Slow
Slow
Slow
Medium
Fast
1954
1954
1954
1954
1954
1954
1956
1953
1957
1954
1955
1954
1955
1953
1954
1954
1955
1955