The Drifters Featuring Clyde McPhatter

( l to r) Bill Pinckney, Willie Ferbee, Clyde McPhatter, Andrew Thrasher and Gerhart Thrasher -1953

Members 1953 - 1958:
Clyde McPhatter - lead - replaced by David Bauighan in 1954 - replaced by Johnny Moore in 1955, replaced by Bobby Hendricks in 1957
Gerhart Thrasher - tenor
Andrew Thrasher - baritone - replaced by Charles Hughes in 1956
Bill Pickney - bass - replaced by Tommy Evans in 1956. Pickney rejoined the group in 1957
Jimmy Oliver - guitarist

Members 1959 - 1966
Ben E. King - real name Benjamin Nelson - lead - replaced by Rudy Lewis in 1961, replaced by Johnny Moore in 1964
Charlie Thomas - tenor and lead
Doc Greene - baritone
Elsberry Hobbs - bass
Mount Lebanon Singers (1949)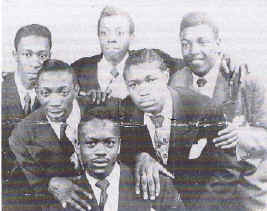 Rear (l to r); William Anderson, David Baldwin, Clyde McPhatter
Front (l to r) Wilmer Baldwin, James Johnson, Charlie White
Photo Courtesy Marv Goldberg
The Drifters helped create soul music with gospel style vocals. After Clyde McPhatter was fired by the Dominoes Ahmet Ertegun of Atlantic Records encouraged him to form a group. McPhatter discovered the other members singing at the Mount Lebanon Church in Harlem, New York. The Drifters were not only a popular for their vocals but, for their choreography. Within a year McPhatter and the Drifters had recorded "Money Honey," "Such A Night," "Honey Love," and "White Christmas." McPhatter was drafted into the Army in 1954.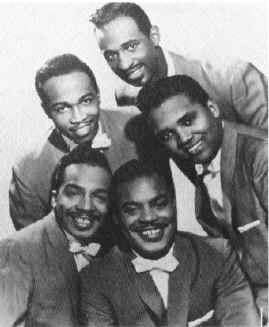 Drifters - 1953-1958
Clockwise from top: Charlie Hughes, Johnny Moore, Gerhart Thrasher, Tommy Evans, Jimmy Oliver
After McPhatter's departure George Treadwell, the Drifter's manager, hire Johnny Moore to become the groups new lead singer. The first hit with Moore was "Ruby Baby."
The group's fortunes flagged, along with complaining about wages, caused George Treadwell who owned the name to fire them all. in June, 1958.
The Five Crowns (1958)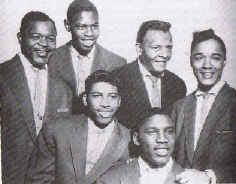 Rear (l to r) Doc Green, Elsbeary Hobbs, Lover Patterson, James Clark
Front (l to r) Benjamin Earl Nelson (Ben E. King) and Charlie Thomas
Photo courtesy Marv Goldberg
Jerry Wexler, Atlantic A&R man, recognizing the value of the Drifter name and convinced Treadwell to apply the name to a brand new group. Treadwell heard Benjamin Nelson (later Ben E. King) and hired him and his group the Crowns and renamed them the New Drifters. The new group with Ben E. King as lead tenor was even more successful then the original group. Songwriters Leiber and Stoller wrote the groups first record "There Goes My Baby" a #2 hit in 1959. Orchestral strings, gentle Latin rhythm and Kings yearning romantic vocals became the groups trademark. Other hits were "This Magic Moment", "I Count the Tears", and "Save the Last Dance for Me". King left the group to pursue a solo career in October, 1960.

Drifters 1959-1961
( Left to right: Charles Thomas, Ben E. King, Doc Green, Ellsbery Hobbs



Drifters 1961-1964
Clockwise from top
Charlie Thomas, Dock Green. Rudy Lewis Tommy Evans
In the meantime, The Drifters enjoyed their greatest hit making period with Rudy Lewis on lead vocals. Through 1963, The Drifters had major pop and rhythm and blues hits provided by Brill Building songwriters. These included Carole King and Gerry Goffin's "Some Kind of Wonderful," "When My Little Girl Is Smiling," and "Up On the Roof," Doc Pomus and Mort Shuman's "Sweets For My Sweet," and Barry Mann and Cynthia Weil's "On Broadway" and "I'll Take You Home." Lewis died in the summer of 1964 and early Drifter Johnny Moore took over the lead for the group's final pop hits "Under the Boardwalk" and "Saturday Night At the Movies." The Drifters continued to record into the early '70s. Around 1972, Johnny Moore with a new group of Drifters, moved to England, toured the clubs and cabarets, and signed with British Bell, for whom they had a series of British hits through 1975. Several different groupings of Drifters perform today. Johnny Moore died in London on December 30, 1998 at the age of sixty-four.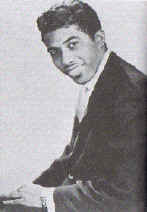 Ben E. King
Ben E. King reemerged in 1974 with the R&B and pop hit "Supernatural Thing" and later recorded with The Average White Band. His popularity diminished he rejoined The Drifters for European Tours in the early '80s. King enjoyed renewed popularity and had a hit again with "Stand By Me" the title song to the film of the same name in 1986 and thereafter recorded for EMI, Manhattan, and Ichiban.

The Drifters were inducted into the Rock and Roll Hall of Fame in 1988