Country
Country, the music of America's heartland, can be traced back to British Immigrants who brought with them a tradition of storytelling Celtic ballads and string-instrument playing, especially fiddling. The tradition survived in isolated rural communities but developed an American accent as music for square dances and hoe-downs.



The Carter Family
L to R: Maybelle, Sara and A.P. Carter


The Singing Brakeman
Jimmie Rodgers
By the early 1900s "mountain music" - had separated into string band music - the beginnings of bluegrass and vocal harmony music derived from church music In the 20s country began reaching a wider audience due to the popularity of radio and recording and vocalists began dominating. Although musicians had been recording fiddle tunes (known as Old Time Music at that time) in the southern Appalachians for several years, Country music really began on August 1, 1927 in Bristol, Tennessee when The Carter Family and Jimmie Rodgers were signed to a recording contract with Victor records.These two recording acts set the tone for those to follow - Rodgers with his unique singing style and the Carter's with their extensive recordings of old-time music. Nashville, Tennessee, with its weekly Grand Ole Opry radio broadcasts, became the center of country music by the Thirties.
In the late thirties Roy Acuff, Ernest Tubb and others began to shift toward a pop like solo singer-plus-band setup, while Western Swing bands in Texas began to borrow from blues, jazz, even polkas. In the Forties and Fifties country came to be accept some improvisational elements and became country and western music; but long after blues and rock and roll had appeared, drums were barred from the the Opry stage.
The tremendously popular postwar "honky-tonk" style - the music of Hank Williams, Hank Thompson, Lefty Frizell, Webb Pierce, George Jones, Loretta Lynn, and Merle Haggard - predominated into the Sixties.
Western Swing
Western swing music is a subgenre of American country music that originated in the late 1920s in the West and South among the region's Western string bands. It is dance music, often with an up-tempo beat which attracted huge crowds to dance halls and clubs in Texas, Oklahoma and California during the 1930s and 1940s until a federal war-time nightclub tax in 1944 contributed to the genre's decline.


| | |
| --- | --- |
| Bob Wills | Milton Brown |
The movement was an outgrowth of jazz. The music is an amalgamation of rural, cowboy, polka, folk, Dixieland jazz and blues blended with swing; and played by a hot string band often augmented with drums, saxophones, pianos and, notably, the steel guitar. The electrically amplified stringed instruments, especially the steel guitar, give the music a distinctive sound. Later incarnations have also included overtones of bebop.

Western Swing differs in several ways from the music played by the nationally popular horn-driven big swing bands of the same era. In Western bands, even fully orchestrated bands, vocals, and other instruments followed the fiddle's lead. Additionally, although popular horn bands tended to arrange and score their music, most Western bands improvised freely, either by soloists or collectively.
Prominent groups during the peak of Western swing's popularity included The Light Crust Doughboys, Bob Wills and the Texas Playboys, Milton Brown and His Musical Brownies, Spade Cooley and His Orchestra and Hank Thompson And His Brazos Valley Boys.
Hillbilly Boogie
Hillbilly Boogie was a style adopted by both western-swingers and honky-tonkers, which formed the basis for 50s rockabilly


| | |
| --- | --- |
| Red Foley | Moon Mullican |
In January, 1944, the Rhythm Boys, consisting of Porky Freeman, Red Murrell and Al Barker recorded "Porky's Boogie Woogie On Strings" for the Morris Lee label. Though it was only a regional hit, it was a remarkable record. Murrell's four chord riff presaged the piano on Miles Davis's "Milestones while Freeman played a series of bluesy twelve bar choruses. Hinting at rhythm and blues as much as country, Porky's Boggie Woogie on Strings was ahead of its time.
We know now that, starting with Western Swing in the 1920s, country-music reflections of popular black music has a long history, so claiming that Elvis Presley was the first successful fusion of the two is just silly. The hillbilly boogie fad, however, has been largely overlooked in that history, although there were hundreds of records made in that style.

Hillybilly boogie really started with the Rambler Trio's "Guitar Boggie" featuring Arthur Smith in 1945.

"Guitar Boogie" is by Arthur Smith's Hot Quintet, which recorded it as a goof when there was some time remaining in a recording session. A straight-ahead boogie-woogie performed on guitar, it became a hit, and for the rest of his life, Smith was billed as Arthur "Guitar Boogie" Smith.
One of the most influential practioners of this form was Merle Travis, who was from Kentucky and learned a lot of his guitar style from his barber, Ike Everly, who had a family radio show featuring his sons. Travis was not only a solo performer, but also in demand as a studio musician.

It's hard to tell, but it's likely Travis is the third guitar behind Alton and Rabon Delmore, the Delmore Brothers, in the track "Mobile Boogie." The Delmores recorded dozens of boogies, which revived a career they'd started in the '30s. With the addition of Travis and banjo player Grandpa Jones, they became the gospel-singing Browns Ferry Four, and Travis' ability to play the bass with one finger while picking a melody at the same time — called "Travis picking" — came out of his boogie period and revolutionized American guitar playing.

By the end of the '40s, Travis had moved to Hollywood and joined the new Capitol label, which was recording West Coast country talent, and the boogie craze was in full swing. Travis was in the studio band for the genre's biggest hits, including "Shot-Gun Boogie."

"Shot-Gun Boogie," sung by Tennessee Ernie Ford, was a No. 1 country hit at the end of 1950, and pretty much represented the height of the hillbilly boogie craze. But it also pointed out a growing division in country music: The war had brought lots of people from Texas and Oklahoma to California, and Capitol was only one of the labels recording a new kind of country music. In fact, the music-business term, Country & Western, was accurate: This music was at least as much Western as country, which was Nashville's specialty. Capitol's studio musicians were second to none: Along with Merle Travis, they had Telecaster virtuoso Jimmy Bryant and steel guitarist Speedy West, whose instrumental albums wowed other musicians, as well as more open-minded jazz fans.

Nashville stayed more traditional and more acoustic during the early 1950s, and the gap between the two coasts just widened as time went on. By the time Elvis came along, making his first records with an acoustic guitar in Tennessee, hillbilly boogie was history, and Los Angeles was mixing country and pop, waiting for a new country generation to come along.
Honky Tonk
Birthed in the rowdy Southern bars christened with the same name, Honky Tonk is the single sound most associated with country music. It's become an enduring staple, the style to which mainstream country inevitably returns time and time again to refresh itself, a source of inspiration and renewal when popular trends begin to take country music away from its roots.


| | |
| --- | --- |
| Ernest Tubb | Hank Williams |
The first music genre to be commonly known as honky-tonk music was a style of piano playing related to ragtime but emphasizing rhythm more than melody or harmony; the style evolved in response to an environment in which the pianos were often poorly cared for, tending to be out of tune and having some nonfunctioning keys. Honky-tonk music influenced the boogie-woogie piano style, as indicated by Jelly Roll Morton's 1938 record "Honky Tonk Music" and Meade Lux Lewis's hit "Honky Tonk Train Blues." Lewis recorded the latter many times from 1927 into the 1950s, and the song was covered by many other musicians, including Oscar Peterson.
The basic honky tonk sound features acoustic and/or electric guitar, fiddle, string bass, and steel guitar (which was imported from Hawaiian music), while the vocals often draw from the so-called "high lonesome" sound of traditional country, sounding either rough and nasal (Hank Williams, Ernest Tubb) or smooth and clear (Lefty Frizzell, George Jones). Like the music, honky tonk lyrics are emotionally simple and direct, often with a plain-spoken vulnerability and a sense of emotional release. Instead of depicting rural life, though, honky tonk's subject matter was rooted in its immediate surroundings -- taverns. Celebrations of romance, parties, and good times were quite common (as were novelty songs), but honky tonk became especially well-known for its fascination with the flip side: heartbreak, infidelity, pain that could only be numbed with alcohol, morning-after remorse, and religious guilt. Although it's generally thought of as a rural music, honky tonk was actually more the result of rural migration to Southern urban centers, particularly those of Texas.
In the years before World War II, the music industry began to refer to honky-tonk music played from Texas and Oklahoma to the West Coast as hillbilly music. The term has now has come to refer to the primary sound in country music, developed in Nashville as Western Swing became accepted there. Originally, it featured the guitar, fiddle, string bass, and steel guitar (imported from Hawaiian folk music). The vocals were originally rough and nasal, as exemplified by the singer-songwriters Floyd Tillman and Hank Williams, but later developed a clear and sharp sound, such as that of George Jones and Faron Young. Lyrics tended to focus on working-class life, with frequently tragic themes of lost love, adultery, loneliness, alcoholism, and self-pity.
The music initially became popular during World War II, with Ernest Tubb becoming its first star. He took the sound to Nashville, where he was the first musician to play electric guitar on Grand Ole Opry.
Copyrighted and released in 1941, "Walking the Floor Over You", by Ernest Tubb, his sixth release for Decca, helped establish the honky-tonk style and Tubb as one of its foremost practitioners. Tubb, from Crisp, Texas, was a fan of Jimmie Rodgers and fused Western swing, which had been using electric guitars for years, with other "country" sounds.
The '50s proved to be honky tonk's golden age with the popularity of Webb Pierce, Hank Locklin, Lefty Frizzell, Faron Young, George Jones, and Hank Williams. In the mid- to late 1950s, rockabilly (which melded honky-tonk country with rhythm and blues) and the slick country music of the Nashville sound ended honky-tonk's initial period of dominance.
Singer and songwriter Hank Williams hit his absolute prime at the dawn of the decade, and Lefty Frizzell forever altered the way country music was sung with his smooth, lengthy melodic phrases and rich, pure tenor. George Jones rose to prominence in the middle of the decade, becoming a near-consensus choice for country's greatest-ever interpretive singer by adding a startling emotional intensity to Frizzell's phrasing innovations.
In the mid-to late 1950s, Honky tonk slowly declined in popularity as rockabilly, and the slick country music of the Nashville sound ended honky-tonk's initial period of dominance, but its signature sound informed virtually every reaction against country-pop in the decades to come: Bakersfield country in the '60s, progressive and outlaw country in the '70s, and New Traditionalist country in the '80s and '90s.
Bluegrass Music
Bluegrass music is a genre of American roots music that developed in the 1940s in the United States Appalachian region.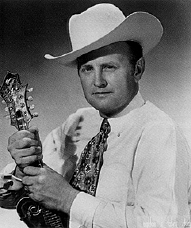 Bill Monroe
The genre derives its name from the band Bill Monroe and the Blue Grass Boys. Bluegrass has roots in traditional English, Scottish and Irish ballads and dance
tunes, and by traditional African-American blues and jazz. Bluegrass was further developed by musicians who played with Monroe, including 5-string banjo player Earl Scruggs and guitarist Lester Flatt.

Bluegrass features acoustic string instruments and emphasizes the off-beat. Notes are anticipated, in contrast to laid back blues where notes are behind the beat, which creates the higher energy characteristic of bluegrass. In bluegrass, as in some forms of jazz, one or more instruments each takes its turn playing the melody
and improvising around it, while the others perform accompaniment; this is especially typified in tunes called breakdowns. This is in contrast to old-time music, in which all instruments play the melody together or one instrument carries the lead throughout while the others provide accompaniment. Breakdowns are often characterized by rapid tempos and unusual instrumental dexterity and sometimes by complex chord changes.
Bakersfield Sound
The Bakersfield sound is a genre of country music developed in the mid-to late 1950s in and around Bakersfield, California.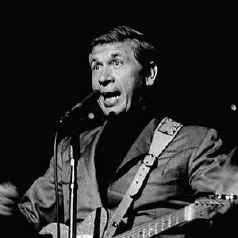 Buck Owens
Bakersfield was the first genre of country music to be significantly influenced by rock and roll, and as a result, the first to rely heavily on electric instrumentation and a defined backbeat. It was also a reaction against the slickly produced, orchestra-laden Nashville sound, which was becoming popular in the late 1950s. It was named after the town of Bakersfield, California where many of its practitioners performed. Wynn Stewart pioneered and Buck Owens and Merle Haggard popularized Bakersfield sound. Using Fender Telecasters, the singers developed a clean, ringing sound that stood in opposition to the produced, string-laden Nashville sound

The Bakersfield sound was developed at honky-tonk bars and on local television stations in Bakersfield and throughout California in the 1950s and 1960s. The town, known mainly for agriculture and oil production, was the destination for many Dust Bowl migrants and others from Oklahoma, Texas, Arkansas, and parts of the Midwest. The mass migration of "Okies" to California also meant their music would follow and thrive, finding an audience in
California's Central Valley.

Bakersfield country was a reaction to the slickly produced, string orchestra-laden Nashville sound, which was becoming popular in the late 1950s. One of the first groups to make it big on the West Coast was the Maddox Brothers and Rose, who were the first to wear outlandish costumes and make a "show" out of their performances. Artists such as Wynn Stewart used electric instruments and added a backbeat, as well as other stylistic elements borrowed from rock and
roll. Important influences were Depression-era country music superstar Jimmie Rodgers and 1940s Western swing musician Bob Wills.

In 1954, MGM recording artist Bud Hobbs recorded "Louisiana Swing with Buck Owens on lead guitar, Bill Woods on piano, and the dual fiddles of Oscar Whittington and Jelly Sanders. "Louisiana Swing" was the first song recorded in the style known today as the legendary "Bakersfield sound". In the early 1960s, Merle Haggard and Buck Owens and the Buckaroos, among others, brought the Bakersfield sound to mainstream audiences, and it soon became one of the most popular kinds of country music, also influencing later country stars such as Dwight Yoakam, Marty Stuart, The Mavericks, and The Derailers. Jean Shepard,
one of country music's first significant female artists, began her recording career on the West Coast in the 1950s. Through Capitol Records, Shepard's "A Dear John Letter", was the first major country hit single to use entirely Bakersfield musicians. Many of her early recording sessions featured prominent members of the Bakersfield movement, including Lewis Talley and Speedy West. Susan Raye was also a major figure in the Bakersfield sound, particularly in the 1970s, with hits such as "L.A. International Airport". She was also a member of Buck Owens' road show and recorded several hit duets with him. Other women to emerge from the West Coast country movement include Bonnie Owens, Kay Adams, and Rosie Flores.

The Bakersfield sound has such a large influence on the West Coast music scene that many small guitar companies set up shop in Bakersfield in the 1960s. The biggest of significance was the Mosrite guitar company that still influences rock, country, and jazz music to this day. The famed Mosrite company was located in Bakersfield until the death of the company's founder, Oildale resident Semie Moseley, in 1992.