Hank Williams
"The Hillbilly Shakespeare"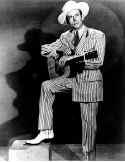 Known as the greatest country singer of all times, Hank Williams Sr. was one of the best song writers country music has ever known. Unlike many other country singers, Williams wrote most of the songs he sang. With time, his songs including "Cold, Cold Heart," and "Your Cheating Heart" have become classics of American music history.


Hiram (Hank)Williams was born September 17, 1923 in Georgiana, Alabama and died in 1953
Before Hank Williams Sr. became a legend of country music, he had to overcome numerous difficulties. Because of his father's bad health, Williams' s family was very poor. His father, Lonnie was a farmer and log trim engineer, his mother, Lilly, was a church organist. When Williams was seven, his father disappeared forcing him to work selling peanuts, newspapers and shinning shoes to help support his family. By the time he was fourteen, Williams was starting a country band. His style was influenced by the sounds of gospel, Ernest Tubb, Roy Acuff and the sounds of black music he had learned from a street singer, Rufus Payne, who lived in Williams's home town.
Writing and singing his own songs, Williams won an amateur contest in Montgomery, Alabama for his performance of "WPA Blues," which he wrote. In 1937, Williams formed his own band, the Drifting Cowboys, which played in Alabama honky tonks. Williams' s first years in the band where harsh. During World War II he had to quit and work as a welder in shipyards. However, after the war he went back to his true interest, music.
In 1946, Williams and his wife, Audrey, moved to Nashville where they called Fred Rose, Nashville's biggest music writer and publisher. After hearing a few of Willams's songs, Rose immediately signed him to a contract. Under Rose's direction, Williams got a contract with MGM Records and got his first hit "Move It on Over," which landed him a job on a radio show in Shreveport, the "Louisiana Hayride." Rose also helped Williams polish his songs to attract the pop music market.
The Williams-Rose team worked well. "Cold, Cold Heart," one of Williams's tunes, became a no. 1 country hit as well as a pop hit for Tony Benett. Roger Williams said : "It was a perfect union: Williams's native genius, Rose's craftsmanship and sure sense of the market."
Williams songs were a success on the "Louisiana Hayride." "I Heard You Crying in Your Sleep," and "Lovesick Blues" were just two of the songs which earned Williams an opportunity to perform on the Grand Ole Opry. His debut, on June 11, 1949, is still considered a precious moment in country music history. Popular demand brought Williams back to the Opry and made him a regular. Williams needed a band to perform with, so he reorganized the Drifting Cowboys and added other studio musicians who traveled with him to do live performances across the U.S., Canada and even to Germany where they entertained American troops.
A year later, the demand for Williams was the highest of any other country star. Songs such as "Why Don't You Love Me?" and "Long Gone Lonesome Blues" became no. 1 hits increasing Williams's popularity even outside the country music sphere.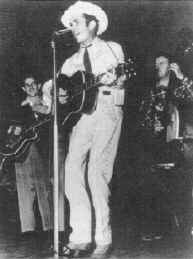 Grand Ole Opry 1951
L to R: Chet Atkins, Hank Williams and Ernie Newton
Photo courtesy Photofest
In 1952, Williams briefly returned to the "Louisiana Hayride," divorced his first wife and re-married in a public ceremony. On New Year's Eve, 1953, Williams died of a heart attack on his way to Canton, Ohio where he was to perform. Unlike other singers, Williams had a special gift, he could produce and sing beautiful songs in a sincere and honest manner that everyone could relate to. He was without a doubt, one of the greatest singers in the history of country music.