Wilson Pickett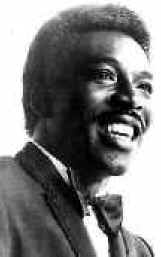 One of the most popular black singers of the '60s, Wilson Pickett helped introduce the aggressive style of rhythmic style of soul music. Aided immeasurably by the excellent studio bands backing him at the Stax Studios in Memphis, Tennessee, and The Fame Studio in Muscle Shoals Alabama, Pickett scored a series of R&B and pop hits on Atlantic Records between 1963 and 1972 that included "In the Midnight Hour," "Mustang Sally," and "Funky Broadway."



Pickett's house today where he grew up in rural Prattsville, Alabama
Photo courtesy Tony Fletcher


Wilson Pickett Sr.
Photo courtesy Wilson Pickett Jr. Legacy LLC
Raised in Prattville, Alabama, Wilson Pickett moved to Detroit, Michigan at the age of sixteen and made his professional debut as the lead singer of The Violinaires in the late '50s. From 1961 to 1963 he was in The Falcons, writing and singing their 1962 hit "I Found Love." Pickett then went solo and signed with Lloyd Price's Double L Records, where he wrote and recorded "If You Love Me" and "It's Too Late."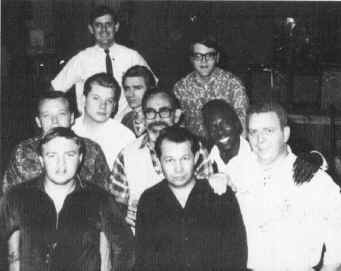 Fame Studios, October, 1966
Top: Rick Hall
Middle Row: Chips Moman, Charlie Chalmers, Spooner Oldham, Roger Hawkins
Middle: Jerry Wexler, Wilson Pickett
Bottom Row: Ed Logan, Tommy Cogbill, Jimmy Johnson
Photo courtesy Fame Studios
In 1964, Pickett signed with Atlantic Records, and did his early recordings in the Stax studio in Memphis, Tennessee with Booker T. Jones and Steve Cropper of The MGs. Cropper co-authored three of his early hits, "In the Midnight Hour" and "Don't Fight It from his debut album The Exciting Wilson Pickett that established him as a major soul star. The album also included "Ninety-Nine and a Half (Won't Do)," "She's So Good to Me," and "Land of a 1,000 Dances," all recorded at Fame Studio in Muscle Shoals.

Pickett then had hits with "Mustang Sally," "I Found a Love," and "Funky Broadway," all recorded in Muscle Shoals. Pickett then teamed with Bobby Womack in 1968 for Midnight Mover that yielded a Top 10 R7B and pop hit with Womack's title song. In 1969, Pickett had a major hit with The Beatles "Hey Jude,", followed in 1970 by "Sugar, Sugar." Later in 1970, Pickett worked with producers Kenny Gamble and Leon Huff at Sigma Sound Studios in Philadelphia. The result was two crossover hits "Engine Number Nine," and "Don't Let the Green Grass Fool You."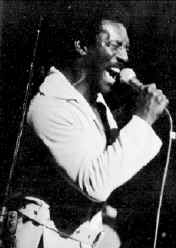 After crossover hits "Don't Knock My Love - Part 1" and "Fire and Water" Pickett left Atlantic for RCA, with minimum success. Pickett later recorded for several record companies, including his own Wicked label, but failed to have anymore hits.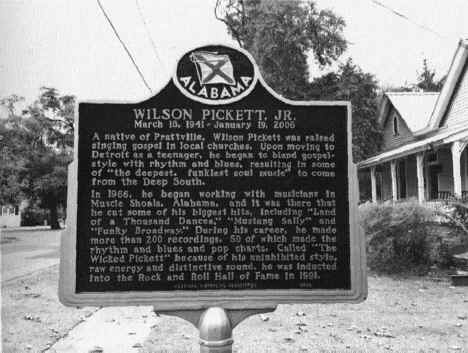 Historial marker in downtown Prattsville, dedicated 2009
Photo courtesy Tony Fletcher
Wilson Pickett was inducted into the Rock and Roll Hall of Fame in 1991
Wilson Pickett died in Reston, Virginia January 19, 2006 after suffering a heart attack, he was 64.