The Temptations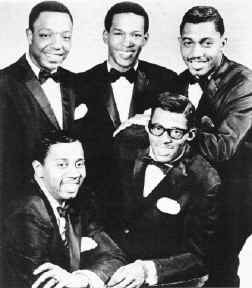 1963-1968 Temptations
Back row from the left: Paul Williams, Eddie Kendricks, Otis Williams
Front row from the left: Melvin Franklin , David Ruffin
The Temptations were the most consistently commercially successful and critically acclaimed male vocal group of the Sixties and early Seventies.


Members - Distants
Otis Wiliams
Elbridge (Al) Bryant
Melvin Franklin
Richard Street
James Crawford
Otis Williams, the leader of the Temptations from day one, was born October 30, 1941 in Texarkana, Texas. He was already singing by the time he was in junior high inspired by nationally known vocal groups as well as the local Diablos.

The Primes
L to R: Eddie Kendricks, Kell Osborne and Paul Williams


The El Domingos
L to R: Vernon Plain, James Crawford, Arthur Walton, Otis Williams and Al Bryant
The Temptations were the end result of the merging of two groups, Primes and El Domingos, in 1960. Eddie Kendricks and Paul Williams formed a high school group in Birmingham, Alabama called the Cavaliers with Kell Osborne and Wiley Waller. After graduation they moved to Cleveland where they met manager Milton Jenkins, who felt the group would do better based out of Detroit. They agreed and then changed their name to the Primes.
Otis Miles of Texarkana, Texas, moved to Detroit in 1950 and in 1959 formed the Elegants with Elbridge Bryant, Melvin Franklin, his cousin Richard Street, and Albert Harrell, all friends from Northwestern High School. They later changed their name to the Questions and then the Distants.
In 1960 they recorded "Always" for Northern Records, Richard Street singing lead.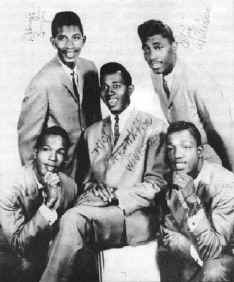 Original Temptations
Clockwise from upper left: Elbridge "Al" Bryant, Otis Williams, Paul Williams, Melvin Franklin, Eddie Kendricks
The Primes met the Distants at a house party thrown by Janet Poole, a friend of the Distants. Street and Harrell soon left, and the two groups merged into one consisting of Otis Miles, now calling himself Otis Williams, Melvin Franklin, Eddie Kendricks, Paul Williams, and Elbridge "Al" Bryant.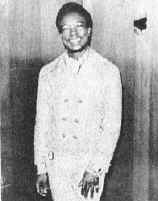 Milton Jenkins
Jenkins arranged some local work and shortly thereafter the group became the Elgins. It was at one of these dates that Berry Gordy, Jr. saw them and signed them to his Motown subsidiary Miracle Records. It was while Otis Williams and Miracle employee Billy Mitchell were standing on the porch of Motown Records that they came up with the groups new name, the Temptations.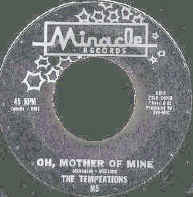 In 1961, the Temptations recorded "Oh Mother of Mine" which received little response.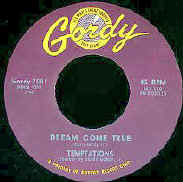 In April 1962, the group was moved to Motown's Gordy label and recorded "Isn't She Pretty," a contagious rocker that had a "walking" vocal bass, a frantic gospel falsetto, and ascending harmonies. It was unique, but the flipside, the shuffle ballad, "Dream Come True" got most of the attention reaching #22 R&B.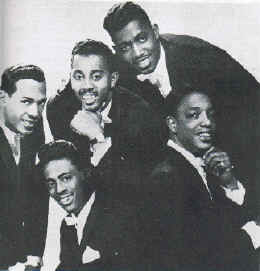 Photo with both lead singers
Elbridge (Al) Bryant top and David Ruffin second from left bottom
(L-R) Eddie Kendricks, Melvin Franklin, Paul Williams
After five singles, with only one marginal hit, Al Bryant left the group in early 1963. He was replaced by David Rufffin from Motown's Miracle label. In 1964 the Temptations with Kendrick's falsetto lead, recorded Smokey Robinson's "The Way You Do the Things You Do." On February 29th it charted Pop and R&B.

(l to r - David Ruffin, Melvin Franklin. Paul Williams, Otis Williams and Eddie Kendricks)
In August they recorded "Girl (Why You Want to Make Me Blue)." More driving than most Smokey Robinson produced records, it reached #26 in the fall of 1964. In September the Temptations appeared at Murray K's Rock and Roll Show" featuring the Ronettes, the Searchers, Marvin Gaye, the Supremes, and Martha and the Vandellas.
In December they recorded "My Girl," again produced by Smokey Robinson. Containing the most famous three part chime harmony in soul history it shot to number one. It also featured the debut of David Ruffin on lead.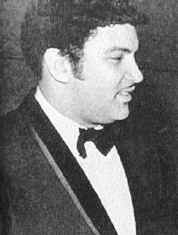 Norman Whitfield
The Temptations continued to have hits with "Since I Lost My Baby" (#17 Pop, #4 R&B, 1965), and "Get Ready" (#29 pop, #1 R&B). Production was now given to Norman Whitfield and Brian Holland who gave the group a harder edge with "Ain't to Proud to Beg" (#13 Pop, #1 R&B 1966), "Beauty is Only Skin Deep" (#3 Pop, #1 R&B, 1966), "I'm Lovin' You" (#8 pop, #1 R&B, 1966), "All I Need " (#8 Pop, #2 R&B, 1967), "You're My Everything" (#6 pop, #3 R&B, 1967), "It's You That I Need" (#14 Pop, #3 R&B, 1967), and the ballad "I Wish It Would Rain" (#4 Pop, #1 R&B, 1968).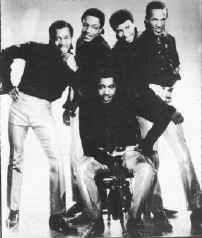 Temptations - 1968-1971
L to R: Melvin Franklin, Paul Williams, Dennis Edwards, Eddie Kendricks
Seated - Otis Williams
In mid-1968 Ruffin left for a solo career and was replaced by Dennis Edwards.
In 1968 Norman Whitfield changed sounds and produced "Cloud Nine," which reached #6 Pop and #6 R&B, winning a Grammy for Best Group R&B Performance.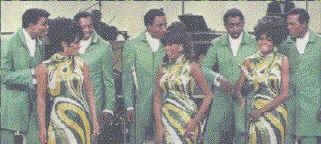 The Supremes and the Temptations 1968 TCB television special
Next the Temptations recorded with the Supremes the LP Diana Ross and the Supremes Join the Temptations which went to #2 and included the hit single "I'm Going to Make You Love Me".
Whitfield began to create psychedelic and socially conscious songs and productions with the Temptations that included "Run Away Child, Running Wild"(#6 Pop, #1 R&B), and Ball of Confusion" (#3 Pop, #2 R&B). He also produced a great soul rocker with each member singing lead, called "I Can't Get Next to You" (#1 Pop and R&B).
In 1970 they did On Broadway with the Temptations and the Supremes, an LP featuring show tunes,
In 1971 the Temptations returned to their roots with the classic ""It's Just My Imagination". It was the last Temptation record with Kendricks on lead as he soon left for a solo career. Paul Williams left at the same time due to poor health.
Damon Harris and Richard Street took their places.
In 1972 the gospel soul masterpiece "Papa Was a Rolling Stone" was released. Edited from an eleven minute LP cut it reached #1 Pop December 2 and reached #1 R&B. The flip side, was the recordings instrumental version, won a Grammy as Best Instrumental.
More hits followed with "Masterpiece'," "Let Your Hair Down," "Happy People," and "Shakey Ground".
In 1975 Glen Leonard took Damon Harris's place.
Their records in 1976 and 1977 didn't do as well as past releases and the group decided to sign with Atlantic Records in 1978.
Then Edwards left for a solo career and with Louis Price taking his place. The Atlantic records did nothing. By 1980 the Temptations included a returned Dennis Edwards, Otis Williams, Melvin Franklin, Richard Street, and Glenn Leonard.
Berry Gordy convinced them to sign with Motown, but they went two years without a top ten record until they hooked up with Melvin's nephew, James Johnson, better known as Rick James. He wrote, produced, and sang lead for "Standing on Top, Part I , with a revised Temptations that now include David Ruffin and Eddie Kendricks. "Standing" reached #6 R&B, their first top 10 record in six years.
In 1983 they performed on the Motown 25th Anniversary TV special trading medleys with the Four Tops. They were so well received the two acts decided to do an international tour.
The group continued to have hits through the Eighties with "Treat Her Like a Lady," "Lady Soul", and "Look What You Started."
The 1991 Temptations included Ali-Ollie Woodson. Damon Harris, Richard Street, Ron Tyson, and Louis Price. Otis Willams and Melvin Franklin, the last two originals, retired from the group in 1986. The Temptations amazing legacy includes 76 R&B chart singles and 52 Pop counterparts. Forty one of those R&B charters were in the top 10 over a period of 25 years.
The Temptations were inducted into the Rock and Roll Hall of Fame in 1989
Dennis Franklin died February 1, 2018 in Chicago due to complications of Meningitis, he was 74.
Melvin Franklin died from heart failure February 23, 1995 at the Cedars-Sinai Medical Center in Los Angeles, at 52.
Paul Williams died August 17, 1973 of an apparent suicide, at the age of 34.
David Ruffin died on June 1, 1991 of an accidential overdose of crack cocaine, at the age of 50.
Eddie Kendricks died October 5, 1992 of lung cancer at the Baptist Medical Center-Princeton In Birmingham, Alabamba, at the age 52.
Richard Street died February 27, 2013 at a hospital in Las Vegas after a short illiness, he was 70.

Johnnie Mae Mathews