The Supremes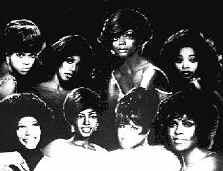 Top left to right: Florence Ballard, Scherrie Payne, Diana Ross, Susaye Greene
Bottom left right: Lynda Laurence, Mary Wilson, Cindy Birdsong, and Jean Terrell
With twelve #1 pop singles, numerous gold recordings, soldout concerts, and regular television appearances, the Supremes were not only the most commercially successful female group of the Sixties, but among the top five pop/rock/soul acts of the decade.


Members - Primettes
Diana Ross
Mary Wilson
Florence Ballard
Betty McGlowan - replaced by Barbara Martin
Members:
(1960-1961)

(1962-1967)

(1967-1970)

(1970-1971)

(1972-1973)

(1974-1976)
Florence Ballard
Florence Ballard
Cindy Birdsong
Cindy Birdsong
Lynda Lawrence
Cindy Birdsong
Barbara Martin
Diana Ross
Diana Ross
Jean Terrell
Jean Terrell
Scherrie Payne
Diane Ross
Mary Wilson
Mary Wilson
Mary Wilson
Mary Wilson
Mary Wilson

The Primettes 1959-1960 (L-R)
Barbara McGlowan, Mary Wilson, Diane Ross, Florence Ballard



Milton Jenkins




The Primettes 1960-1962 (clockwise)
Diane Ross, Florence Ballard., Mary Wilson, Barbara Martin

The Supremes started out as a quartet known as the Primettes. In 1959 two fifteen year olds, Florence Ballard and Mary Wilson, met at a talent show. Milton Jenkins, who managed a local doo wop group the Primes, wanted a sister group to accompany the Primes for stage performances. Jenkins asked Ballard to put together such an act. Ballard remembered Wilson and the two of them brought in sixteen year old Betty Travis. Prime's member Paul Williams, recommended a fifteen year old from Detroit's Brewster Housing project Diane Ross. Jenkins named the group the Primettes after Diane's parents gave their permission to join. The Primettes then started doing club dates.
Travis was forced to quit the Primettes because her parents wanted her to pay more attention to her studies. Barbara Martin took her place, but had to leave shortly, as did Ballard, under the same parental conditions. Wilson and Ross continued to work as duo until the two improved their grades and were allowed to rejoin.

The groups influences ranged from the McGuire Sisters to Frankie Lymon and the Teenagers, and unlike most black groups of the time were not largely influenced by gospel music.

Ballard, Wilson, and Ross could all sing lead, but Ballard's voice was considered the best and most powerful.
"Florence had a very strong gospel voice, and she was the original lead singer. When the group came to Motown, it was Flo's group, she had formed it and named it"
Carolynn Gill of the Velvelettes
In 1960, the they met Ross' neighbor William "Smokey" Robinson and auditioned for him in the basement of the home of his girlfriend Claudette Rogers in hopes of getting to Motown's Berry Gordy. Rogers would later become Robinson's wife and an original member of the Miracles. The audition turned into a dead end, but they did audition for Gordy later, singing the Drifters' "There Goes My Baby." Gordy told them to come back after they completed high school.

Undaunted the girls began hanging out in Motown's office reception room. They continued doing local talent shows where they were spotted by Richard Morris, who brought them to Lupine Records owner/producer Bob West. They recorded two sides "Pretty Baby" with Wilson on lead and "Tears of Sorrow" with Ross on lead for West. Released in 1960, the record went nowhere and they were soon back hanging around Motown again, doing handclaps on Marvin Gaye's early records and singing some backups for blues artist Mabel John.
In January 1961 Gordy signed them, but required them to change their name. Ballard who had formed the group named them the Supremes. Wilson and Ross initially disliked the name, but Gordy approved. By this time Ross was calling herself Diana Ross.
The Supremes' first single, issued on the Tamla in April 1961 was "I Want a Guy' and the second an R&B dance tune "Buttered Popcorn" with Ballard on the lead. Both went nowhere.

The next three singles barely made the bottom of the Hot 100. Things were going so badly that in the middle of 1962 Ross took a job in cafeteria of Hudson's Department store in Detroit and Martin left to get married.

The best of their early releases "When the Love Light Starts Shining," in the fall of 1963, reached #23 on the charts. By the fall of the 1964 the Supremes had released eight singles with none even making the Top 20.

(R-L) Lamont Dozier, Eiddie Holland, Brian Holland
"Where Did Our Love Go," a Holland-Dozier-Holland song rejected by the Marvelettes, was brought to the Supremes. Nonetheless, by August "Where Did Our Love Go" reached #1 on the Pop and R&B charts. In a matter of weeks the Supremes went from no billing on the Dick Clark Caravan of Stars show to top billing.
Ross was now doing all the lead vocals, which did not always sit well with Ballard.

"It was Berry's choice to put Diana as lead. I think Diana's voice appealed to Berry because it was young, crisp commercial sound; maybe Flo's voice was a little to strong for that time. I don't think Berry chose Diana because he particularly liked her more than the other girls. They were after all high school kids to him"
Carolynn Gill of the Velvelettes
"Baby Love" followed in September 1964 and reached #1 Pop, R&B, and in the U.K. The Supremes with "Baby Love" became the first all girl group to reach #1 in England.
The Supremes became the first American group to have three number ones from the same album when "Come See About Me,' released in October, reached #1