Jim Stewart and Estelle Axton's Stax Records

Stax Records was the creation of brother and sister, Jim Stewart and Estelle Axton.


Twelve years older than Jim, Estelle was brought up in the county of Middleton, Tennessee. Always strongly interested in music, as a teenager, she had been a fan of pop music, played the organ and sung soprano in the family gospel quartet.She came to Memphis in 1935 at the age of sixteen to get her teaching certificate. While attending Memphis State University she met her husband to be Everett Axton. One year1ater she returned to Middleton to become her brother's first grade teacher. In 1941 she married Everett Axton and moved back to Memphis. By thistime she was married and had school aged children of her own. Jim twelve years younger, would later joined her in Memphis, where Estelle worked as a teller at the Union Planter's Bank in Memphis.
| | |
| --- | --- |
| Estelle Axton in front of Satellite Record Shop | Packy Axton, Don Nix, Steve Cropper in front of Stax and Satellite, early 60s |
Estelle stayed home for ten years raising her two children, before going to work at Union Planters Bank in 1950. There she stayed until she opened the Satellite Record Shop in 1961.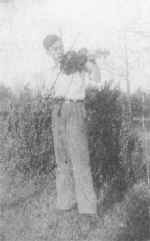 Photo courtesy Stax Museum of American Soul Music
Jim Stewart was born July 29, 1930 in Middleton, Tennessee. His parents Ollie and Dexter Stewart ran a farm with Dexter also doing carpentry and brickwork on the side. Stewart's father bought him a guitar when he was ten. Many Saturday nights he would listen to the Grand Ole Opry and try to ply along with it. Constantly practicing Stewart learned by ear. Eventually he and a friend from a band that played at local square dances.
After high school he went to Memphis where he hoped to develop a career as a country fiddler. Influenced by the Western Swing of Bob Willis ant Texas Playboys, Pee Wee King and Tex Williams, as well as the honky tonk sounds of Hank Williams, Moon Mullican and Ernest Tubb, he played odd jobs while working at Sears Roebuck during the day. Stewart could be heard on WDIA playing in the early morning as a member of Don Powell's Country Cowboys.
By late 1950 Stewart was working for the First National Bank.
He went into the Army in 1953 and was in the Special Services where he played the violin. He studied business at Memphis State in preparation for a banking career and graduated in 1956. Stewart's intentions were to become a banker, but while working in a bank, he still played fiddle in Western swing bands around Memphis.

Playing at the Eagle's Nest.
Jim Stewart is pictured at the far right
After getting out of the Army, Stewart returned to his job at the bank and got a job playing at the Eagle's Nest on Lamar Avenue. Stewart took advantage of the G.I. Bill and got a B.A. from Memphis State University majoring in business management and minoing in music.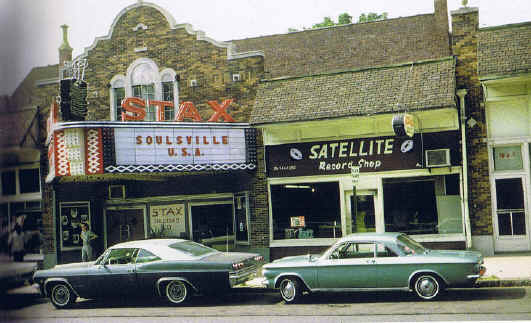 Stax Records and Satellite Record Shop in 1961
Photo courtesy Charles Okle
By 1957 Stewart's interest in recording led him to tape a couple songs that he took to Sun Records as well as a few other local labels. With the exception of Erwin Ellis, his barber who owned the small Erwin Records, no one would give him the time of day. Ellis loaned Stewart his first recording equipment, educated about the value of publishing and and taught him the basic mechanics of running a small independent record label and establishing an affiliate publishing company.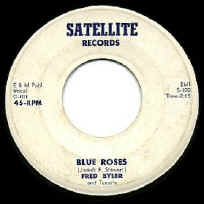 Jim Stewart began fooling around recording music in his wife's uncle's garage around 1957 and he put out his first record in 1958, a country and western song named "Blue Roses" by a disc jockey named Fred Bylar (Satellite 100). At this time Stewart was equal partners in the new label with Bylar and a rhythm guitarist named Neil Herbert, as a three had put in three or four hundred dollars. Only a few hundred copies were pressed with virtually no copies being sold on its only airplay was on KWEM, the station where Bylar worked.
| | |
| --- | --- |
| Garage where it all started | |
Stewart, Bylar and Hebrew had been recording Satellite's releases in Stewart's wife's uncle' two car garage on Omni Street using a portable reel-to-reel tape record owned by Erwin Ellis. Wanting to buy a state of the art Ampex 350 monaural tape recorder Stewart asked his sister Estelle Axton for help by taking out a mortgage on her house. After convincing here husband Everett to go along a second mortgage was taken out. With the $8000 - $9000 Herbert and Bylar were bought out, the Ampex recorder was financed and badly needed operating capital was provided.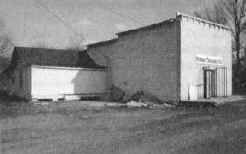 Brunswick Studio
Photo courtesy Rene Wu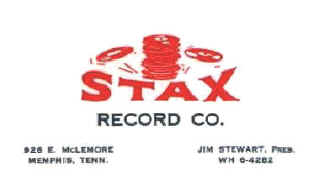 In 1958, Estelle became involved when Jim Stewart asked her to invest in his record company, she took out a $2500 second mortgage on her home, bought a one-track Ampex recorder rented a vacant grocery building in New Brunswick, Tennessee in an old storehouse.They called their new label Satellite (probably because Sputnik, the Russians' first earth satellite, was launched in October, 1957, and dominated the news).
In the spring of 1959 Stewart recorded his first black group, the Veltones. The Veltones' "Fool in Love"/"Someday" was released in in the summer of 1959. In September it was picked up for national distribution by Mercury Records for an advance of $400 - $500. The record went nowhere and Stewart received no further money from Mercury.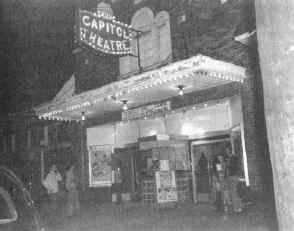 photo courtesy Stax Museum of American Soul
In 1960, they moved the label back to Memphis to a rented for $150 a month the old Capitol movie theater on East McLemore and College. Short on money, Estelle decided to convert the candy counter into a record shop to generate additional income.Estelle ran a record shop in the front of the building from which they would derive much of their early income.
After signing the lease, they set about renovating the theatre. In the next few months after everyone's regular workday and on weekends, acoustical drapes were hung, a control room was built on stage, carpeting was put on the floors, baffles were built with burlap and ruffle insulation on the one outside plaster wall to cut down on echo and a drum stand was built. The hanging of the ceiling baffles was the only work that they paid professionals to do.
Although the renovations only cost $200 - $250, they again found themselves cash strapped. Unable to find local investors, Axton again refinanced her house to get another $4000 of badly needed operating capital. As luck would have it, their next recording would provide their first hit.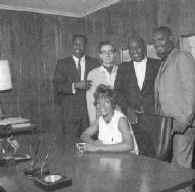 ( L to R: Otis Redding, Jim Stewart and Carla Thomas, Rufus Thomas, Booker T. Jones)
They recorded a local disc jockey named Rufus Thomas, who had had a minor hit with Sun Records earlier called "Bearcat". Rufus and his 17 year old daughter Carla recorded a duet titled "Cause I Love You" and it became a local hit in Memphis. The song came to the attention of Jerry Wexler, who was Vice President of Atlantic Records, he leased the record and obtained a five year option for future Satellite product for $5000. After "Cause I Love You", Carla Thomas recorded a song she had written called "Gee Whiz". The record came out on Satellite, but Wexler immediately claimed it for Atlantic, and it was released nationally on Atlantic. "Gee Whiz" went to Billboard #5 and became the first big national hit for Jim Stewart and Estelle Axton.

The Mar-keys
L-R: Packy Axton, Donald Dunn, Wayne Jackson, Terry Jackson, Don Nix Steve Cropper, Jerry Lee Smith)
Estelle Axton's son Packy played tenor sax in a rock and roll band named the Royal Spades. Along with Packy was Steve Cropper on guitar, Charlie Freeman on guitar, drummer Terry Johnson baritone sax player Don Nix and bassist Donald "Duck" Dunn. This group became the Mar-Keys and recorded an instrumental named "Last Night" which became the next big hit for Jim and Estelle. When this song started up the charts, Jim Stewart became aware of another record company in California called "Satellite" so rather than risking litigation, the name of the company was changed to "Stax", the ST from Stewart and the AX from Axton.
| | |
| --- | --- |
| 1962: L-R: Booker T. Jones, Steve Cropper, Al Jackson, Jr., Lewis Steinberg | 1965 (L - R: Donald Dunn, Booker T. Jones, Steve Cropper, Al Jackson Jr.) |
A young piano player named Booker T. Jones lived in the neighborhood near the Stax studio, and started hanging around. He joined up with Steve Cropper and Duck Dunn from the Mar-Keys and with Al Jackson and they became the backbone of the "Stax Sound". They also recorded on their own as Booker T. and MG's (standing for Memphis Group) and soon had a giant hit named "Green Onions". Steve Cropper became an important producer for Stax and both wrote songs and produced many other acts for Jim Stewart.
| | |
| --- | --- |
| Johnny Jenkins | Otis Redding |
In 1960, Atlantic's Jerry Wexler contacted Stax about l;easing Carla Thomas's "Cause I Love You." An agreement was reached where Atlantic would pay Stax $1000 and a small royalty for leasing rights. Also included was $5000 payment for a five year option on all other records. The deal marked a successful eight year association between the two companies.
In 1962, Johnny Jenkins came to the Stax studio to record a single for Atlantic. When the recording session for Jenkins turned into a disaster, they used the last half hour of studio time to record Jenkin's 21 year old driver, Otis Redding. He recorded a ballad he had written called "These Arms of Mine". "These Arms of Mine" was released in October of 1962 on Stax's new rhythm and blues subsidiary named Volt. It made the charts in March of 1963 and in September of 1963, Otis came back into the Stax studio and recorded "Pain In My Heart" which became an even bigger hit.