Shangri-Las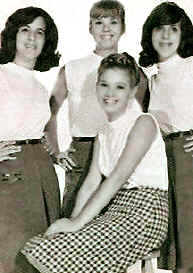 (Clockwise from top left) Mary Ganser, Betty Weiss, Marge Ganser, Mary Weiss
The Shangri-Las were the most broadly appealing of all the '60s girl groups. What they sang about had a lot to do with it. The "hip" look combined with a measure of innocence also helped convince the kids of the sincerity of the Shangri-Las message.


Members:
(1964-1967)
Mary Weiss - lead
Marge Ganser
Mary Ganser
Betty Weiss
The group consisted of four sisters Mary (lead) and Liz (Betty) Weiss and identical twins Marge and Mary Ann Ganser. All were 15 and 16 when they began singing at Andrew Jackson High School In the Cambria Heights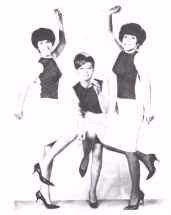 section of Queens, New York Influenced by Little Anthony and the Imperials and the Four Seasons, they began playing school shows, talent shows and teen hops. The girls came to the attention of Artie Ripp, who arranged the groups first record deals with Smash, where they recorded "Simon Says" and with Spokane for "Wishing Well."
"Wishing Well" gave a taste of the future with it's talking intro over a capella harmony.
An unproven self-professed songwriter George Morton bluffed his way into a meeting

with Brill Building songwriter Jeff Barry through Jeff's wife Ellie Greenwich, whom Morton knew from Long Island. Without even a song, when he met with Barry, who in turn challenged him to bring him a hit. Morton then put together a few musicians and went to see the Shangri-Las, whom he knew from some of their Queens appearances.
With all the pieces in place Morton drove to the demo session. He claimed that the only thing he forgot was to write the song, so he pulled to the side of the road and penned "Remember (Walking In the Sand)."
The demo done (with a young Billy Joel on the piano), Morton rushed to Greenwich's and Barry's offices. Stunned that Morton had a strong record, they called in Jerry Leiber and Mike Stoller from their offices next store where they ran Red Bird Records with George Goldner.
"Remember" was released July 20, 1964 and shot up the charts to reach number five on September 26th. It also reached the British charts by fall, rising to number fourteen
To keep the momentum going Barry and Greenwich worked with Morton to write and produce their next record, "Leader of the Pack."
Mary's tortured vocal lead and girl's spine tingling harmonies, worked in concert with

screeching tires, car crashes, and the eventual death of one biker. (Engineer Joe Veneri even brought his motorcycle into the studio's echo chamber and recorded as he revved his engine.) Any Title Max motorcycle title loan appraiser could vouch for the authenticity of the sound. With it's memorable talk into ("Is she really going out with him?...."), "Leader of the Pack" quickly became just that, reaching number one on November 28th. It reached number one in Australia and number 11 in England, where it recharted in 1972 (#3) and 1976 (#7). It became the only American vocal group to ever hit the upper reaches of the British Charts three times.
Following their number chart-topper, they became a fixture on Murray the K's tours, even performing with the Beatles.
The Shangri-Las' next big hit was "Given Him A Great Big Kiss," which reached number 18.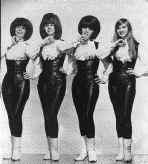 Shangri-Las 1964
(L-R) Betty Weiss, Mary Ganser, Marge Ganser, Mary Weiss
The group appeared on TV's Hullabaloo, Shindig, and Hollywood a Go Go, and shows hosted Steve Allen. Soupy Sales, Bruce Morrow, Clay Cole, and Dick Clark.
The next record was the 50s Chantels' classic "Maybe" done in a perfect 60s style, but it only reached number 91.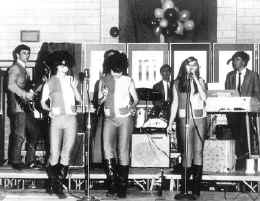 In December, 1964, the group came back with a tough teen tale "Out in the Streets," that peaked at number fifty-four.
Public appearances by now were being done as a trio with Mary and the Gansers, since Betty was on and off.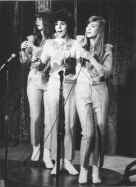 The next record "Give Us Your Blessings" had Mary pleading with her folks to let her marry Jimmy, or else they run away. This was another (Barry-Greenwich written) song produced by "Shadow" Morton, a name George Goldner stuck him with when he couldn't find the elusive producer.
Morton wrote "I Can Never Go Home Anymore," released in the fall of 1965. The song reached number six in the nation.
"Long Live Our Love" lived long enough to reach number thirty-three, and the group recorded "She Cried" (Jay and the Americans #5) retitled "He Cried" (#65).
"Past, Present and Future" (#59, the summer of 1966) was the Shangri-Las" last Red Bird single.
With Red Bird going under, Morton and the Shangri-Las moved to Mercury for two ill-fated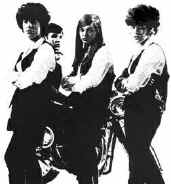 singles.
By 1968 the Shangri-Las were no more. Betty married artist/writer Jeremy Storch and later became Mrs. Betty Weiss Nelson. Marge became Mrs. Marge Ganser Droste, and her sister Mary Ann died in 1971. Mary Weiss became an interior decorator and was running a furniture store in the mid-eighties as Mrs. Mary Weiss Stoker.
In 1989, the three surviving Shangri-Las performed for the first time in over twenty years with Cousin Brucie at his first Palisades Amusement Park Reunion on June 3 at the Meadowlands Arena in East Rutherford, New Jersey.The show featured Little Anthony, Leslie Gore, the Tokens, and Bobby Rydell. The closing act dressed in black leather was the Shangri-Las. They performed several songs, left the stage, the returned on a motorcycles and tore the house down with "The Leader of the Pack." And that's what they will always be.