Rosie and the Originals

"Angel Baby" was their first and only Top 40 hit. Lead singer/songwriter Rosie Hamlin was only 15 when this song was recorded in an abandoned aircraft hanger in San Diego. Features one of the most incredibly off-key sax solo of any song of this era. Thousands of kids identified with the the juvenile sounding vocalist Rosie Hamlin and "Angel Baby" went on to become a minor classic.


Members:
Rosalie Hamlin (Lead)
Noah Tofolla (Guitar)
David Ponci (Guitar)
Carl Van Guida (Drums)
Tony Gomez (Sax)

Rosalie Hamlin was born July 21, 1945, in Klamath Falls, Oregon. Her father, Harry Hamlin appeared in vaudeville. Her mother was Ofelia Juana Mendez. Her family moved to Anchorage, Alaska, where she began school. At the age of 11 when her parents moved to San Diego, where Rosie began appearing in talent shows and local ballrooms. Her musical background was in the Pentacostal Church. As a preteen, Rosie taught herself to play piano and write songs.
At the age of fourteen she decided she needed a band and asked her ex-babysitter to introduce her to five older guys, not yet the Originals, from the other side of town who played music with some of her friends. They were Alfred Barrett saxophone, Tony Gomez bass, David Ponci guitar, Noah Tafolla lead guitar, Tony Gomez (bass)and Carl von Goodat drums. They played in the Hamlin's garage until they were ready to play house parties and USO parties.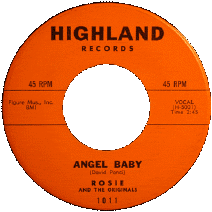 It all happened in an old airplane hanger that had been converted into a recording studio in San Diego suburb of San Marcos in 1960. There Rosie wrote the words to the group's first single in her notebook, then crafted a melody based on chord changes to "Heart and Soul." Saxophone player Alfred had to stay at home to cut the grass, so Tom was given a quick lesson on the sax .With a skimpy voice Rosie sang "Angel Baby" with the Originals providing a sparse and primitive back up. With the drummer seemingly forgetting what track he is playing on, flawed with flubs, and poor sound quality "Angel Baby" is undoubtedly one of rock and roll's greatest moments
First they tried to get the song played on the radio to no avail. Then they drove to Los Angeles wher they talked a five and dime clerk into playing the demo in the store. It was heard by a distibutor for the new Highland label. A deal was struck and "Angel Baby" was released by Highland Records. Three weks later it was on its way to Top Ten pop and R&B. Alan Freed, now living in California after the Payola Scandal, broke it locally.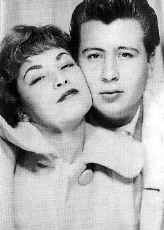 Rosie Hamlin and Noah Tofolla
Before the now classic was even issued the band broke up. Rosie in particular was peeved that Highland Records had credited Dave Ponci as Angel Baby's writer.
Follow-ups "Angel From Above" and "We'll Have a Chance" went unnoticed. However Jackie Wilson did take notice and introduced Rosie to his manager, Nat Taranpol. Tranapol got her a recording contract with Brunswick. Aside from her boyfriend, Noah Tafolla, none of the Originals were included in the deal.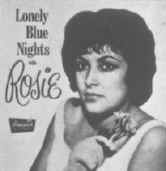 In place of the crudities the Originals had supplied were the lush strings and flawless instrumentation of the Dick Jacobs Orchestra. Two songs, one which was "Lonely Blue Nights" that Rosie had written, were issued as singles by Rosie, formerly of Rosie and the Originals, as was an album recorded both with sessionmen. All failed miserably.
At this time Highland issued their own held over version of "Lonely Blue Nights" recorded by the original line-up in the same studio as "Angel Baby" and featuring the same sublime sound.
Two more singles were issued without success and Brunswick dropped her contract.
Rosie and Tafolla later were married for three and a half years. They had a daughter Debbie and a son Joey, who became a guitar teacher. Rosie has remained in the music business through all these years, except 1979 to 1983 when she was an art teacher in Colorado.
In the late '80s, Rosie resurfaced with a new band, the L.A. Rhythm Section.

Rosie and the Originals never received a penny from "Angel Baby," or any of the other Highland recordings, until September 1994 when a financial settlement was reached and the masters of their recordings were returned to them.
Rosie is presently residing in Los Lunas , New Mexico and is the mother of 3 children John, Debbie and Joey. She has recently recorded a new LP entitled "Stepping Out In Style" with the new "Originals." The LP includes a new recording of "Angel Baby" and a Spanish version of the same song. The LP is on the Legend Label, produced by Pat Woertink.