The Roots Of Rock and Roll
Blues - The blues form is a cyclic musical form in which a repeating progression of chords mirrors the call and response scheme commonly found in African and African-American music. During the first decades of the 20th century blues music was not clearly defined in terms of a particular chord progression

Country - the music of America's heartland, can be traced back to British Immigrants who brought with them a tradition of storytelling Celtic ballads and string-instrument playing, especially fiddling. The tradition survived in isolated rural communities but developed an American accent as music for square dances and hoe-downs.

Traditional/Folk - traditional folk music has been defined in several as music transmitted orally, music with unknown composers, music that is played on traditional instruments, music about cultural or national identity, music that changes between generations (folk process), music associated with a people's folklore, or music.
Influences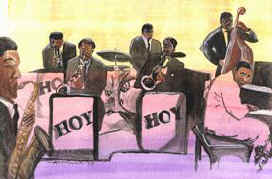 The Dawn of Rock
Bluegrass - A subgenere of country music, bluegrass shed it's formative skin and forged a separate identity in the mid-Forties when bandleader Bill Monroe altered the complexion of "hillbilly" music. Monroe fused country, blues, jazz, gospel, and Celtic folk into an unified style.

Boogie-Woogie - A style of piano playing that features a "hot" rhythm based on eight-to-the-bar figures with the left hand. The style is believed to have originated in Kansas City with pianists such as Pete Johnson and Joe Turner. The term came from "booger-rooger" which was an expression for a "hot" party or musical good time, used by Texas Twenties country bluesman Blind Lemon Johnson. Through blues guitarists such as Albert Smith ("Guitar Boogie") and John Lee Hooker ("Boogie Chillin") the phrase came to refer to guitar playing, too.
Gospel - The term "gospel music" was probably coined in the Twenties by Thomas Dorsey, a Georgia blues singer who was converted and began composing religious songs in popular styles. Originally denounced, it caught on with the black sanctified church and has evolved along side black secular music. Gospel singing is rooted in the ornate style of the old spirituals and in the impassioned "testifying" declamation of Baptist preachers. The close-harmony group vocals of the late forties and fifties gospel - with the group responding to and urging on the soaring, improvising lead singer had many links to the acapella and and doo-wop of the fifties.

Jazz - A music that depends primarily on improvisation and reflects a long tradition of changing ideas of structure, freedom and swing. The first music known as jazz was the New Orleans style ("Dixieland"), in which a small group would improvise collectively on a well known tune. in the Twenties trumpeter Louis Armstrong and others began to separate the soloists from the accompaniment, each permitted different degrees of freedom -an idea that ruled jazz for the next few decades through the harmonic and rhythmic revolutions of the big bands of the Thirties swing era, (Duke Ellington, Fletcher Henderson, Benny Goodman), bee-bop in the late Forties (Charlie Parker, Dizzy Gillespie) and "cool" and hard bop and modal playing in the Fifties (Miles Davis, Thelonius Monk)

What is Jazz?

Rhythm and Blues - a descriptive term that has never had a clear single meaning. In it's broadest sense, R&B denotes black pop music. However, as black pop music changes, it has become a term that is often defined by whatever black musical style it is attached to at a given point in time, rather than the other way around.

In the beginning it was a renaming of "race" music. and later gave way to soul, funk, disco and simply "black" styles. small rhythm and blues combos revved up Tin Pan Alley pop tunes with rhythms derived from swing jazz and vocals reflecting the blues. They linked the big band jump blues of the Forties with early rock and roll. Early rock and roll hits were often covers by white singers of R&B hits, like Elvis Presley's version of Roy Brown's "Good Rockin' Tonight" or Bill Haley and His Comets cleaned-up take on Big Joe Turner's "Shake, Rattle and Roll.

Influences courtesy Rolling Stone's "Encyclopedia of Rock and Roll."