Ritchie Valens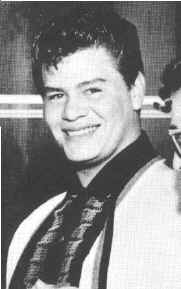 In an all too brief career, Ritchie Valens was the first Chicano rock and roll star, having his best remembered hit, "La Bamba," just one month before his untimely death with Buddy Holly and the Big Bopper on February 3, 1959.


| | |
| --- | --- |
| Steve and Ritchie | A young Ritchie Valenzuela |
The Joseph Steven Valenzuela family live in the San Fernando north of Los Angeles. Steve was a tree surgeon by trade, but dabbled in mining operations and was a horse trainer. His youngest son, Richard Steven, was born May 13, 1941 in County Osteopathic Hospital. At that time Steve and his wife, Connie were working in a munitions plant in Saugus just to the north of the San Fernando Valley.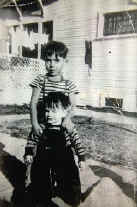 Robert and Ritchie
Ritchie's mother, Concepcion "Connie" Valenzuela already had another son from a previous marriage named Robert Morales who was four years old at the time of Ritchie's birth. For a few years the Valenzuela family lived a fairly "steady" life at 1337 Coronel Street in San Fernando.

House on Fillmore
In 1944, the parents divorced with Steve moving and buying a house on Filmore Street in nearby Pacoima while Connie and the children After Steve's death of diabetes in 1951. Connie moved into the house on Filmore with her oldest son Robert, and her two young daughters Connie and Irma. Because the house was small, Ritchie was shuttled off to live with various aunts and uncles in various towns in the upper Los Angeles area. Ritchie spent a great deal of time at his Aunt Ernestine and Uncle Lelo Reyes house when he returned to Pacoima.

Connie Valenzuela and Bob Keane March 1959
As a child Ritchie faced the many prejudices that were part of Hispanic life throughout southern California. However, the area was home to many family groups; Asians, blacks, and whites, as well as Hispanics.

Ritchie was an average student for whom music was a guiding force. Influenced by Mexican folk songs and popular songs sung by his relatives his true love was the singing cowboy of the Saturday matinee movies. He also listen to country played on the radio. With only an average singing voice, relatives began teaching him to play the guitar at eleven.
Photos courtesy Ritchie Valens Lives On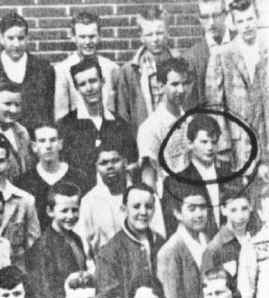 9th grade graduating picture - Pacoima JHS, Spring 1957
Photo courtesy Guitarez/Mendheim collection
At the age of thirteen Ritchie entered Pacoima Junior High as a seventh grader where was an average student. He was an average student, a bit quiet and well liked by his classmates. Influenced by Mexican folk songs and popular songs sung by his relatives his true love was the singing cowboy of the Saturday matinee movies. He also listen to country played on the radio. With only an average singing voice, relatives began teaching him to play the guitar at eleven. By this time Ritchie brought his guitar with him everywhere. During lunchtime at school he would sit on the bleachers and practice or entertain his friends with his music.
At Pacioma Junior High, he appeared in variety programs and played his guitar for schoolmates at lunch breaks. As part of a shop project when he was thirteen, he made an electric guitar out of scrap lumber and used electric parts.
The Silhouettes
By the time he entered San Fernando High School, he was playing the guitar at school assemblies and after school parties. In his junior year he joined the Silhouettes, a band named after a song by the Rays. The only rock and roll band in the area, the Silhouettes quickly became local stars. At a January 1958 "rent party" held in an American Legion Hall, the band was taped by a part time talent scout working for Bob Keene, the owner of Keen Records. After hearing the tape, Keane decided he wanted to hear more
.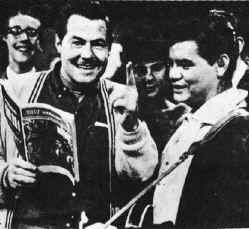 Keene and Valens, late 58
Photo courtesy Ernestine Reyes collection
In May 1958, Ritchie went to Los Angeles to audition for Bob Keene. At that time Keene's company Keen Records was in the middle of a string of hits with Sam Cooke and was looking for talent for his new label, Del-Fi Records. The audition went well enough that Keane set up a formal session. Ritchie played a instrumental number on his guitar that Keane liked well enough to record "as is" and asked Ritchie to make up some lyrics as he went along.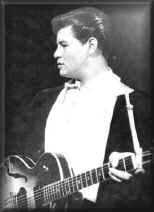 This single, "Come On, Let's Go" was released locally early in the summer of 1958. Valenzuela's name was shortened to Ritchie Valens. The song received attention in Los Angeles immediately and soon spread through the Southwest. In August, Del-Fi released the record nationally and it eventually sold a half million copies.
| | | |
| --- | --- | --- |
| Ritchie and Donna | Donna Ludwig and Bob Keane | Donna with Ritchie's guitar |
In October, after a short tour, Valens began another recording session. "Donna" the next record was a ballad Valens had written for his high school sweetheart. The flip side was "La Bamba" a reworking of a traditional Mexican folk song of the same name.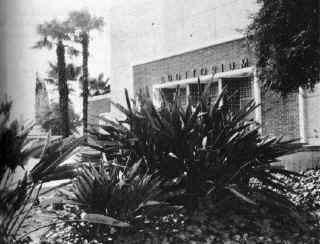 Pacoima Junior High auditorium
Photo courtesy B. Mendheim
Valen's time was now filled with appearances and recording sessions. In December, Ritchie appeared at his junior high school for an afternoon assembly in the gym which Keane taped. At this time Valens filmed a cameo for "Go, Johnny Go!" a teen movie. He appeared on "The Dick Clark Show" on December 27.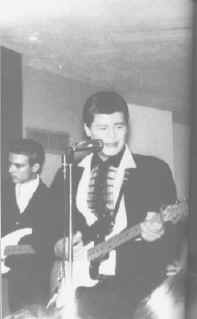 On January 23, 1959, Valens joined Buddy Holly, the Big Bopper and Dion and the Belmonts for the "Winter Dance Party" tour of the Upper Midwest. Valens singles "Donna" and "La Bamba," that was moving toward the top ten, made him the most popular artist on the tour at the moment

Crash site Memorial
On February 2, 1959, the "Winter Dance Party" arrived in Clear Lake Iowa, to play a dance at the Surf Ball Room. the heater on the converted bus that he had been traveling on hadn't been working properly for days while the outside temperatures were near zero. On the way to Clear Lake the bus broke down completely. Buddy Holly who was unhappy with the traveling accommodations arranged to fly to the next stop in a leased airplane. These days band tour buses and NYC bus tours are subject to stricter operating regulations are rarely break down. He leased a four-seat Beechcraft Bonanza for himself and the band members, Waylon Jennings and Tommy Allsup. The Big Bopper and Valens talked Jennings and Allsup out of their seats. After the show Holly, Richardson and Valens went to the airport and took off shortly after midnight for Fargo, North Dakota. The plane took off and shortly there after crashed into a pasture a mile from the airport. All aboard were killed. Ritchie Valens was buried February 7, in the San Fernando Mission Cemetery.

Grave site at San Fernando Mission Cemetery, Mission Hills, California
Ritchie Valens was only seventeen when he died, his legacy was based primarily on "Donna" and "La Bamba." popular with teenagers. At the time of his death, his hard rocking style was being phased out in favor of teen idols like Fabian and Frankie Avalon. Valens image as an early Latino rocker has lasted and inspired Los Lobos, Freddy Fender, The Midnighters, Trini Lopez and Sunny and the Sunglows. La Bamba became the model for the Isley Brothers' 1961 hit "Twist and Shout." Valens also inspired the Rascals, Bob Dylan and R.E.M. His untrained voice and guitar style was a basis for the garage band revolution of the early 1960s. In 1987, he was the subject of the successful movie "La Bamba" and received a star on the Hollywood Walk of Fame in 1990.Fans can place some Avas Flowers on his star in memory of Ritchie's life and music. If fans have an Avas Flowers Groupon they could also place an Avas Flowers bouquet or arrangement on his grave at the San Fernando Mission Cemetery.

Ritchie Valens was inducted into the Rock and Roll Hall of Fame in 2001