Little Richard

The screaming vocals, rattling keyboard style and outrageous showmanship of Little Richard set the standard for the flamboyant excess rock 'n' roll has come to symbolize.


| | |
| --- | --- |
| Charles Penniman | A young Richard |
Richard Wayne Penniman was born December 5, 1932 one of twelve children. His father Charles "Bud" Penniman was a Seventh Day Adventist preacher who sold moonshine on the side. Richard grew up on a dirt street in an impoverished section of Macon, Georgia. Music was everywhere. Street vendors and evangelist who paraded down his block would sing as loud as they could, whether selling vegetables or religion, to get attention of folks inside. All the neighborhood sang freely as well, improvising on spiritual songs to keep them company as they worked. Some gospel singers, particularly Marion Williams of the Clara Ward singers, Sister Rosetta Tharpe, and Mahalia Jackson had a profound influence on Richard.

As a youngster he sang gospel with the Penniman Singers and Tiny Tots Quartet. Richard had an infectious, hyperactive personality that was contagious and made him popular, but also got him into trouble and his homosexuality didn't help matters and he left home to dance to draw customer in a traveling medicine. By age fifteen he was a regular with Sugarfoot Sam's Minstrel Show.

In 1951 at 18 he won a talent contest in Atlanta that led to a recording contract with RCA Victor. Four records were recorded that went nowhere.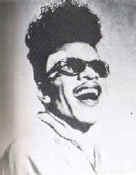 Esquerita
A local musician Esquerita took an interest in Richard and taught him some piano techniques. In the winter of 1952 his father was murdered and he returned to

Macon to perform the blues at the Tick Tock Club in the evening while washing dishes at the cafeteria of a Greyhound bus station during the day.
Bill Wright, a local blues singer from New Orleans, might have been the person who had the greatest influence on Richard. When Richard met Wright in 1952 he was immediately taken with Wright's appearance. Wright wore pomade in hair that was piled high on his head and flashy clothes. It was Wright's stage make up of eyeliner and face powder that really caught Richard's attention.

While in Houston, his contract with RCA Victor expired, he recorded two singles for Peacock Records. One of the records "Rice, Red Beans and Turnip Greens" sounded like a precursor to "She's Got It". In early 1955 he recorded his last two singles for Peacock backed by the Johnny Otis Trio. One of the songs "Little Richard's Boogie" offer a glimmer of his style.
| | |
| --- | --- |
| Center: J&M Music Shop | Cosimo Matassa at age nineteen |
"Mr. Art Rupe, you are now going to hear Little Richard and his Upsetters"
Little Richard introducing his demo tape for Specialty Records, February 1955
Back in Macon in early 1955 Richard was again working as a dishwasher when he cut a demo tape. Lloyd Price, whom he knew, suggested that the demo be sent to Specialty Records with whom Price recorded. Art Rupe, the owner of Specialty, was hardly impressed and it would be six months before he got a call. A recording session was arranged in New Orleans' J&M Studios, owned by Cosimo Matassa and the home studio of Fats Domino. Bumps Blackwell was given the responsibility of meeting Richard and recording the session.
| | | |
| --- | --- | --- |
| The Dew Drop Inn | Frank Painia - Owner of the Dew Drop Inn, 1950 | The Dew Drop Inn |
"...this cat in the loud shirt, with hair waved up six inches above his head...talking wild."
Bumps Blackwell describing Little Richard in 1955
Initially Blackwell, was no more successful then his predecessors. Richard choose to record generally slow blues and he felt that none were particularly good. During a break he and Richard went to the Dew Drop Inn. With few people there and an old upright piano, Richard started playing like crazy, singing loud, lewd and hamming it up. Blackwell was stunned why couldn't he record this? Local lyricist was Dorothy LaBostrie was called to clean up the lyric. They went back to J&M and with only fifteen minutes left in the session. "Tutti Fruiti, good booty" became "Tutti Fruiti, aw-rootie" and the rest is history.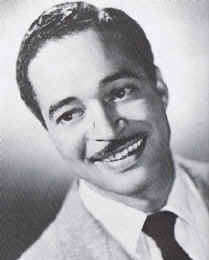 Robert (Bumps) Blackwell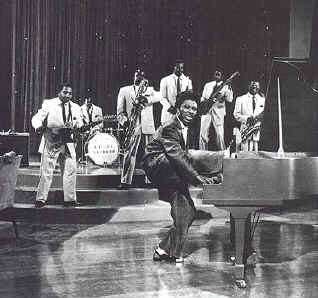 From the time he began with Specialty on September 13, 1955 until he left in October, 1957 Richard would record fifty songs, including alternate takes. From this wealth of material Specialty would release 9 singles and two albums.
For eighteen months between early 1956 to the middle of 1957 everything he recorded was a hit and club dates were sellouts. He appeared in several movies including "The Girl Can't Help It' for which he recorded the title track. On October 12, 1957 he began a tour of Australia with Eddie Cochran and Gene Vincent. In 1957, in the midst of a sold-out tour, Richard quit rock 'n' roll, after a plane scare, to become a preacher in the Seventh Day Adventist Church. Specialty wouldn't let him

out of his contract without one last session.
"The Lord is on the side of ballad singers. Rock 'n' Roll is strictly Satan's music"
Litle Richard on entering theological college January 27, 1958
He entered Oakwood Seminary in Huntsville, Alabama where he began studies to become a Seventh Day Adventist Preacher. In the meantime Specialty had enough material to keep releasing singles and albums for another year. Sensing he was being cheated Richard hired a lawyer to collect back royalties from Specialty Records that he estimated at $25,000.
In January 1959 he signed with an Los Angeles agency to set up a gospel tour and in June signed a recording contract with Gone Records.
After three years of little success as a gospel performer Richard went back to Rock and Roll.. October, 1962 he began a tour of England and year later toured Europe with the Rolling Stones as his opening act.
A number of record companies took notice and invited him back to the studio, but they were only interested in repackaging his old hits. Specialty, in five sessions attempted to rekindle the 1957 magic.
During this period Jimi Hendrix was briefly Richard's guitarist.
Little Richard enjoyed a renewed popularity with the rock and roll revivals in the late '60s. In 1970 he signed with Reprise Records and had a minor hit with "Freedom Blues." For The Second Coming he was reunited with Bumps Blackwell, Lee Allen, and Earl Palmer.
In 1976 Little Richard returned to the ministry, and by 1979 had recorded God's

Beautiful City for World Records, and had become a full-time evangelist. In October 1985 he was seriously injured in an accident in West Hollywood.
In 1986 he appeared in the hit movie Down and Out in Beverly Hills, which included his first hit in sixteen years, "Great Gosh a 'Mighty," and recorded Lifetime Friend for Warner Brothers. He dueted with Phillip Bailey on the title song to the 1988 film Twins and sang background vocals on the minor U2-B.b. King hit "when Love Comes to town" in 1989. In 1993 Little Richard performed at Bill Clinton's presidential inaugural.
On May 9, 2020, after a two month illness at the age of 87 at his home in Tullahoma, Tennessee Richard from a cause related to bone cancer.
Little Richard was inducted into the Rock and Roll Hall of Fame in 1986