The Andantes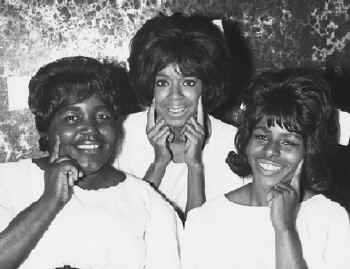 Left to right: Jackie Hicks, Louvain Demps, and Marlene Barrow
The Andantes were a driving force in creating the Motown's "The Sound of Young America." Providing enhancing vocals for many Motown records (mostly unaccredited) the Andantes played an important part in the success of Motown Records.

The Andantes consisting of Jackie Hicks, Marlene Barrow and Louvain Demps provided flawless, but largely unaccredited studio backing on countless Motown hits. The group acquired its name while Hicks and Barrow were singing with Emily Phillips, at Hartford Baptist Church in Detroit. It was their piano accompanist Mildred Dobey that gave the girls that name telling them it meant soft and sweet.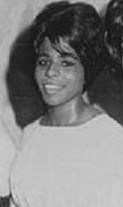 Louvain Demps was born April 7, 1938 in New York. Raised in Detroit and attended Pershing High.
Like any new business, cash flow problems plagued Motown, Raynoma Liles along with future husband Berry Gordy, developed the Rayber Music Writing Company. Rayber was formed in order to help young Detroit performers to find outlet for their songs prior to Motown. They advertised on a local radio station and caught the ear of their first paying client, Louvain Demps in 1959.
Marlene and Jackie attended Northwestern High School with pianist Richard Wylie who brought the Andantes to Motown in 1960. Wylie had already landed an audition and wanted the girls to be his backing group. Things didn't work out for Wylie, but the girls were invited to stay. Emily got married and her husband didn't want her to sing so she left. It was at this time that Louvain Demps was invited to join the Andantes who historians say appeared on more than 20, 000 recording sessions. At first they took a back seat to the Rayber Singers who consisted of Raynoma, Berry, Robert Bateman, Brian Holland, and anyone else hanging around. When running Motown escalated, Louvain took Miss Ray's place in the Rayber Singers who disbanded around 1962 when the Temptations, and the Supremes started doing sessions. Early Andante assignments included Eddie Holland's Jamie and Mary Well's "Laughing Boy."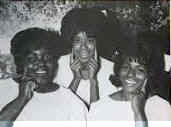 Over the next few years the were on numerous Motown recording. An example of their work were the opening chords to the Four Tops "Ask the Lonely." The Andantes would have welcomed a career of their own, but there was only one single "Like A Nightmare" released with the Andante name while they were at Motown. Even on that Motown brought in Ann Bogan to sing lead. Though the single had much potential Motown didn't promote it because the group did not make live appearances. Their smooth, quality, chorale sound was so valuable that Motown never gave them a chance to record on their own. Though not allowed to record for any other company Hicks and Barrow can be heard on some of Jackie Wilson's hits including "Higher and Higher."
In 1966 when Florence Ballard of the Supremes became more and more unreliable often missing performances Marlene Barrow was used as a substitute. Starting in 1967 the Andantes were used on all the Supremes, replacing Mary Wilson and Cindy Birdsong.
The Andantes continued doing their background work on Marvin Gaye's "I Heard It Through the Grapevine." The Andantes were used to smooth the Marvelettes' infectious, but shaky harmony, they also used them on the Four Tops for high end and backed Martha Reeves on every Martha & the Vandellas' recording after Annette Beard left.
As the 60s ended work for the group began to end. When Motown made its move to Los Angeles in 1972 the Andantes were left in Detroit.
With less work now, Louvain receded a contract offer from ABC-Dunhill Records which ultimately fell through. She then received an offer of work in Atlanta, Georgia and the Andantes disbanded.
In the 70s Demps recorded for GRC Records, later joined the Richard Law Singers and recorded the soundtrack for the movie Black Scarlet in 1974. She also recorded jingles for local news and the show Look Up Atlanta. Besides singing, Demps is employed as a governess and became an evangelist. Louvain's brother, Larry "Squirrel" Demps sang with the Dramatics.
Hicks and Barrow eventually gave up singing. Marlene settled down to raise a family in Detroit. Jackie lives in Detroit too. Both are fundraisers for the Motown Museum. The Andantes also record for Ian Levines's Nightmare Records The tracks include a remake of the Fascinations' "Girls Are Out To Get You," as well as "Two Sides To Love," "Hurricane," "Lightening Never Strikes Twice," and a new "Like A Nightmare."
The Rayber Voices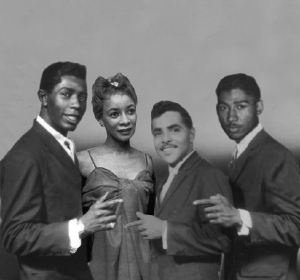 L to R - Robert Bateman, Raynoma Gordy, Sonny Sanders, Brian Holland
The Rayber Voices were a group of backing singers at Motown in the late 1950s and early 1960s.


The group was (usually) made up of Robert Bateman (bass), Brian Holland (baritone), Raynoma Liles Gordy (soprano), and Sonny Sanders (tenor).

Raynoma Gordy was Berry Gordy's wife (and head of Motown's publishing arm, Jobete), and the two created The Rayber Voices from a contraction of their names, Raynoma and Berry. Robert Bateman would go onto to become a songwriter and producer (he co-wrote The Marvelettes' "Please, Mr. Postman"). Brian Holland would also become an established songwriter-producer, most notably as a member of Holland-Dozier-Holland.

Gwendolyn Murray would later join the group, along with future Andante Louvain Demps (soprano).

The Rayber Voices feature on many early Motown records, from the very first Tamla single, "Come To Me" in 1959, until the early 1960s. The ensemble backing group was then replaced with more a more permanent backing group, The Andantes.
Raynoma Singleton Gordy died November 11, 2916 of brain cancer in Woodland Hills, California she was 70.
Robert Bateman died of a massive heart attack October 12, 2017 in Sherman Oaks, California at the age of 80.
Sonny Sanders died in Detroit during the October 12. 2016. He was 77.
The Jets aka Five Stars akaVoice Masters

Joseph Murphy, Crathman "C.P" Spencer (Tenor), Charles Lee (Second Tenor), Raymond Dorsey (Baritone), Billy Davis (Bass)

Artist Biography by Andrew Hamilton
The Voice Masters evolved from the Five Jets and the Five Stars and were one of the first groups that Berry Gordy used on sessions. Core members Crathman P. Spencer, Walter Gaines, and Henry Dixon were led by the dynamic leads of David Ruffin, Ty Hunter, Joe Charles aka Joe Murphy, and Lamont Dozier. Melvin Franklin's booming bass is heard on early releases, and female voices are as prominent as males on some recordings.

The Five Jets recorded on Deluxe Records from 1953-1954 and released one single as the Five Dollars on Fortune Records in 1957; the Five Stars emerged in 1957, cutting at least four singles on as many labels. By 1959 they were the Voice Masters and signed to Gwen Gordy and Billy Davis' Anna Records. Anna's first two singles were by them. "Oops I'm Sorry" with "Hope and Pray" didn't do any better than the Five Jets' or Five Stars' efforts. "Needed," the second single, did a little better but not much; Melvin Franklin's powerful 14-year-old bass growl awakens like caffeine on the opening refrain. "Needed" features an Eddie Holland-ish, operatic lead.

Ty Hunter handled lead on the next two singles: "Orphan Boy" and "Everytime." A flute mocking Hunter's quivering falsetto plays a sweet melody to introduce "Everytime" featuring Hunter and credited as Ty Hunter and the Voice Masters; the floater is one of the groups' finest moments. Subsequent releases featured Lamont Dozier and David Ruffin with the Voice Masters supplying uncredited vocal help. Dozier leads "Lets Talk It Over" (1960), the song that set the foundation for Holland, Dozier, and Holland's "Darling Baby," a modest hit for the Elgins; and Ruffin's magnificent on "I'm in Love" (1961), a turbulent, gospel-inspired ballad.

When Billy Davis, aka Roquel and sometimes Tyran Carlo, left Anna to form Checkmate Records, the Voice Masters followed. The first release features Dozier on the romping "I Didn't Know," which gets better with each listen. It was billed as Lamont Dozier & the Voice Masters, and it was the last single that they received label credit. They accompanied Ty Hunter on "Memories," which is almost as crucial as "Everytime," and David Ruffin on two smokers: "Action Speaks Louder Than Words" and "Mr. Bus Driver." "Lonely Baby" was first issued on Checkmate but was licensed to Chess in 1963 to become a decent R&B hit and Hunters' biggest solo release.

Davis closed Checkmate, which like Anna was distributed by Chess, and became Chess' Artist and Repertoire Director. Spencer, Gaines, and Dixon united with Freddie Gorman, and as the Originals they hit with "Baby I'm for Real" and "The Bells"; Joe Stubbs sang with the first Original lineup. Lamont Dozier, who previously recorded with the Romeos, allied with the Hollands (after original partner Freddie Gorman left to work for Golden World Records) to form the crack Holland, Dozier, Holland production machine. Like Dozier, Ty Hunter sang with the Romeos, soloed, joined the Glass House, then replaced C.P. Spencer in the Originals. David Ruffin, who recorded as Little David Bush, struck gold when the Temptations axed Elbridge Bryant and eased him in the lineup. The Temptations' first number one record "My Girl" featured Ruffin's, rough, hair-raising tenor; they went on to become the world's most popular vocal group. Joe Charles later sang
with Lorri Rudolph as Loe & Joe on Harvey Records. Davis left Chess in the late '70s and became a force in the commercial jingle business.Hunter died February 24, 1981.