The Miracles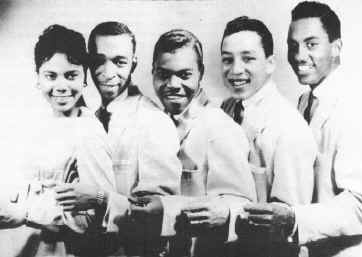 (L to R) Claudette Rogers Robinson, Ronnie White, Warren "Pete" Moore, William "Smokey" Robinso, Bobby Rogers
Along with Brian Holland-Lamont Dozier-Eddie Holland team, William "Smokey" Robinson was the songwriting and production mainstay of Berry Gordy's Motown Records during the '60s.The Miracles were the group most responsible for establishing the Motown sound and featured singer Smokey Robinson, who would go on to become one of America's premier songwriters.


Members:
William "Smoky" Robinson - lead
Cladette (Rogers) Robinson
Ronald White - baritone
Robert Rodgers - tenor
Warren "Pete" Moore - bass
The Five Chimes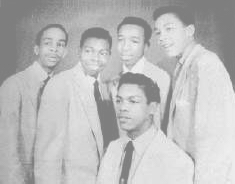 Standing L to R: Clarence Dawson, Pete Moore, Ronnie White, Smokey Robinson,
(Front) James Grice.
William "Smokey" Robinson was born February 19,1940 in Detroit, Michigan. As a boy Smokey loved cowboy movies and his uncle Claude gave him the nickname Smokey Joe. His mother died when he was only ten. His father drove a truck, so Robinson lived with his sister who had nine children of her own. His neighbors were the Rev. C.L. Franklin family , including daughters Aretha, Carolyn, Erma and son Cecil. Together with Cecil, neighborhood paperboy, Ronnie White, Smokey began singing street corner doo wop in the early fifties while they were attending Dwyer Elementary School. Even at this young age, he was writing all of their material.
At about eleven or twelve Robinson became interested in R&B. Among his favorites were Dominoes and its lead vocalist Clyde McPhatter. While attending Northern High School in 1955 he started his own vocal group the Five Chimes. The group included along with Robinson, Pete Moore, Ronnie White James Grice and Clarence Dawson. When Dawson quit Emerson Rogers (Claudette's brother) was added and the name was changed to the Matadors. Cleveland quit the group after getting his girlfriend pregnant and Bobby Rogers who was Claudette's cousin took his place.
Robinson's initial influence was another great group, Nolan Strong and the Diablos. In 1955 Robinson and the Matadors(as the Miracles originally called themselves) did an a cappella demo of the Diablos' "Adios, My Desert Love" that revealed a distinctive though rough Robinson falsetto already taking shape.

(From left to right: Bobby Rogers, Claudette Robinson, Ron White and Smokey Robinson)
In 1956 Emerson was drafted and his place was taken by his sister Claudette Rogers.
In 1957 the Matadors auditioned for Jackie Wilson's manager who turned them down because he felt they sounded too much like the Platters. A young writer named Berry Gordy was there and he liked the Matadors. By early 1958 Gordy along with Jackie Wilson's cousin Tyrone Carlo had written an answer song to the Silhouette's hit "Get A Job" called "Got a Job".
Berry brought the song to the Matadors, since they now had a girl in the group re-named themselves the Miracles, and helped get it recorded on End Records in March 1958. "Got A Job" led to another End release "Money" (not the Barrett Strong song) with Robinson's easily identifiable lead. Berry then produced a side he had co-written with Robinson called "Bad Girl" and licensed it to Chess Records in 1959. "Bad Girl" reached #93 nationally, When the first Royalty check from Goldner totaled on $3.19 Robinson convinced Gordy to start his own label. Gordy borrowed eight hundred dollars in 1960 and formed the Tamla label and signed the Miracles. Their first single "Way Over There" bombed making the company look like a bad investment.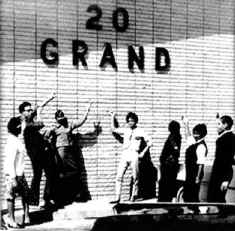 Vandellas outside the 20 Grand
In 1959, Gordy began issuing records on his own Tamla label. One of the first was an outer space novelty "It" by Ron and Bill which was leased to Argo, a Chess Records subsidiary. Ron and Bill were Ronnie White and Bill "Smokey" Robinson. Even without hit records, the Miracles were celebrities in Detroit, appearing at local revues at the Windsor Stadium and the Twenty Grand Club. They even played the East Coast theater circuit that included the Apollo Theater in New York.
From mid-1959 to mid-1960, the Miracles did not release any singles. During that time they were honing their on stage act with Charley Atkins, a former tap dancer, who devised choreography for the group.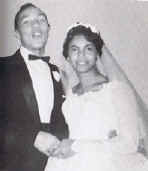 In that year they also added Marvin Tarpin. Tarpin became an integral part of the group and was considered to be a full member of the group. Robinson also married Claudete Rogers whom he had been dating and most of the time she was a group member. From now on she would record with the group, but seldom tour. Smokey was now earning five dollars a week.

(clockwise from far left - Smokey Robinson, Pete Moore, Ronnie White and Bobby Rogers)
Things turned around in October 1960 when the Miracle's "Shop Around" was released and charted on the Pop and R&B lists on December 12th. "Shop Around" went to number two Pop on February 20, 1961 (#1 R&B). Robinson, in recognition of his work with both the Miracles and other Motown acts, was made a Tamla vice president by the end of 1961.
In 1962 the Miracles came out with two of their best "What's So Good About Good-Bye" (#35 Pop, #16 R&B) and "I'll Try Something New" #39 Pop, #11 R&B).
"You Really Got a Hold on Me" in November 1962 carved out the Miracles permanent niche reaching #8 Pop and #1 R&B. That summer "Mickey's Monkey" became their third top ten Pop hit (#8 Pop, #1 R&B).

photo courtesy of The Smokey Robinson Fan Club
By the beginning of 1964 Claudette, who had married Robinson in 1963, had retired from the group. The British invasion had little affect on the Miracles, who continued to have hits with "Ooo Baby Baby" (#16 Pop, #4 R&B, 1965), "The Tracks of My Tears" (#16 Pop, #2 R&B, 1965), and "Going to A-Go-Go" (#11 Pop, #2 R&B, 1966). Robinson was also writing hits for Mary Wells "My Guy" (#1) and the Temptations The Way You Do the Things You Do" (#11). At the end of 1966 they recorded "I'm the One You Need" (#17 Pop, #4 R&B), their last hit as the Miracles, because in 1967 they became Smokey Robinson and the Miracles.
In 1967 Tamla released the Robinson written "More Love" (#23 Pop, #5 R&B). After "More Love" came one of their biggest hits "I Second That Emotion" (#4 Pop, #1 R&B).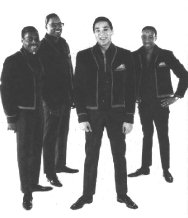 Pete Moore, Bobby Rogers, Smokey Robinson, and Ronnie White
The Miracles in the late 60s
Their next big hit broke not in Detroit, but England. In 1967 the Miracles had recorded a song called "Tears of a Clown". Three years later, British Motown executive John Marshall needing a follow up to "The Tracks of My Tears" and heard "Tears of a Clown" off the the 1967 Make It Happen album. Issued in September 1970 it sold 900,000 copies and reached number one on the British charts. In December Motown released it in the States and by December 12th it was the Miracles biggest hit ever (#1 Pop and R&B), selling over a million copies.
On July 16, 1972, at the end of a six month U.S. tour, Robinson made has last appearance as a Miracle in Washington, D.C. "I Can't Stand To See You Cry" (#45 Pop, #21 R&B) was Robinson's last single with the Miracles and after forty two Pop chart singles, he began his solo career.
Robinson's place was taken by Billy Griffin of Baltimore. The Miracles recorded seven more Tamla singles that included "Do It Baby" (#13 Pop, #21 R&B) and "Don'tcha Love It" (#78 Pop, #4 R&B).
In 1975 the Miracles had their longest running chart hit when "Love Machine" (#1 Pop, #5 R&B) stayed on the charts for twenty eight weeks.
In 1977 the Miracles moved to Columbia and added Griffin's brother Don.
Their last chart single was "Mean Machine" in 1978 (#55 R&B).
On May 16, 1983 they reunited with Smokey for Motown's 25th anniversary TV special. Robinson continued recording and from 1073 to 1989 had 24 Pop and 38 R&B chart 45s, including "Baby That's Backatcha" ( #26 Pop, #1 R&B, 1975), "Cruisin'" (#4 Pop and R&B, 1979), "Bein' With You" (#2 Pop, #1 R&B, 981), and "Just to See You" (#8 Pop, #2 R&B, 1987).

Smokey Today
In 1988 he resigned his Motown vice presidency and left Motown in 1990, recording 1991's "Double Good Everything" for SBK Records. Ronnie White, an original member of The Miracles, died in Detroit on August 26, 1995, of leukemia at the age of 57.
The original Miracles have evolved into completely new group of faces. Other than the music, the Miracles bare little resemblance to the group that made the hits. Robinson continues to perform as he pleases, filling with ease the largest concert halls, in the world's largest cities
Smokey Robinson, without the Miracles, was inducted into the Rock and Roll Hall of Fame in 1987
The Miraxles, including Claudette Robinson, were inducted into the Rock and Roll Hall of Fame in 2012.
Ronnie White died from leukemia August 26, 1995, he was 50.
Bobby Rogers died due to complications of diabetes March 3, 2013, he was 73.
Pete Moore died due to complications of diabetes, in Las Vegas, Nevada November 19, 2017 at the age of 80.