Mary Wells

Mary Wells was Motown's first big star.


Mary Esther Wells was born May 13, 1943 in Detroit Michigan near Wayne State University. Wells' early years were not easy growing up without a father. Her mother did domestic work in order to support her three children. As a small child, she suffered a bout of spinal meningitis, which left her temporarily paralyzed, with loss of hearing, and partial blindness in one eye. When she returned to good health, Wells suffered the hardship of learning to walk again.
Wells first began singing in church when she was three or four. While attending Northwestern High School she sang in the choir. Wells began singing in local clubs and talent contests at age ten. At age 16 she met Berry Gordy Jr.'s assistant Robert Bateman. It seems that she had written a song for Jackie Wilson and had Bateman introduce her to Gordy. Unable to write her song down, she sang it to Gordy. Gordy promptly signed her, turned her over to William "Smokey" Robinson and Motown released her debut single "Bye, Bye Baby" (#45 Pop, #8 R&B, 1960).
Her follow up "I Don't Want To Take a Chance," which Wells also wrote, did well on both the pop and R&B charts, but her third single, "Strange Love" wavered. Gordy then decided that she could benefit from someone else' material and in 1962, Wells was teamed up with performer, writer, producer Smokey Robinson scoring a string of hits, including "The One Who Really Loves You, "You Beat Me to the Punch" and "Two Lovers" in 1962; "Laughing Boy', "Your Old Stand By", and "What's Easy for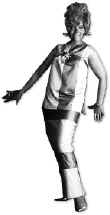 Two Is So Hard for One" b/w "You Lost the Sweetest Boy" in 1963. Her biggest hit was 1964's "My Guy" which reached #1 on the pop charts. Like her other collaborations with Robinson it featured her smooth, knowing, but coy delivery backed by Robinson's understated popish arrangement. Next came two duets with Marvin Gaye. Wells was the first female singer at Motown to adopt a glamorous stage persona.
In 1964, Wells' career reached a significant peak when her song, "My Guy," made it to #1 on the pop chart and became one of the year's best recordings. She also sang duets with Marvin Gaye, such as "Once Upon a Time," which made it to #17 in 1964. The Beatles declared Mary Wells their favorite American singer, calling her "their sweetheart" and invited her to England to tour with them. Upon her return to the States, the Beatles sent Wells several compositions to be released on their next album. In return, Mary recorded an album called "Love Songs to The Beatles."
Soon thereafter, Wells became the first of Gordy's successful artists to sue the label. Encouraged by her husband songwriter Herman Griffin, Wells sued Motown and
won, arguing that the recording contract she had signed at seventeen was invalid. Her leaving came at the height of her success and was an embarrassment to Gordy, who attempted to discourage other labels from signing her.
Wells received a large contract from 20th Century Fox, along with promises that she would be making films, but her records went nowhere and she never appeared in a film. In late 1965, she signed with Atco and had a hit with "Dear Lover" (#6 R&B), but none of her subsequent records were as successful as her Motown recordings. "Dig the Way I Feel" was a minor hit on Jubilee in 1969. In 1970, she retired from performing.
She did continue to record with singles on Reprise in 1971 and 1974. and two singles for Columbia/Epic in 1982. In the early '80s, she re-recorded her biggest hits for Allegiance Records album. In 1987, she signed with Motor City Records, and an album Keeping My Mind On Love was released in 1990
In 1967 she married Cecil Womack, brother of recording star Bobby Womack, with whom she had three children. They were divorced in 1977. Wells began performing again in the Eighties, as renewed interest in Motown created a demand.
In 1990 it was discovered that Wells had cancer of the larynx which left her unable to sing. A two pack a day smoker, she had no health insurance and was financially devastated by the illness having to sell her house. Many of her friends, including Mary Wilson and Martha Reeves rallied around her, and several artists including Rod Stewart, Bruce Springsteen, Bonnie Raitt, and Diana Ross, provided financial assistance.
In early fall 1991, Mary traveled to Washington D.C. where she testified before a Congressional Committee concerning the funding for cancer research. She said: "I'm here today to urge you to keep the faith. I can't cheer you on with all my voice, but I can encourage, and I pray to motivate you with all my heart and soul and whispers."

After a bout of pneumonia, Wells was hospitalized once more and spent her last days at the Kenneth Norris Jr. Cancer Hospital. Mary Wells died July 26, 1992 in Los Angeles, California.