Jerry Leiber and Mike Stoller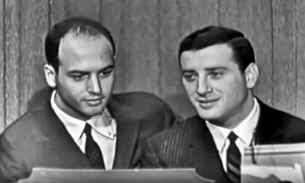 Mike Stoller and Jerry Leiber
Photo from What's My Line television appearance
Jerry Leiber and Mike Stoller formed one of the best and most prolific songwriting teams of the 50's and 60's in addition to their work as record producers.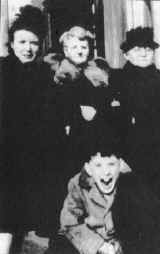 Back row: mother Manya center, Baltimore 1941
Bottom: Jerry
Photo courtesy Jerry Leiber Private Collection
Born April 25, 1933 Jerry Leiber grew up in a Yiddish speaking household in a largely Catholic, Italian-Polish neighborhood on the edge of Baltimore's black ghetto. Before his father emigrated to the US he had taught Hebrew School in Poland. At the age of five. Leiber's mother Manya became the family breadwinner when his father, a door to door milkman, died of a cerebral hemorrhage leaving the family, other than $100 insurance policy, virtually penniless. Manya took the insurance money a candy store on the edge of the black ghetto. Later she turned into a small dry goods and grocery store for six-and-a-half years. The only one that extended credit extended to Blacks, this where became an errand boy delivering five gallon cans of kerosene, ten pound bags of coal and groceries to families in the neighborhood. With music everywhere in these neighborhoods, this is where he fell in love with boogie-woogie. Leiber studied piano and drums for two and half years in Baltimore. At fifteen he decided that he wanted to be a professional songwriter. In 1945 Manya decided to sell the business to move Los Angeles to be closer to Jerry's older sister and the other sister was due to attend the University of California.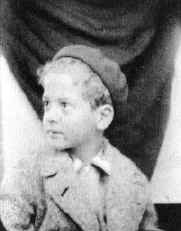 Mike Stoller at age four
Jerry worked at various jobs while attending Fairfax High School. One was working midnight's bussing dishes at Clifton's Cafeteria in downtown Los Angeles. It was there that he heard the short order cook listening to Hunter Hancock's radio show Harlem Hit Parade. Hunter was playing Jimmy Witherspoon's Ain't Nobody's Business.

Jerry Leiber, age 11, Baltimore
Photo courtesy Jerry Leiber Private Collection
During the summers Jerry worked at the Circle Theater where he swept floors and ushered. After school he worked part time at Norty's Record Shop owned by Norty Beckman. There he was both shipping clerk and salesman. It was there that he met Lester Sill who was national sales manager for Modern Records. After telling Sill he was a songwriter, Sill asked him to sing some of what he had written.. Leiber sang a few lines from Real Ugly Woman. "Not bad" Sill said. "Have any others?" "Sure" "Get me copies" "How do I do that?" "Write a lead sheet for me." What's a lead sheet? A piece of paper with notes written on it and lyrics written underneath them." "I don't write notes. "Find someone that does." It was then that Leiber began looking for a writing partner.
Leiber began writing with Jerry Horowitz a part-time drummer and fellow classmate at Fairfax High School. When Horowitz's father died he had to work. Not able to find the time to write anymore, recommended Mike Stoller to Jerry. In summer of 1950 Leiber went to Stoller's and he proposed they write songs together. They began writing at Stoller's house. Opposites in personality, Leiber was a outgoing while Stoller was laid-back They differed in musical tastes too. Stoller was interested into modern jazz and contemporary classical music. Leiber demanded his music have a beat. They would then start writing for Jimmy Witherspoon, Charles Brown, Little Esther and Little Willie Littlefield. It was at Leiber's parent's apartment with Stoller at the piano and Leiber shouting out words that they ended up with as many as five songs a day. It was 1950 and they were both seventeen.
Upon graduating from high school Leiber attended City College studying English literature, philosophy and sight reading. He would quit four months short of completing the two year course.
Stoller Family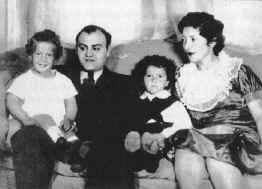 (L to R) Mike, Abe, Joanne, Adelyn
Photo courtesy Private Collection Mike Stoller
Mike Stoller was born March 13, 1933 in Belle Harbor, Long Island, a middle class community near Rockaway Beach. Stoller came from a lower middle class family. He had an older sister Joan who was born in 1929. His father Abe was an architectural draftsman without a degree. His mother Adelyn was a former model and actress who had appeared in the chorus of Gershwin's 1927 musical comedy Funny Face. Adelyn throughout her life would suffer from depression.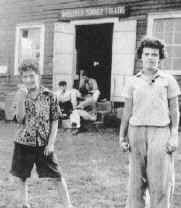 Summer Camp Wo-chi-ca, 1943
Mike and Joanne Stoller
Photo courtesy Private Collection Mike Stoller
When Mike was four the family moved to Sunnyside, Queens and later at sixteen to Los Angeles, California. At five he began taking lessons from an aunt who was a brilliant classical pianist but very strict. After a few lessons he quit. In 1941, at eight Stoller's parents sent him to an interracial summer camp in New Jersey. It was there that he heard black teenagers playing and learned the basics of the blues and boogie-woogie from them.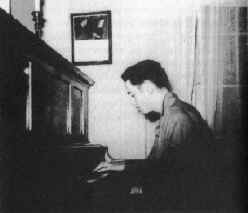 Mike Stoller, Los Angeles, 1950
Photo courtesy Mike Stoller Private Collection
His mother wanted him to learn classical music and he began taking lessons from a Louis Kanterovsky neighborhood piano teacher. Those sporadic lessons began at nine and ended a few years later. One day a neighbor heard him playing boogie woogie and arranged an introduction to James. P Johnson whom he knew Johnson was known as The King of the Stride Piano, was one of the greatest jazz pianist in history, who had taught Fats Waller. Stoller began taking lessons where Johnson demonstrated the fundamentals not in theory but practice. Enthralled with Bebop in his teens, Stiller began to sneak into jazz clubs on Manhattan's 52nd Street and hang out at a Harlem social club. He was studying composition about the time he met Leiber with Arthur Lang.
In 1949, Abe seeing business opportunity in California moved the family to Los Angeles when Mike was sixteen. They lived on the edge of the downtown. Abe worked for company that designed, manufactured and installed counterweight systems for theatrical curtains. He would go into business with his boss with each putting in $5000. Later his former boss would use a legal loophole and fired him.
Mike attended Belmont High School. Worked at Million Dollar Theater selling ice cream as well as the Orpheum Theater as usher and doorman. He graduated from Belmont High School in January, 1950 and then started Los Angeles City College on Vermont Avenue. He would drop-out after a year and began playing at local dances with the Vasquez brothers.
| | |
| --- | --- |
| Los Angeles, 1950 Stoller third from right with the Counts a social club | (L to R) Mike Stoller, Lester Sill and Jerry Leiber) |
It was through Sill that they would make valuable contacts such as disc jockey Gene Norman. Norman promoted an annual blues jamboree at the Shrine Auditorium in Los Angeles. It was at one of these concerts that one of their songs was first performed in public. The song was Real Ugly Woman as sung by Jimmy Witherspoon in December 1950. It would be their second release.
Leiber set up an appointment with Bihari brother's Modern Records on Canyon Drive. Becoming inpatient after waiting twenty minutes they left out. As they walked up the street they came upon a small building with a sign that said Aladdin Records. They walked in, played a few songs for Aladdin director Maxwell Davis and left with a songwriting contract.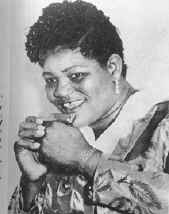 Willie Mae "Big Momma" Thornton
When Sill heard what happened he took them back to Modern. This time he made sure they saw the brothers, who also asked their singing group, the Robins, to hear them. They played a song they had just written "That's What the Good Book Says." Robin's That's What the Good Book Says was the first Leiber-Stoller composition to be released. Johnny Witherspoon had recorded Real Ugly Woman earlier but it wasn't released till later.
They took a song they had written Hard Times to Aladdin where it was recorded by Charles Brown.
| | |
| --- | --- |
| | Johnny Otis |
However their break through would come on August 13, 1952 when Big Mama Thornton recorded Hound Dog (#1 R&B) on Don Robey's Peacock label.. Unhappy with the drummer on the date they had the session's producer Johnny Otis replace him while they took Otis' place in the recording booth. Thus becoming the actual producers. When the record came out the label had Stoller's name as Stroller and credited Otis as co-author. To add insult to injury Robey's $1200 advance check bounced. This would later lead them to form their own publishing company, Quintet Music, and record company Spark.
The third single that they wrote, produced and released on Spark label in 1954 was the Robins' Riot In Cell Block #9. The inspiration was Gang Busters a radio program that Leiber had heard in the 40s. The last Spark release was Framed with Carl Gardner singing lead.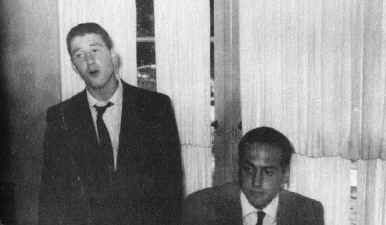 Jerry Leiber and Mke Stoller Los Angeles circa 1952
Photo courtesy Leiber and Stoller
In 1952, Little Willie Littlefield recorded Kansas City and Hound Dog by Big Mama Thornton was released on the Peacock Record label.

The Cheers
L to R: Bert Convoy, Sue Allen, Gil Garfield




It was in 1954 they first wrote for a white artist after being approached by Gil Garfield who Leiber had known for several years. They would write for his group The Cheers two hits, Bazoom (I Need Your Lovin") and Black Denim Trousers and Motorcycle Boots.
In 1954 Mike and Jerry with $2500 apiece put up from his father and father's friend Jack Levy started Spark Records and Quintet Publishing. There were five partners, Abe Stoller, Mike Stoller, Jerry Leiber, Jack Levy and Lester Sill with each owning twenty percent. Lester Sill was put in charge of national sales, Abe Stoller was appointed general manager and Jack Levy East Coast representative. Spark Records last but two years, 1954 - 1955 but it issued forty-four singles all written by Leiber and Stoller. The first act they signed were the Robins. Some of the songs made the R&B charts, but only in California. The problem was Spark lacked national distribution. Under financed, with little income from publishing and cash flow dwindling Abe wanted out..
Sold over 100,00 copies of Riot In Cell Block #9 and another record by The Robin's Loop De Loop Mambo.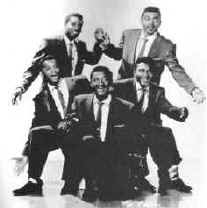 The Robins - 1953
(L-R) Top : Roy Richards, Bobby Nunn
( L-R) Middle: Grady Chapman, Billy Richards
Bottom: Ty Terell
On September 28, 1955, they recorded Smokey Joe's Cafe with the Robins. Though it was a local success, Spark lacked the resources to promote and distribute it. However it caught the ear of Nesuhi Ertegun of Atlantic Records. Nesuhi introduced them to his brother Ahmet and other Atlantic executives. They signed a deal with Atlantic Records that called for them to provide material and produce records. Atlantic would record, release and promote their records for which they would be paid a royalty. They were to be paid a two cent royalty per record sold. The songs would be co-published with Tiger Music with Stoller and Leiber getting writer royalties. Thus they would become the first writer-producers to get a free lance arrangement with a label.
No formal contract was ever written setting exact amounts and percentages and written statements were never sent. Leiber an d Stoller's accountant was unhappy with this arrangement and asked for an audit which found that the two had been underpaid to the tune of $18,000. Atlantic's Ertegun's reaction was "Fine, I'll pay the $18,00, but that's the end of the relationship-and you can forget about the roster of artists." They backed down. In 1961, would leave to United Artists.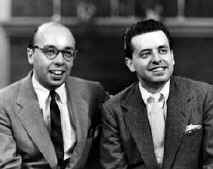 Ahmed and Nesuhi Ertegun
Within days of the signing the agreement they were writing for Atlantic's artists. October 1955, re-released Smokey Joe's Cafe on their Atco label. First release That's What the Good Book Said It was only a minor hit selling 100,000 copies, but it was the first time the Robins made the pop charts. In November 3, 1955 The Chicken and the Hawk was recorded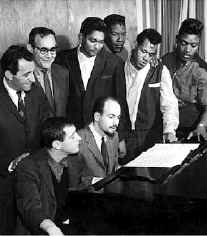 Standing (L to R) Lester Sill, Jerry Wexler, Coasters Carl Gardner, Will "Dub" Jones, Billy Guy, Cornell Gunter
Seated: Jerry Leiber, Mike Stoller.

Clockwise from top left: Bobby Nunn, Carl Gardner
Billy Guy Leon Hughes


(L-R) Will "Dub" Jones, Carl Gardner
Cornell Gunther, Billy Guy, Adolph Jacobs
When Spark was dissolved three of the Robins members did not sign with Atco. Carl Gardner and Bobby Nunn did and were joined by new singers Billy Guy and Leon Hughes. The new group was called the Coasters reflecting West Coast origin and were managed by Lester Sill. Leiber and Stoller would go on to write nearly all of the Coasters hit songs, including Searchin', Yakety Yak, Charlie Brown, Poison Ivy, Along Came Jones, and Little Egypt [Ying-Yang].
Down In Mexico was the first hit (#8 R&B) under the new Coaster name..They developed a style of telling stories in their songs using these humorous lyrics, which they termed "playlets." In 1957 Hughes and Nunn were replaced by Jones and Gunther. This group of Coasters did most of the group's classics.
In 1956 their earlier composition of Hound Dog was re-recorded by Elvis Presley and released along with Don't Be Cruel on its flip side. It was a mega-hit and helped to establish Presley as a star, remaining at number one on the pop charts for an incredible eleven weeks in 1956.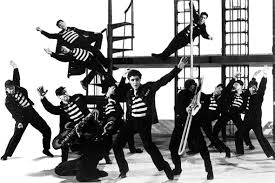 In 1957 they were asked to write the entire soundtrack for Jailhouse Rock. They were just twenty-three.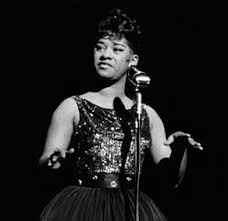 Ruth Brown
The following year 1958 they wrote Fools Fall In Love for the Drifters and Lucky Lips for Ruth Brown. Lucky Lips was the song that allowed Brown to crossover to the pop charts. They also wrote and produced the Drifters Drip Drop.
After their success with the Coasters Atlantic asked them to work with the Drifters. They had a five year run from 1959- 1963. In 1959 they produced the Drifter's #15 Dance With Me, #2 hit There Goes My Baby, 1963 #9 On Broadway and after he left the Drifters Ben E. King's Stand By Me (#4) and Spanish Harlem (#9) and #29 I (Who Have Nothing). They produced This Magic Moment, save the Last Dance for Me, Some Kind of Wonderful and Up On the Roof.
Doc Pomus and Mort Shuman collaborated on some projects. Through some combination of Shuman, Pomus, Leiber, and Stoller, there resulted such gems as the Coasters' Young Blood, some of the songs done by Ben E. King after he left the Drifters, and some of Elvis' hits such as She's Not You
In 1960 Lester Sill called asking the Jerry to take Phil Spector a young record producer with whom he had begun working on the West Coast under their wing. Feeling indebted to Sill, Spector was given an exclusive publishing contract and played on all their recording sessions. Spector produce the Ray Peterson hit Corinna, Corinna (#9) and co-wrote Spanish Harlem (#9) with Leiber. He never wrote another hit for them.
In 1959, Leiber and Stoller concieved the idea of sweeting rhythm and blues by adding strings, the first of these records was " There Goes My Baby" When Jerry Wexler reaction to it was "Get that out of here. I hate it. It's out of tune and it's phony, and it's hit, and get it out of here." It became the Drifter's biggest hit to date, reaching number one ofn the pop chart establishing a style that would become the group's trademark. Save the Last Dance For Me in 1960 also went to number one.
Only In America was originally written for the Drifters but when Atlantic turned it down they took it to United Artist. There Jay and the Americans had a #25 hit with it in 1963.
Based on their accountant's advice they asked for an audit of Atlantic. When the audit was completed it showed they were owed $18,000. To which they were given the following choice 1) take a check for $18,000 and never work with any Atlantic artists again or 2) forgo the money and resume business as usual. They chose the second option. The next Drifter recording they were scheduled to produce was given to Phil Spector and it would be some time before they did anymore production for Atlantic.
During this time thy negotiated a deal with United Artists. They signed and produced Jay and the Americans, had hits with Mike Clifford (Close to Cathy and What to Do with Laurie) and the Exciters (Tell Him). It all ended when the executive that had hired them, Art Talamadge was fired. At the end of 1962 they were again without a deal.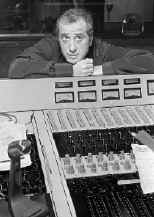 Realizing the business was changing they began concentrating on signing writers while working as producers. They signed Jeff Berry, Ellie Greenwich and Neil Diamond.
In 1963 they started Tiger Records and later would add a sister label Daisy. Now not only would they produce, but they would press and through independents, distribute their own records. Songwriters Jeff Barry and Ellie Greenwich. Bossa Nova Baby by the Clovers. They didn't know how to get airplay and it flopped. Bessie Banks' Go Now (#53) was the only Tiger release that charted.
In 1964 while at Al and Dick's a local steakhouse having drinks with Hy Weiss that Leiber was introduced George Goldner. Golder had started a number of famous records labels such as Tico, Gone, Rama, Roulette and Rama. Because of a gambling problem (horses) ended up selling them Morris Levy. Levy was rumored to have been connected to the "mob." By the time he walked out Goldner was made a one-third partner in Red Bird. His responsibilities were to be selecting and promoting singles.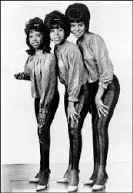 The Dixie Cups nee Melotones
"George Goldner had the musical taste of a fourteen year old girl. That, of course, is the highest compliment you can pay someone in the business of selecting and selling singles" Jerry Leiber. The first song he pick was Chapel of Love. He taught the song to the Meltones, Barbara Ann and Rosa Lee Hawkins and cousin Joan Marie Johnson, had Joe Jones write the arrangement and recorded it at Mira Sound. The Meltones were re-named the Dixie Cups and. Chapel of Love was released in the spring of 1964 on the Red Bird label. It went all the way to #1 where it stayed for three weeks.Artie Butler was the chief arranger and Brooks Arthur engineer at Mira Sound.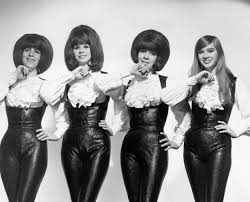 Later that year Red Bird would release Remember [Walkin' In The Sand] by a group of girls, twins Mary Ann and Marge Ganser and sisters Mary and Betty Weiss, from Andrew Jackson High School in Queens, the Shangri-Las. This group was found and produced by George "Shadow" Morton. They went on to have a number of hits, including the number one Leader Of The Pack, all of them on Leiber and Stoller's Red Bird label. In March 1966 after a visit from some questionable people, Jerry and Mike sold their interest in Red Bird to their partner, George Goldner for one dollar.. Within a few months Goldner sold all the masters to Shelby Singleton. They were thirty-three.
Leiber and Stoller once again began working with the Coasters, but with little success. Once again they were without a deal.
In 1964 Leiber and Stoller approached Jerry WExler and propsed a merger with Atlantic. Wexler turned the meeting down, but Ertegun claimed that the real purpose of the meeting was to buy him out.. In September 1964, Ertegun brothers and Wexler were in the process of buying Sabit and Bienstock out and it was suggested that Leiber and Stoller buy Sabit's shares. Ertegun believed that real end was to buy him out and that Wexler was in on the plan. Wexler told Etregun if he refused the deal would be done without him, but the Etregun's held the majority of the stock, so the deal wasn't done. Thus began Ertegun's lifelong grudges against Leiber and Stoller.
Peggy Lee in 1969 recorded and won a Grammy with Leiber and Stoller's Capitol. Is That All There Is? It was the biggest hit of her career.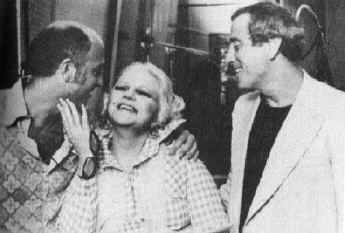 Mike Stoller, Peggy Lee, Jerry Leiber - 1975
Photo courtesy Leiber and Stoller
In the 70s they decided to drop their idea to be record company owners and concentrate on songwriting. and accumulating copyrights. After twenty years in the business they realized that everything in the music business changed, but the one constant was the song. It was through song ownership that one builds permanent security. However they did continued to work as freelance record producers promoting such acts as Peggy Lee, Stealers Wheel, Procol Harum and T-Bone Walker and many of their songs were still being recorded by other artists.
Leiber and Stoller were inducted into the Rock and Roll Hall Of Fame in 1987.
In 1988 their early composition that had been such a huge success, Hound Dog, earned a Grammy Hall Of Fame Award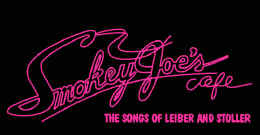 In the 90's a Broadway musical that is based on their work, Smoky Joe's Cafe, is toured the country. Jerry and Mike are still around and occasionally appear in the mainstream media.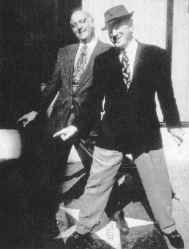 In 1995 they received a star on the Hollywood Walk of Fame.

In 2009, Simon & Schuster published Hound Dog: The Leiber and Stoller Autobiography,written by Leiber and Stoller with David Ritz. As of 2007, their songs are managed by Sony/ATV Music Publishing.
With Artie Butler, Stoller wrote the music to the musical The People in the Picture, with book and lyrics by Iris Rainer Dart. Stoller and Butler's music received a 2011 Drama Desk Award nomination.
On August 22, 2011, Leiber died in Cedars Sinai Medical Center in Los Angeles, aged 78, from cardio-pulmonary failure. He was survived by his sons Jed, Oliver, and Jake.
Stoller wrote both music and lyrics to the song "Charlotte" recorded by Steve Tyrell and released in advance of the 2012 Democratic National Convention in Charlotte, NC.
Jerry Leiber and Mike Stoller were inducted into the Rock Hall of Fame in 1987.