Johnny Cash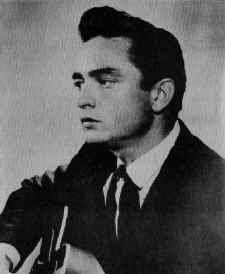 Although his greatest significance came in the late '60s when he popularized country and western music with the mainstream audience and became the first international country star, Johnny Cash was one of the first rockabilly stars of the '50s, along with Sun stablemates Carl Perkins, Jerry Lee Lewis, and Elvis Presley.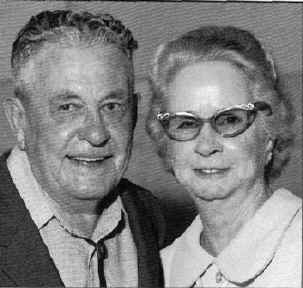 Ray and Carrie Cash
Johnny Cash was born in rural, south-central Arkansas, on February 26, 1932. His birth place is almost directly across the Mississippi from Lake County where Carl Perkins was born six weeks later. The family moved to Dyess, Arkansas when he was three. His father Ray Cash, was a farmer, hobo, and odd job laborer.
| | | | |
| --- | --- | --- | --- |
| | | A young Johnny Cash | Johnny and Roy Cash - 1954 |
The move to Dyess meant hope to the poverty stricken Cash Family. Ray and his son Roy, worked hard developing their government subsidized farm and when Johnny was older he joined them. After working in the fields during the day, Johnny would listen to the radio at night, picking out the Memphis stations with their mix of country and blues songs. Johnny began composing songs, his first at the age of 12, combining the best of both styles. His family, especially his mother Carrie, encouraged him.
| | |
| --- | --- |
| Switzerland 1951 | John and Vivian Liberto Cash |
When he was older, he left home to work in Pontiac, MI. The job lasted only two weeks before he returned home to Arkansas. On July 7,1950 he enlisted in the Air Force, Before leaving Cash went roller skating in San Antonio, Texas. There he met Vivian Liberto, then seventeen and in her last year of high school. They dated a few weeks and wrote each other while Cash was overseas. They decided to get married when he returned. It was while he was stationed in Germany, that he bought his first guitar. He began setting his songs to music, and one of the first was "Folsom Prison Blues."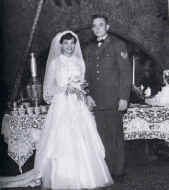 On July 3, 1954 Cash was discharged from the Air Force. On August 7, 1954 he married Vivian Liberto and set up home on Tutwiller Avenue in Memphis. His older brother Ray found him a job selling appliances.
Trying to break in to the music business Cash auditioned for a job as a radio announcer at a station in Corith, Mississippi, but was turned down because lack of experience. Using his G.I. benefits, Cash then enrolled at the Keegan School of Broadcasting in Memphis .
A few days after getting out of the service, Cash visited his older brother Roy in Memphis. Roy Cash was working at Hoehn Chevrolet where he worked with three mechanics who played together at home, small benefit concerts and Sunday morning radio. One of the three was Luther Perkins who would later develop the guitar sound that complemented Cash's stark baritone. was during this time that he met Luther Perkins and Marshall Perkins. The three decided to try and be professional entertainers. They approached Sun Records, but Sam Phillips was busy promoting Elvis Presley's first records. Eventually with Cash playing guitar and singing in his deep baritone voice of exceptionally low and narrow range, they auditioned for Phillips in March, 1955.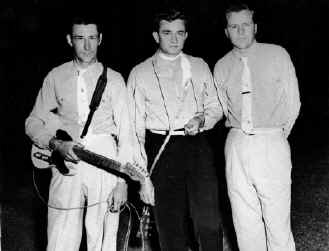 Johnny Cash and the Tennesse Two
L to R: Luther Perkins, Johnny Cash and Marshall Grant
Signed to Sun as Johnny Cash and the Tennessee Two, their first single, "Cry, Cry, Cry," became a moderate country hit. After the two sided smash "So Doggone Lonesome" b/w "Folsom Prison Blues," the group had their first major pop/country hit with Cash's own "I Walk the Line" in 1956. The group appeared on the Louisiana Hayride in December 1955, becoming regulars, before graduating to the Grand Ole Opry in July 1956. They subsequently achieved major pop/top country hits with "Ballad of a Teenage Queen" and "Guess Things Happen That Way" in 1958. That year the group became Johnny Cash and the Tennessee Three with the addition of W.S. Holland, one of country music's first drummers.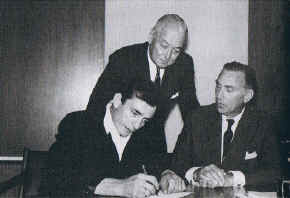 Signing contract with Columbia
Photo courtesy Saul Holiff Collection
On August 1958, the group switched to Columbia Records, soon having a moderate pop/top hit with "Don't Take Your Guns to Town." Leaving the Grand Ole Opry and moving to California, Cash started working with June Carter of the legendary Carter Family, in 1961. feeling the strain of constant touring, and the collapse of his first marriage and death of friend Johnny Horton, Cash began taking amphetamines and tranquilizers to cope. In 1963 he scored his first major pop/top hit with Columbia with "Ring of Fire."
Cash soon began frequenting the Greenwich Village folk music scene and his next moderate hit "Understand Your Man" had a definite folk feel. In 1964 he appeared with Bob Dylan at the Newport Folk Festival and recorded Bitter Tears, his tribute to the plight of the American Indian. It yielded a smash country hit "Ballad of Ira Hayes," and soon Cash and June Carter scored a country hit with Dylan's "It Ain't Me Babe." Cash's 1965 album Orange Blossom Special yielded a smash country hit/ moderate pop hit with the title song.