Jeff Barry and Ellie Greenwich comprised one of the most successful Brill Building songwriting-production teams to supply hit compositions to Phil Spector, Jerry Leiber and Mike Stoller in the early '60s. Barry and Greenwich were the most attuned to young America's hearts and minds, with a natural sense of teenage idiom.


Ellie Greenwich was born October 23, 1940 in Brooklyn, to Wiliam Greenwich, an electrical engineer who was Catholic. Her mother Rose Baron managed a woman's clothing department in a J.C. Penney store and later, after earning a nursing degree, a doctor's office, she was Jewish. At eleven the family moved from East Flatbush to Levittown, Long Island. After some friends gave the family a Hohner accordion, Ellie took up the instrument. When she was fourteen, she formed a group called the Jivettes that sang at schools nursing homes, hospitals, and benefits. As a high school freshman she began composing love songs.
While still in high school the owner of the record store where Greenwich bought her 45s put in a good word for her at R.C.A.. Ed Heller, an executive listened to a few songs and signed her, recording and releasing Cha-Cha Charming/Silly Isn't It in 1958. The record was credited to Ellie Gaye. It went nowhere.
Her mother would write and got her an appointment with Cadence Records owner Archie Bleyer. Bleyer listened to her songs, they talked and he advised to finish high school, because the record business will always be there, but the chance to finish high school won't.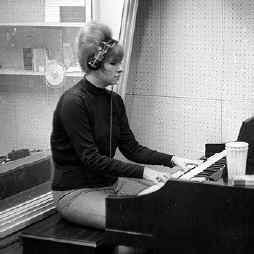 The Manhattan School of Music didn't accept accordion students, so her parents bought her a piano and she enrolled at Queens College. After a bad experience with a professor in a music class, she left Queens for Hofstra on Long Island. There she majored in English, joined a sorority, and became the Spring Queen.
After transferring to Hofstra on Long Island, where she majored in English, joined a sorority, and became the Spring Queen.
Ellie stayed in college until her graduation in 1961, all the while writing songs and singing on demos. After graduation she taught English at General Douglas MacArthur High School to its seniors. She left after a month.
After quitting her teaching job, Greenwich began haunting the halls of the Brill Building. There she met Paul Case, who would introduce her to Doc Pomus. One day while auditioning at the Brill Building, Leiber and Stoller heard her singing from the next room, mistook her for Carole King, and subsequently offered her a job as a staff writer. It was also here that Greenwich found another family at Trio Music that was nearly as supportive and protective as here own. Jerry Leiber the nurturing mother, Michael Stoller the businesslike father and the men she wrote with- Ben Raleigh, Mark Barkan and Tony Powers- the big brothers. Trio was existed primarily to publish Leiber and Stoller's songs and provide material to the acts they produced.
Jeff Barry was born Joel Adelberg on April 3, 1938 in Brooklyn, he moved to Plainfield New Jersey, at seven, when his parents divorced, His blind father was a successful insurance broker, but his mother refused alimony and child support. Instead she moved her family - not only Joel but his mentally retarded sister and her grandfather- into her mailman brother's attic.
Adelberg went to Erasmus High School where he formed a doo-wop group and started making up songs to sing. Following serving in the Army Reserves, he studied industrial design at Clay College. Soon he decided that he rather play music than tinker with objects and dropped out.
He married Lenore Kronstein, began calling himself Jeff Barry, recorded several singles for RCA and then Decca but had better luck as a writer. Through family connections him got an interview with Arnold Shaw, the GM of Edward Marks Music Corporation. Shaw saw potential as a writer offered him $75 a week, and paired him with writer Beverly Ross. Ross would later leave for Hill and Range.
First meeting in 1960, Barry and Greenwich did some writing together, but kept to separate paths. Later they would become engaged in April and wed on October 28,1962.
Barry wrote Teenage Sonata Sam Cooke's first and worse R.C.A. single His first Top Ten hit, co-written with Ben Raleigh, was Tell Laura I Love by Ray Peterson. Barry's weekly salary was raised to $125. At this time Barry was also recording under his own name.
A Greenwich pairing with Tony Powers, who was mainly a lyricist, led to a few hits, such as "Why Do Lovers Break Each Other's Hearts?" (Bobby Soxx and the Blue Jeans), but after Ellie married Jeff in 1962, they became exclusive partners, supplying Phil Spector with his best songs ever with "Da Doo Ron Ron," "Then He Kissed Me," (Crystals) and "Baby I Love You" and "Be My Baby' (Ronettes).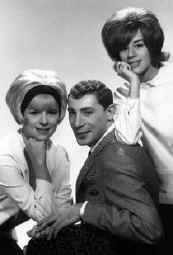 The Raindrops
In 1963 singing as the Raindrops they had a hit with "The Kind of Boy You Can't Forget." The Chiffons (When the Boy's Happy" and "I have A Boyfriend) and the Exciters ("Do Wah Diddy) had hits that same year with Barry-Greenwich compositions. Early in 1964 Leiber and Stoller put the pair in charge of their newly founded Red Bird Records. Fifteen of Red Bird's first twenty releases made the charts, all written and produced by Barry/Greenwich. They also produced six songs for Phil Spector.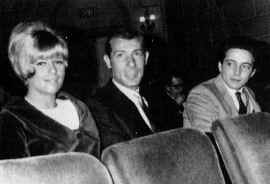 L to R: Ellie Greenwich, Jeff Barry, George "Shadow" Morton
The trio wrote and produced most of the Shangri-Las' records
Barry and Greenwich left Red Bird in early 1966, with their latest discovery, Neil Diamond, who

they managed and produced for the Bert Burns' Bang label. They also continued to write classics like "River Deep, Mountain High" (Ike and Tina Turner) and "I Can Hear Music' (Ronettes, Beach Boys). With their marriage having ended the year before they found it hard to continue to write love songs. Jeff moved to California. Ellie made her first solo album and then formed a new partnership with Mike Rashkow. Barry is now a successful writer in Hollywood; Greenwich wrote the Broadway play Leader of the Pack, a tribute to the Brill Building era, in 1985
Jeff Barry and Ellie Greenwich were inducted into the Rock and Roll Hall of Fame in 2010