James Brown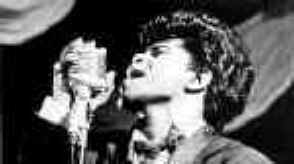 Probably the single most popular black artist among blacks till the mid '70s, James Brown may very well have been the last vaudeville performer, with is high powered, histrionic, and intensely dramatic stage show. James Brown was perhaps the best known and clearly the most successful black entertainer of the Sixties and the early Seventies


Born May 3, 1933 in Barnwell, South Carolina, Brown took up keyboards, then drums and bass at an early age. Dropping out of school in the seventh grade Brown picked cotton, shined shoes, danced for pennies in the streets of Augusta, Georgia and stole. Convicted of armed robbery at the age of 16, he spent three years in a juvenile detention facility. It was there that he met Bobby Byrd, who with his family gospel group visited the institution to perform. Byrd's family helped get Brown released by taking him in and getting him a job. brown tried semiprofessional sports, first as a boxer, then as a baseball pitcher, but a leg

injury ruined his chances of going pro. In the meantime, Brown and Byrd put together a gospel group, that performed under a number of names at the Mt. Zion Baptist Church in Tocca, Georgia and at auditoriums in the area. Byrd and Brown sang duets with three or four other members singing background vocals and harmonies. After seeing a rock and roll show featuring Hank Ballard and the Midnighters, Fats Domino, and others Brown and Byrd quit gospel music, transforming the group into the Flames. Each Flame sang, danced and played an instrument or two. Brown's were piano and drums. Byrd played keyboards and vocals and would remain Brown's sideman for the next three plus decades.


Original Flames 1956: James Brown on drums and Bobby Byrd on piano
From their Macon Georgia base, the Flames had been touring the South when Ralph Bass, head of Federal Records, signed them in 1956. "Please, Please Please," their first Federal single, was a big hit regionally and eventually sold a million copies. Subsequent releases in the same gospel influenced yet distinctly rougher R&B style made Brown a regional star until "Try Me" (#1 R&B, #48 pop).became a national hit in 1958.

In the studio during the early days
Brown had become the leader of the groups now called the Famous Flames. Guided by

Universal Attractions director Ben Bart, Brown created the James Brown Revue. The show was precisely choreographed, with Brown pumping his hips, twisting on one foot, and doing the splits as the troupe would execute their own intricate steps. Sweating off seven pounds a night, breaking box office records In every major black venue in America, Brown was nicknamed "Mr. Dynamite" and was called "The Hardest Working Man in Show Business".
Brown's band became one of the best in the business. He wanted to showcase them on his records, but Federal refused to let him use them on his records, so he arranged for them to record for another company as Nat Kendrick and the Swans. The resulting instrumental hit "Mashed Potatoes" convinced King, Federal's parent company, to take over Brown's contract and sign the James Brown Band for Brown's sessions as a separate act. From then on Brown concentrated on pared down jump and shout dance music.
Brown's Live at the Apollo, recorded in Harlem in 1962 sold a million copies, unprecedented for a black music album. Frustrated by King's failure to reach into the white market, Brown and Byrd formed Fair Deal Productions. Fair Deal released "Out of Sight" through Smash Records was a #1 R&B, #24 pop hit.