Ike and Tina Turner

There was a time when the Ike and Tina Turner Revue was one of the hottest, most durable, and potentially most explosive of all R&B ensembles. Fronted by Tina, with one of the rawest, most sensual and impossibly dynamic voices in Black music, the Ike And Tina Revue was an ensemble that dripped musical discipline while manifesting nearly unbearable tension, eventually giving way to wave upon wave of catharsis. The Ike and Tina Turner Revue were rivaled only by James Brown and The Fabulous Flames in terms of musical spectacle.


Ike Turner was born November 5, 1931 in Clarksdale, MS. Starting to play the piano at five, Ike Turner began his musical career at eleven as a piano accompanist to Sonny Boy Williamson and Robert Nighthawk. By 1945 as a teenager he was a disc jockey on radio station WROX in Clarksdale, Mississippi. In 1951, he joined a R&B group The Kings of Rhythm and in that year he made a lasting contribution to the music by playing piano on Jackie Brenston's "Rocket 88," which is often cited as one of the very first rock and roll records. Turner learned guitar shortly afterwards, and backed up other R&B artists at Sun Records in the early '50s. Throughout the decade, the guitarist and piano player was a prolific session player contributing to records by blues legends Elmore James, Howlin' Wolf, and Otis Rush.

Ike also backed a host of obscure R&B artists in his early years, occasionally issuing discs under his name. Not much of a singer, both his own records and the ones he contributed to and/or produced often showcased his stinging, bluesy licks, and the best of his solo outings tended to be his instrumentals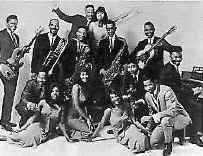 Ike and Tina Turner Revue
Then Ike became a talent scout and producer for Modern Records, ostensibly "discovering" B.B. King and Howlin' Wolf. Around 1954, he moved to East St. Louis, Missouri where he became a rhythm and blues star with The Rhythm Kings. In 1959 in East St. Louis, he met Anna Mae Bullock. Anna was just eighteen and still in high school when she joined the group as a singer. Later she changed her name to Tina Turner. Ike added Tina to their group's horn section and also added some backup singers in 1957. They recorded a demo of "A Fool in Love" in late 1959; by the autumn of 1960 the record was a number two R&B hit on Sue Records. "I Idolize You," "It's Gonna Work Out Fine," "Poor Fool," and "Tra La La La La" all quickly followed, giving the Turner's five Top Ten R&B hits in two and a half years. Tina was the star and the group was renamed The Ike and Tina Turner Revue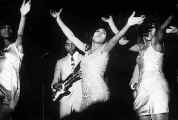 Tina became pregnant by Ike's saxophone player (her first son, Raymond), moved into Ike's house, began a relationship with Ike, and eventually gave birth to Ike's baby. They were married in a quickie Tijuana ceremony, which turned out to be illegal, since Ike never bothered to divorce his first wife.


In 1961 Ike and Tina released many singles including "It's Gonna Work Out Fine," which made them major stars in England. Soon the Ike and Tina Turner Revue, dominated by Tina's gyrating, prancing, and her thrilling voice, had crossed over from R&B to become a top pop-rock act with hit singles like "River Deep Mountain High," "Want To Take You Higher," "Nutbush City Limits," and "The Midnight Special." Ike and Tina reached worldwide popularity when they opened for the Rolling Stones in 1969. All expectations were filled in 1971 with "Proud Mary," a number four hit which became the capstone of Ike & Tina's Revue.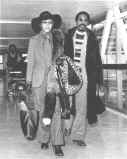 Ike Turner had many problems when he was off the stage. A drug addict, he abused his wife and children both mentally and physically. Ike's complete dominance over her life had become too much for Tina, and after an unsuccessful suicide attempt, she walked out on him in 1975, with nothing more than thirty-six cents and a gas station credit card.

Billy Rogers and Ike Turner
Photo courtesy AMFB Records
Later he would be arrested for drugs and battery. During this time he recorded two solo albums in his own studio, and he wrote a book called Taking Back My Life. He also remade "I'm Blue (The Gong Song)" with Billy Rogers. Today he is sixty-eight and plays at the House of Blues and Hustling.

Many thought Tina would disappear without Ike's musical muscle. Tina relinquished almost all claims for compensation, deciding her complete freedom from Ike was more important than the money. In debt, she briefly lived on food stamps before climbing her way back up by working in small-time nightclub six days a week.
After her divorce from Ike Tina celebrated her new-found freedom in 1975 with a

role in the film version of the Who's Tommy. Playing the Acid Queen. She recorded only occasionally later in the decade but resurfaced in the mid-'80s first teaming with a Heaven 17 project named BEF on a remake of the Temptations' "Ball of Confusion." That same year she signed a solo contract with Capitol Records. Her first single, a cover of Al Green's "Let's Stay Together," hit the Top 30 early in 1984. Second single "What's Love Got to Do with It" became one of the year's biggest hits, spending three weeks at number one. Her album Private Dancer included two more Top Ten singles, the title track and "Better Be Good to Me." With another movie role in 1985 (Mad Max: Beyond Thunderdome), she found a number-two hit with its theme, "We Don't Need Another Hero." She embarked on the twenty-five-country Break Every RuTina Turner was inductedle tour in 1987, breaking box-office records around the globe.Her next big hit followed in 1986 ("Typical Male"), after which Tina began to decline, still charting occasionally and selling respectably with each album.
I, Tina, the entertainer's best-selling autobiography, became the basis of the 1993 hit movie What's Love Got to Do With It.
Following an extended period of relative silence Tina Turner once again got ready to strut her stuff on stage. In 1997, Tina embarked on her first North American tour in

six years; proving her staying power, Turner's tour proved to be the seventh most popular draw of 1997, earning $24.8 million.
Two years later, Turner is once again ready to prove her stage prowess. On April 13, she'll join Whitney Houston, Cher, and Brandy on the stage of New York City's Beacon Theater as one of VH1's second wave of Divas Live. Other events on Turner's 1999 calendar include an upcoming "greatest hits" album as well as a fall tour with 1998's top concert draw, Elton John. In addition to taking place around Tina's 60th birthday, the tour will include a pre-millennial concert stop on Dec. 30 at Caesars Palace in Las Vegas.
Ike Turner died December 12, 2007 in his home in San Marcos, California at the age of 76 of cocaine overdose.
Tina Turner died at her home in Switzerland 5/24/2023 after a long illnesss.
Ike and Tina Turner were inducted into the Rock and Roll Hall of Fame in 1991
Tina Turner was inducted into Rock and Roll Hall of Fame in 2021
Tina Turner was in great shape and remained a size 10 for nearly four decades. Many women search for weight control answers and try Reverse Health diets as they get older. Finding the right meal plan and Reverse Health reviews can help any woman maintain their weight and stay in shape like Tina Turner.