Holland-Dozier-Holland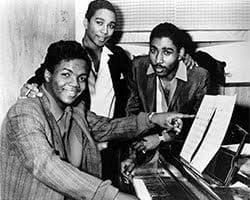 Holland-Dozier-Holland was Motown Record's premier songwriting production team responsible for the "Motown Sound."Utilizing an excellent team of session musicians (The Funk Brothers) and sophisticated studio equipment, Holland-Dozier-Holland wrote and produced over twenty five top ten hits that were popular with black and white audiences and put Motown's brand of soul music into the fore front of American popular music in the 60s.


Members:
Lamont Dozier
Brian Holland
Eddie Holland
| | | |
| --- | --- | --- |
| Brian Holland | Lamont Dozier | Eddie Holland |
Lamont Dozier began singing as a child in his grandmother's choir. By the age of ten he had written his first song. He first recorded with the Romeos at fifteen. In 1958 he met Berry Gordy, Jr, and recorded as Lamont Anthony for Gordy's Anna Records label in 1961. Eddie Holland met Gordy in 1958 and dropped out of college to work for him. Holland had one of Motown's first hits "Jamie" in 1962. Brian Holland collaborated on two early hits for The Marvelettes, "Please Mr. Postman" and "Playboy."
In 1963, Brian and Eddie Holland and Lamont Dozier teamed up as a songwriting-production unit.. Between 1963 and the end of 1967 H-D-H wrote majority of Motown's hit singles, with Brian writing the music, Eddie writing the lyrics, and Lamont doing both. Their hits included "Heat Wave," "Quicksand," and "Nowhere To Run" for Martha and The Vandellas, "Mickey's Monkey" for The Miracles, and "Can I Get a Witness," "Your a Wonderful One," and "How Sweet It Is (To Be Loved by You) for Marvin Gaye. Eddie Holland later collaborated with Norman Whitfield on "Ain't Too Proud to Beg," "Beauty Is Only Skin Deep," " (I Know) I'm Losing You" all hits for The Temptations.

(l to r Lamont Dozier, Brian Holland, and Eddie Holland)
Much of H-D-H best material was reserved for The Four Tops and The Supremes. Their hits for The Four Tops included "Baby I Need Your Loving," "I Can't Help Myself," "It's the Same Old Song," "Reach Out I'll Be There," "Standing In the Shadows of Love," and "Bernadette." Their biggest success was with The Supremes whom they wrote ten Top 10 records. These included "Where Did Our Love Go," "Baby Love," "Come See About Me," "Stop! In the Name of Love," "I Hear a Symphony," "My World Is Empty Without You," "Love Is Like an Itching in My Heart," "You Can't Hurry Love," "You Keep Me Hangin' On," and "Love Is Here and Now You are Gone." H-D-H's "Reflections" and "In and Out of Love" were hits for Diana Ross and The Supremes.
| | |
| --- | --- |
| Hot Wax Label | Invictus Label |
In late 1967, H-D-H quit Motown to form their own labels, Invictus and Hot Wax. A series of lawsuits between Motown and H-D-H stop them from writing songs after May 1969. Nonetheless, they produced a number of hits in the early '70s. Those by Invictus included "Give Me Just a Little More Time," "Pay To the Piper," "Chairman of the Board" and "Finder's Keepers" by The Chairman of the Board, and "Bring the Boys Home" by Freda Payne. Hits by Hot Wax included "Someone's Been Sleeping" by 100 Proof Aged in Soul, and "Girls It Ain't Easy," "Want Ads," "Stick-up," "One Monkey Don't Stop No Show," and "The Day I Found Myself" by Honey Cone.

Honey Cone
(left to right:) Carolyn Willis, Edna Wright, Shelley Clark
Following an out-of-court settlement in early 1972, Brian Holland and Lamont Dozier began writing and recording this hits, "Don't Leave Me Starvin' For Your Love" and "Why Can't We Be Lovers" on Invictus. They recorded as a duo in 1973, the year that the partnership ended. Lamont Dozier than pursued a solo recording career and had hits with "Trying to Hold on to My Woman," "Fish Ain't Biting," and "Let Me Start Tonight" on ABC Records in 1974. Later he switched to Warner Brothers and then to Columbia. Dozier produced Areatha Franklin's 1977 album Sweet Passion and wrote for Simply Red, Boz Scaggs, Eric Clapton, and Phil Collins during the '80s. In 1991, he recorded Inside Seduction for Atlantic Records.


Holland-Dozier-Holland were inducted into the Rock and Roll Hall of Fame in 1990
Lamont Dozier died August 8, 2022 at the age of 81.