Four Tops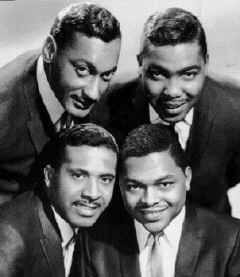 From top left clockwise:
Abdul (Duke) Fakir, Lawrence Payton, Renaldo (Obie) Benso, Levi Stubbs
One of Motown's most consistent hitmakers and its longest lived lineup (40 years), the Four Tops were the most stable and consistent vocal groups to emerge from Motown Records in the '60s, charting with scores of upbeat love songs featuring Levi Stubbs' rough hewn lead vocals.


The Four Tops were products of Detroit's North End.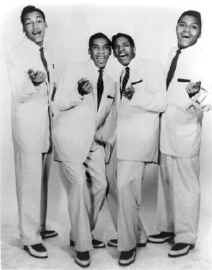 Four Aims
Levi Stubbs and Abdul "Duke" Fakir sang together in a group while attending Pershing High School. Renaldo "Obie" Benson and Lawrence Payton were boyhood friends and attended Northern High together in Detroit who. It was while singing at a friends birthday party in 1954 they found they were good at it. They began practicing the next day and soon began calling themselves the Four Aims.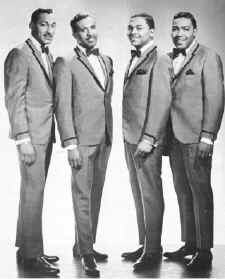 Roquel "Billy" Davis who was Larry Payton's cousin, sometimes sang with the group as the fifth Aime and was later to be Berry Gordy's songwriting partner sent a demo tape to Chess Records in Chicago. They were sent a bus ticket and invited to Chicago to audition. It seems that Chess was more interested in Davis' writing skill than the group. However Davis' persistence ended up with their being signed to Chess Records in 1956. They then changed their name to the Four Tops to avoid confusion with the Ames Brothers. They only recorded one single with Chess "Kiss Me Baby' which flopped. They then went to Red Top and Riverside before they were signed by John Hammond to Columbia in 1960 where they recorded "Ain't That Love." This was the first of a string of supper club style flops that lasted for seven years on a number of labels. All the while, they were performing in top clubs. The Four Tops toured with the Billy Eckstine revue in the early '60s.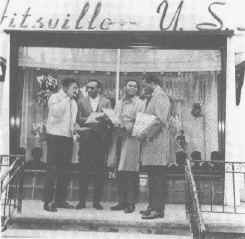 By 1964, they had signed with old friend Berry Gordy's Motown Records. Gordy had them record "Breaking Through" for his experimental Workshop Jazz subsidiary. Later that year they were finally directed toward contemporary soul. Under the wing of Motown's top production and recording team, Holland-Dozier-Holland, the Four Tops were launched with "Baby I Need Your Loving," which went to #11 in 1964. Over the next eight years The Four Tops appeared on the charts almost thirty times, and Levi Stubbs became an international star and became an influence on singers from the Sixties to the present time.
The Four Top's 1965 hits included "Ask the Lonely" (#24), "Same Old Song" (#5), and "I Can't Help Myself" (#1). "Reach Out and I'll Be There" hit #1 in October, 1966, followed by "Standing in the Shadows of Love" (#6) in 1967.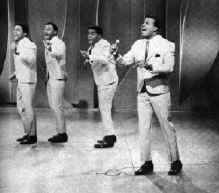 Like other Motown acts, the Four Tops became popular in major nightclubs around the world. Like virtually all of Motown's top acts, The Four Tops sought longevity and stability of a career built equally on live appearances and records. In 1967 they had hits with "Bernadette" (#4) and "Seven Rooms of Gloom" (#14); but when Holland-Dozier-Holland left in 1967, their charting hits declined. In fact two of their bigger charting hits of 1968 were covers: the Left Banke's "Walk Away Renee" (#14) and Tim Hardin's "If I Were a Carpenter" (#20). However, the Tops did record a number of adventurous and successful records with other Motown producers, including "River Deep, Mountain High," with the Jean Terrell led Supremes (#14 pop, #7 R&B, 1970) and "Still Water" (#11 pop, #4 R&B, 1970. In addition Obie Benson co-wrote Marvin Gaye's "What's Going On."
In 1972, the Four Tops moved to ABC/Dunhill records where they recorded a couple of million sellers "Keeper of the Castle (#10) and in 1973 "There Ain't No Woman" (#4). It was only a brief pop chart resurgence, but the Tops continued to have Top 20 R&B hits.
In 1981 they moved to Casablanca Records and had a hit with "When She Was My Girl"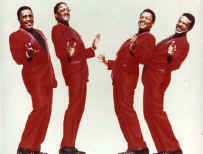 (#11 pop, #1 R&B). Two years later they were back at Motown and after performing in a "battle of bands" with the Temptations on the Motown 25th anniversary television special, they began the first of several co-headlining tours with the Temptations, billed as T 'n' T. The first tour ran nearly three years, went around the world, and include sold out stint on Broadway.
In 1986 Stubbs provided the voice for the man-eating plant in the film Little Shop of Horrors. In 1985 the Tops had its last Motown hit "Sexy Ways" (#21 R&B). In 1988 they signed with Arista and recorded "Indestructible" (#35 pop, #66 R&B).
In 1989 the Four Tops appeared on Arethea Franklin's Through the Storm.

At Rock Hall Induction
(L-R) Lawrence Payton,, Levi Stubbs, Duke Fakir, Obie Benson


At Hollywood Walk
(L-R) Levi Stubbs, Obie Benson, Duke Fakir
In 1990 Steve Wonder inducted them into the Rock and Roll Hall of Fame.in 1990
Levi Stubbs was diagnosed with cancer in 1995, and after suffering a stroke in 2000, he was no longer able to tour with the Four Tops. He died in
his sleep on October 17, 2008, at his home in Detroit.
Obie Benson died July 1, 2005 of lung cancer and other illnesses at the age of 69.
Lawrence Payton died from liver cancer June 20, 1997 in Southfield, Michigan at the age of 59.