Elvis Presley

Elvis Presley was the first real rock and roll star. A white southerner who singing blues laced with country and country tinged with gospel, Presley brought together music from both sides of the color line. Presley performed this music with a natural hip swiveling sexuality that made him a teen idol and a role model for generations of cool rebels. Presley was repeatedly dismissed as vulgar, incompetent and a bad influence. However the force of his music and image signaled to the mainstream culture it was time for a change.


| | | | | |
| --- | --- | --- | --- | --- |
| The Presleys, 1937 | At two, earliest known photo | Elvis 1939 | The Presleys, 1941 | Elvis in Tupelo |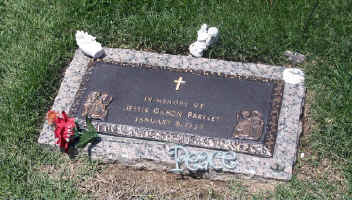 Born January 8, 1935, in East Tupelo, Mississippi, Presley was the son of Gladys and Vernon Presley, a sewing machine operator and a truck driver. Presley's twin brother Jesse Garon was stillborn, and he grew up as an only child. At age three, Vernon was sent to prison for forgery. It seems that Vernon, Travis Smith, and Luther Gable changed the amount of a check from Orville Bean,Vernon's boss, from $3 to $8 and cashed it at a local bank.Vernon pled guilty and was sentenced to three years at Parchment Farms Penitentiary. Vernon's boss, Mr. Bass called in a note that Vernon signed to borrow money to build the house and Gladys is forced to move in with Vernon's parents. Vernon would only serve eight months. Afterward Vernon's employment was spotty and the family lived just above the poverty line. The Presleys attended the First Assembly of God Church whose Pentecostal services always included singing.
| | |
| --- | --- |
| Tupelo, Mississippi birthplace | First Assembly Of God Church Memphis, Tennessee |
Entering the fifth grade, Presley is asked by his teacher, Oleta Grimes to enter a talent contest on children's day at the Mississippi-Alabama Fair and Dairy Show. At the age of ten, dressed in a cowboy suit, and standing on a chair to reach the microphone. Presley's rendition of Red Foley's "Old Shep" won second place, a $5 prize and a free ticket to all the rides. On his birthday the following January he received a guitar purchased from Tupelo Hardware Store. Over the next year, Vernon's brother Johnny Smith and First Assembly of God pastor Frank Smith. gave him basic guitar lessons
In 1948 after losing another job Vernon moved the family to Memphis. Glady's brothers get him a job at the Precision Tool Company and the Presleys moved into a small apartment at 370 Washington Street for $11 a week. On September 13 Elvis enrolls at L.C. Humes High School.
| | |
| --- | --- |
| A young Elvis Presley and Betty McMahan circa 1949, outside Lauderdale Courts | Elvis as a teenager |
Starting his sophomore year Presley works in the school library and after school at Loew's State Theatre. In 1951, his receives his first driver's license, joins the ROTC unit at Humes High, tries out for the football team (he's cut by the coach when he won"t trim his sideburns and ducktail), and in his spare time hangs around the black section of town, especially on Beale Street.
| | | | |
| --- | --- | --- | --- |
| L.C. Hume High School | Elvis's senior class picture | At senior class picnic | With 47 Lincoln |
In his senior year Presley gets his first car, a 1941 Lincoln Zephyr, from Vernon. At eighteen majoring in Shop, History, and English he graduates from Humes High in 1953.
| | |
| --- | --- |
| High school diploma | Precision Tool ID Card |
The day after graduation he took a job at Parker Machinists Shop. By June he was working at the Precision Tool Company and then drove truck for the Crown Electric Co. After a short time in the stock room he is promoted to truck driving and begins to wear his long hair in a pompadour, the current truck driver style. That summer he recorded "My Happiness" and "That's When the Your Heartaches Begin" at Memphis Recording Studios, a sideline Sam Phillips had started at his Sun Records studios where anyone could record a ten inch acetate for four dollars.
| | |
| --- | --- |
| Demo recorded by Elvis for Sam Phillips | Receipt for demo |
Small photos are the perfect size to use when making custom stickers at home. Elvis fans can make custom stickers from their original fan artwork.



"Elvis", "Elvis Presley" and "Graceland" are Registered Trademarks of Elvis Presley Enterprises,
Inc. © 1996 E.P.E., Inc.