The Kodaks/Kodoks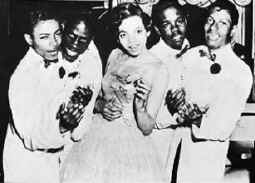 (L-R) James Patrick, Pearl McKinnon, Larry Davis, William Franklin
An early male R&B group with a female lead, the Kodak's chief asset was the uncanny similarity of Pearl McKinnon's voice to Frankie Lymon's


Members:
Pearl McKinnon - lead - replaced by Jean Miller
James Patrick - first tenor
William Franklin - second tenor - replaced by Richard Dixon
Larry Davis - baritone - replaced by Harold Jenkins
William Miller - bass - replaced by Renaldo Gamble 1959
Artist Biography by Bruce Eder

In a different, fairer reality, the Kodaks might be remembered at least as rivals to Frankie Lymon & the Teenagers. True, they never performed in any movies and only made one national television appearance, and they never wrote a song like "Why Do Fools Fall in Love" -- but they had the sound, and the beat, and a lead singer with a voice as powerful as Lymon's. Formed in Newark, NJ during the mid-and late '50s, the Kodaks' sound was driven by Pearl McKinnon's powerful lead vocals, and as a mixed male/female singing group, they stood out from the pack. They cut four singles, none of which made the national charts, but all of which are prized by collectors and enthusiasts.
The Kodaks were originally a quartet: Jimmy Patrick (lead, first tenor), William Franklin (second tenor), Larry Davis (baritone), and William Miller (bass). They were good, but they sounded a lot like every other singing group coming out of Newark's Central Ward in the middle of the '50s. Enter Pearl McKinnon, a 15-year-old friend of Jimmy Patrick's sister, who sang with Marian Patrick and William Miller's future wife Jean in a trio of their own at school. Her voice had a slightly, deeper, richer tone than most teenage girls, but also a fresh innocence and clear articulation that one more often associated with preteen boys -- the resemblance to Frankie Lymon's singing was unmistakable, and joining the male quartet, she made them unique.

The group auditioned for Harlem-based impresario Bobby Robinson. He had, until the end of 1957, recorded Louie Lymon & the Teenchords, and heard in the Kodaks a sound uncannily similar to that of Louie's more successful brother Frankie and his group, the Teenagers. He signed the group (changing the spelling of their name on record labels to the Kodoks, to avoid a lawsuit from Eastman Kodak), releasing their first single, "Teenager's Dream" b/w "Little Boy and Girl," on his own Fury label in late 1957. That record got heavy local airplay in Newark, New York, and other nearby cities, even though it never made the national charts. With rehearsals and some polishing of their sound, they issued a second single, "Oh Gee, Oh Gosh" b/w "Make Believe World," in the spring of 1958, that made the local charts in Newark (number eight on the local Cashbox chart) and other East Coast cities, and saw sales in the Midwest as well. The A-side, in particular, was popular with many local deejays, and even the legendary Alan Freed played it heavily on his show.

The result of all of this was lots of East Coast gigs for the quintet, including shows at the Apollo Theater alongside the likes of Jerry Butler, the Coasters, and Lee Andrews & the Hearts, and an appearance on Dick Clark's American Bandstand. Not everybody was happy with the nature of their success, or the sound the group was cultivating -- by the summer of 1958, Davis and Franklin, tired of emulating the music of Frankie Lymon & the Teenagers, quit the group, to be replaced by Richard "Pumpy" Dixon and Harold "Curly" Jenkins. Ironically, in the estimation of many (including Pearl McKinnon), their arrival, as veteran performers, only improved the group, strengthening their sound and making their stage choreography more exciting. The group released two more singles, "My Baby and Me" b/w "Kingless Castle," and "Runaround Baby" b/w "Guardian Angel," but neither sold as well as their predecessors.

The group dissolved when Jimmy Patrick exited to join the Monotones, and Pearl McKinnon got married. William Miller tried to keep the ball rolling, forming the "Kadaks" with his wife Jean and Harold Jenkins, and a new member, Renaldo Gamble, but they faded after two failed singles. McKinnon returned to the business less than a year later, leading Pearl & the Deltars. They issued two singles, including a recut version of "Teenager's Dream," but never had more than local
success. She later appeared in the '70s in an outfit known as 2nd Verse, but seemed to find a part of her true destiny later still, fronting a re-formed version of the Teenagers, taking Frankie Lymon's role as lead singer.
The Knockouts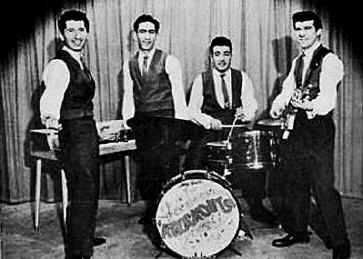 (l-r) Bob D'Andrea, Bob Collada, Henry Venuta, Eddoe Parenti
In January in 1960, the group released "Darling Lorraine, which became their only major hit.


Members:
Bob D'Andrea - lead
Henry Venute - drums - replaced by Piere LaSalle in 1960
Eddie Parenti- guitar
Bob Collada - piano
The Knockouts hailed from North Bergen and Bayonne, New Jersey and consisted of Bob D'Andrea (vocals), Eddie Parente (guitar), Bob Collada (piano) and Harry Venuta (drums). In 1959, their manager Chic Salerno persuaded Bob Shad of Time/Brent Records, who'd just come off two hits with "I've had it" by the Bell Notes and "It Was I" by Skip and Flip, to sign his boys.

Aware of their limitations as vocalists, The Knockouts hedged their bets by placing "Darling Lorraine", which sounded like a bunch of leathery-faced cowboys breaking into an impromptu doo-wop session around the camp fire. Shad heavily hyped "Darling Lorraine" in New York area in the autumn of '59 and the song ascended to #45 on the charts just before the payola bandwagon came to a crashing halt amid a welter of recriminations and investigations.

During the 60's, The Knockouts used to perform in Seaside, NJ at the Parrot Club, Luciano's in Lodi, NJ, in Lyndhurst, NJ and also up at Greenwood Lake, NY on weekends. Bob Catucci (aka Pierre LaSalle) replaced Harry Venuta in 1960.
Pierre was with the group in all the recordings that followed Lorraine and stayed with them until the group started to decline in the early mid sixties. Bob D'Adrea went on to form a comedy duo called Andre and Cirell which still performs around the Jersey Shore.
The Marcels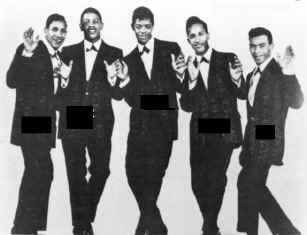 The Marcels - Mid-1961
(R-L) Allen Johnson Ronald Mundy,Walt Maddox, Fred Johnson. Nini Harp
The Marcels produced more good records in their short career than many did in their long ones


Members:
Cornelius Harp - lead - replaced by Kenny Mitchell 1962
Ronald Mundy - first tenor
Gene Bricker - second tenor - replaced by Walt Maddox
Dick Knauss - baritone - replaced by Allen Johnson
Fred Johnson - bass
This Pittsburgh ensemble deserved a much better fate than being known primarily for a novelty-tinged cover of "Blue Moon." Baritone vocalist Richard F. Knauss teamed with Fred Johnson, Gene J. Bricker, Ron Mundy, and lead vocalist Cornelius Harp, an integrated ensemble. They named themselves after Johnson's hairstyle, the Marcel. The group did a string of covers as demo tapes that were sent to Colpix. The label's A&R director had them cut several oldies at RCA's New York studios in 1961, one of them being "Blue Moon." They used the bass intro arrangement from The Cadillacs' "Zoom" and the results were a huge hit. It eventually topped both the pop and R&B charts, and also was an international smash. The group eventually appeared in the film "Twist Around the Clock" with Dion and Chubby Checker. They eventually recorded an 18-cut LP for Colpix. Alan Johnson and Walt Maddox later replaced Knauss And Gene Bricker, making them an all-Black unit. The group did score another Top Ten pop single with "Heartaches," another cover of a pre-rock single. This peaked at number seven pop and number 19 R&B in 1961. They continued recording on Kyra, Queen Bee, St. Clair Rocky, and Monogram with varying lineups, but never again equaled their past success. ~ Ron Wynn, All-Music Guide
Vernon Green and the Medallions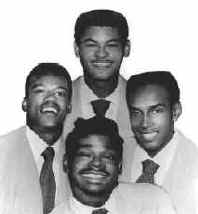 Clockwise from left: Jimmy Green, Billy Foster, Edward Carter, Vernon Green, 1959
The Medallions image was far larger than their actual success due to extensive air play of The Letter and Buick 59 years after they were first released


Members:
Vernon Green - lead
Randolph Bryant - first tenor - replaced by Willie Graham
Willie Graham
Ira Foley
The Medallions, a Los Angeles doo wop quartet with a predilection toward songs about speedy cars, formed in 1953. Their first single, "The Letter"/"Buick '59," on The Dootsie Williams Dootone label, was a regional hit, coupling a dreamy ballad with a joyriding rocker complete with automotive sound effects by the group. (Encores in the same vein included "Speedin'," "Pushbutton Automobile," and "Coupe DeVille Baby;" there was even a "'59 Volvo"!). Williams's renamed Dooto label handed Green an opportunity to sing soul in 1973, and he recently reemerged with some doo wop offerings on the Classic Artists imprint. ~ Bill Dahl,All-Music Guide

The Mello-Kings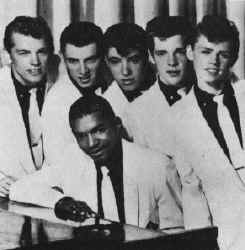 L to R: Bob Scholl, Larry Esposito, Neil Arama, Eddie Quinn, Jerry Scholl
Bottom center: Dick Levister
The Mello-Kimgs were one of the blackest sounding groups of the 50s


Members:
Bob Scholl - lead
Jerry Scholl - first tenor
Edddie Quinn - second tenor
Neil Arama - baritone
Larry Esposito - bass
Dick Levister - arranger
The Mello-Kings Biography by Bryan Thomas

The Mello-Kings were one-hit wonders in the doo wop world, fondly remembered for their lone national hit "Tonite, Tonite." They were an all-white vocal group from Mt. Vernon, a working-class suburb of New York City located in Westchester County just to the north of the Bronx. Led by Robert Scholl (aka Bob Scholl), the other members included Robert's brother Jerry Scholl, Ed Quinn, Neil Arena, and Larry Esposito, all students from George Washington High.


By the fall of 1956, they were calling themselves the Mellotones, gaining attention in the local area and catching the ear of a Black pianist named Dick Levister, who offered to become the group's manager and accompany them during live performances. It was Levister who brought them to the attention of Al Silver, who owned both the Herald and Ember labels, which had been up and running since 1952. Both New York-based labels specialized in vocal group records.

Silver, one of the pioneering R&B label owners, had by this point already recorded and released numerous hit singles by acts on both Herald and Ember, including the Nutmegs (whose 1955 R&B smash hit "Story Untold" made it to number two in the U.S.), the Five Satins (whose "In the Still of the Night," a smash in 1956, had been leased to Ember; they later score d a hit for the label with "To the Aisle," a Top Ten R&B hit, number 25 pop, in the summer of 1957), and the Turbans (whose "When You Dance" was the group's best charter for Herald). Silver liked what he heard and the group -- with their trademark white jackets (supposedly at Levister's insistence) -- helped them forge an identity with the teenage public. For the Mellotones' first release, Silver chose a tune called "Tonite, Tonite" written by Billy Myles (who also penned "All My Love You Were Made For" with Jackie Wilson). It was released during the summer of 1957 and became an immediate regional smash hit. Unfortunately, it discovered too late that there was already a record out that summer on George Goldner's Gee label by a group called the Mello-Tones, (their "Rosie Lee" later climbed into the Top 24 on the pop charts). A quick name change was in order, "Tonite, Tonite" was quickly re-released by the Mello-Kings. The single was a big seller in the Northeast, again having regional ties. They made more than one TV appearance with Dick Clark on both the daily American Bandstand and his weekly Saturday Night show for ABC network.

Late in 1957, the Mello-Kings recorded their next single, "The Chapel on the Hill," which failed to earn them much addition al success. Their next single, "Baby Tell Me Why Why Why" also missed. However, their next single, "Valerie," became a regional hit in the New York area on its way to becoming a classic example of doo wop despite the fact that it didn't chart nationally. At the height of their popularity, they were added to "package" tours, where they performed alongside acts like the Channels, the Dells, the Flamingos, the Spaniels, and labelmates the Five Satins.

The success of "Tonite, Tonite" and to a lesser extent, "Valerie," however, earned them a slot on Herald's first compilation of hits, a full-length LP called Herald of the Beat, which featured hits by the Turbans, Nutmegs, Faye Adams, and the unabashedly gay vocal duo Charlie & Ray. Sales of the excellent LP helped improve the Mello-Kings' visibility on the music scene in 1958. Their label continued to issue the Mello-Kings' lone hit on all subsequent compilation albums.

The group began going through some personnel changes shortly thereafter, and despite releasing five more singles on the Herald label from 1959 to 1961 while continuing to score hits with groups like the Silhouettes' "Get a Job" and Maurice Williams & the Zodiacs' "Stay," to name two, no further hits were forthcoming from the Mello-Kings.

The Mello-Kings made a final appearance during one of Richard Nader's very first revival shows in 1969; they can be heard reprising "Tonite, Tonite" on the Kama Sutra release of the live recording. They subsequently broke up. Bob Scholl died in a boating accident on August 27, 1975, in New York.

The Monotones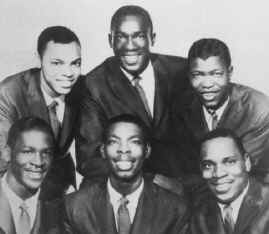 Top row: Warren Davis, John Smith, John Ryanes
Bottom row: Warren Ryanes, Charles Patrick. George Malone
The Monotones are considered a one-hit wonder, as their only hit single was "The Book of Love", which peaked at No. 5 on the Billboard Top 100 in 1958.


Members:
Charles Patrick - lead
Warren Davis - first tenor
George Malone - second tenor
Warren Ryanes - baritone
John Smith - bass
John Ryanes - bass
The Monotones formed in 1955 when the seven original singers — all residents of the same housing project in Newark, New Jersey — began performing covers of popular doo-wop songs. The members of the Monotones were lead singer Charles Patrick, first tenor Warren Davis, second tenor George Malone, bass singer John Smith, second bass singer John Ryanes, and his brother, baritone Warren Ryanes. Charles Patrick's brother James was originally a member, but he left soon after the group's formation. In 1957 the group recorded their first song, "Book of Love". The song was released in 1958 and propelled the group to short-lived fame. Later releases never gained popularity. The Monotones disbanded in 1962. Surviving members have met to revive "Book of Love" several times since the breakup.

The Moonglows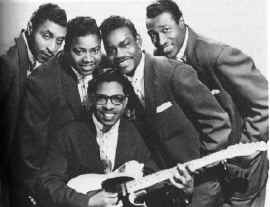 (l-r) Prentiss Barnes, Bobby Lester, Alexander "Pete" Graves, Harvey Fuqua
Bottom: Guitarist Billy Johnson
One of the most innovative vocal groups, the Moonglows perfected a blend that practilly defones blow harmony.


Members:
Harvey Fuqua - lead
Bobby Lester - first tenor
Peter Graves - second tenor
Prentiss Barnes - bass
Billy Johnson - guitar
Among the most seminal R&B and doo wop groups of all time, The Moonglows' lineup featured some of the genre's greatest pure singers. The original lineup from Louisville included Bobby Lester, Harvey Fuqua, Alexander Graves, and Prentiss Barnes, with guitarist Billy Johnson. They were originally called The Crazy Sounds, but were renamed by disc jockey Alan Freed as The Moonglows. The group also cut some recordings as The Moonlighters. Their first major hit was the number one R&B gem "Sincerely" for Chess in 1954, which reached number 20 on the pop charts. They enjoyed five more Top Ten R&B hits on Chess from 1955 to 1958, among them "Most of All," "We Go Together," "See Saw," and "Please Send Me Someone to Love," as well as "Ten Commandments of Love." Fuqua, the nephew of Charlie Fuqua of The Ink Spots, left in 1958. He recorded "Ten Commandments of Love" as Harvey & the Moonglows with Marvin Gaye, Reese Palmner, James Knowland, and Chester Simmons before founding his own label, Tri-Phi. Fuqua created and produced The Spinners in 1961 and wrote and produced for Motown until the early '70s. The Moonglows disbanded in the '60s, then reunited in 1972 with Fuqua, Lester, Graves, Doc Williams, and Chuck Lewis. They recorded for RCA and a reworked version of "Sincerely" eventually charted, but wasn't a major hit. ~ Ron Wynn, All-Music Guide
The Moonglows were inducted into the Rock and Roll Hall of Fame in 2000
The Nutmegs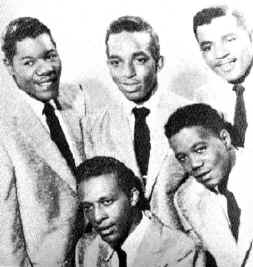 Back Row: Leroy McNeil, Sonny Griffin, Bill Emery
Front Row: Leroy Griffen, Jimmy Tyson
The Nutmegs were one of the founders of the a capella craze that swept the East Coast between 1963 and 1966


Members:
Leroy Griffin - lead
James "Sonny" Griffin - first tenor
James "Coco" Tyson - second tenor
Billy Emery - Baritone - replaced by Sonny Washburn
Leroy MacNeil - bass
The floating lead tenor of Leroy Griffin distinguished The Nutmegs's 1955 R&B smash "Story Untold," an East Coast doo-wop classic. Hailing from New Haven, CT, the quintet signed with Herald Records and debuted with "Story Untold." Another smooth ballad issued later that year, "Ship of Love," also scaled the R&B charts. The Nutmegs made several more solid singles for Herald but without recapturing their initial success. ~ Bill Dahl, All-Music Guide
The Olympics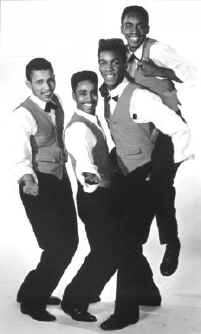 From left: Walter Ward, Eddie Lewis, Mevin King, Charles Fizer
The Olympics were a R&B, dance and novelty act.


Members:
Walter Ward - lead
Eddie Lewis - tenor
Charles Fizer - second tenor
Melvin King - bass
Artist Biography by Bryan Thomas

The Olympics were one of the great L.A.-based acts who managed to score regional hits on the West Coast by balancing upbeat and often humorous novelty R&B tunes with those about popular dances of the day (some of the other West Coast groups who fit this description were the Jay Hawks, the Cadets/Jacks, the Marathons, and the DooTones). They are perhaps best remembered for their Coasters-derived "Western Movies," but their other L.A.-area hits include the popular dance number "Baby Hully Gully," "Big Boy Pete" (which stalled out at number 50 pop, but went to number ten R&B), and "Mine Exclusively."

The Olympics' original lineup -- raspy baritone Walter Ward (who sang lead), Eddie Lewis (tenor), Charles Fizer (baritone), and Walter Hammond (baritone) -- started out as Walter Ward & the Challengers, waxing "I Can Tell" in 1958. All three baritone leads rarely exploited their low range, preferring to sing in shrill high tones. They changed their name to the Olympics shortly thereafter, hooking up with the songwriting team of Fred Smith and Cliff Goldsmith, who wrote and produced the act's first hit in 1958 for Si Aronson's Hollywood-based Demon Records. "Western Movies," a Coasters-type novelty number, caught on quickly, right around the same time that all of America was preoccupied with Western-themed movies and TV shows. The single climbed to number eight pop and number seven R&B in 1958.

The Olympics then moved -- along with Smith and Goldsmith -- over to the Arvee label in 1959. For their numerous A-sides (for several labels), the Olympics preferred to issue inner-city generated dance ditties, including the Smith/Goldsmith-penned "(Baby) Hully Gully," " "The Philly Dog," "The Slop," and "The Duck" (a local hit for Jackie Lee [aka Earl "Chip" Nelson]). The group only occasionally performed ballads, like the doo-wop inspired "Stay Where You Are," and a few rockers like "Shimmy Like Kate" and "Dance by the Light of the Moon." Mostly, the Olympics attempted to duplicate their hit status with novelty songs along the lines of "Western Movies."

Their biggest success in the novelty realm was their remake of "Big Boy Pete," written and first recorded by Don & Dewey for Specialty. Other regional hits included "Little Pedro," "Little Dooley," and "Big Chief Little Foot" (which featured "war whoops"). Others, like the humorous "Dodge City" and "(I Wanna) Dance With the Teacher" sound like teenage West Coast Americana at its most innocent (though at the time, extremist church groups saw nothing innocent about this type of material and often complained that their lyrics were the work of the devil).

Several members of the Olympics also recorded a cover of the Marathons' hit "Peanut Butter," which had been a hit for their producer H.B. Barnum in 1961, waxed for the Checker label. The song was essentially a rewrite of the Olympics' "(Baby) Hully Gully." Arvee sued and acquired the "Peanut Butter" master through contract-infringement litigation. They then rounded up some more singers (including a few Olympics) to record "Peanut"'s successor and album tracks. What makes this more confusing was the fact that the Marathons had some, if not total, personnel overlap with the Vibrations on Checker (who had in 1956 been known as the Jayhawks, who recorded "Stranded in the Jungle" for Flash Records). The same group also performed on-stage as the Marathons. This initially has caused confusion as to whether the two group's shared the same lineup and who did which song and who was in which group at what time.

Party Time In total, Arvee released three albums by the Olympics -- Doin' the Hully Gully (1960), Dance by the Light of the Moon (1961), and Party Time (also 1961). After the Olympics left Arvee, they scored a couple of hits in 1963 on the L.A.-based Tri-Disc label: the rollicking dance ditty "The Bounce" and "Dancin' Holiday," both produced by Fred Smith. In 1965, they moved over to the Loma label and recorded "Good Lovin'," which failed to connect, but a year later it was remade into a giant hit by the Young Rascals for Atlantic.

Something Old, Something New In 1966, the Olympics signed with Mirwood, the label run by ex-Vee-Jay executive Randy Wood (and not the Randy Wood from Dot Records). They recorded two hits: "(Baby) Do the Philly Dog" and the gospel-drenched East-side soul single "Mine Exclusively," which inched into Billboard's Hot 100 chart, reaching number 99 in May 1966. Sensing a resurgence of interest in the group, Wood decided to put out an album by the Olympics, but since he had only two minor hits, he opted to have them re-record their old hits from Demon, Arvee, and Tri- Disc for an album called Something Old, Something New. (These re-recorded versions have often been included in a vast majority of the reissues and various artist albums where the Olympics appear, much to the annoyance of collectors.)

Over the remaining years, the Olympics spawned a host of similar groups (the Contours, the Five Dutones, Bull & the Matadors), though they continue to perform at oldies revival shows and around the country. The quartet consists of two original members, Walter Ward and Eddie Lewis. Charles Fizer passed away in 1963 and Walter Hammond retired. Their replacements William DeVase and Kenneth Sinclair have been with them for over 20 years. After working with the Olympics,
Fred Smith worked with Little Caesar & the Romans, and he and Goldsmith later formed Keyman Records. Goldsmith died June 14, 1991, in Burbank, CA.
The Paragons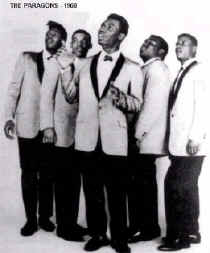 From left: Donald Travis, John May, Alan Moore, Ben Frazier, Al Brown 1960
Brother group to the Jesters, the Paragons were an equally fine tenor-lead group.


Members:
Julius McDonald - lead
Ben Frazier - first tenor
Donald Travis - second tenor
Rickey Jackson - baritone
Al Brown - bass
A New York quintet with Julius McMichael's distinctive high tenor up front, The Paragons were in the forefront of New York street-corner harmony in 1957. Their Winley label debut "Florence"/"Hey Little School Girl" paired a tender ballad with a torrid jump, and several Winley followups also racked up solid regional sales. ~ Bill Dahl, All-Music Guide
The Paradons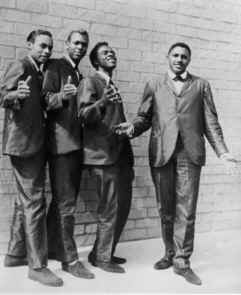 The Paradons are known best for the beautiful "Diamonds and Pearls," which reached number 18 on the pop chart in 1960,
nine rungs higher than it registered on the R&B chart.


Members:
Chuck Weldon - tenor
William Powers - baritone
West Tyler - lead
Billy Myers - bass
The Paradons are known best for the beautiful "Diamonds and Pearls," which reached number 18 on the pop chart in 1960, nine rungs higher than it registered on the R&B chart. The quartet, comprised of friends William Powers and Bill Meyers plus Chuck Weldon and West Tyler, gigged at school dances and local clubs around Bakersfield, CA, singing what the audience requested until a chance to record came about with Milestone Records. Their first session, one night of work, yielded eight sides, including the hit "Diamonds and Pearls" and the B-side "I Want Love." "Diamonds and Pearls" became a favorite on radio stations and generated appearances on American Bandstand, the Apollo, the Howard, and other top venues for R&B artists. Money problems put a monkey wrench in the mix, however, and the group disbanded after disenchantment set in. The follow-up "Bells Ring" failed to do anything, and neither did "Take All of Me" nor "I Had a Dream." The group stayed together less than a year, but Milestone kept issuing Paradons sides until they exhausted the supply. Making rock & roll records, even good ones, did