Cookies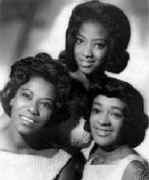 ( left to right) Dorothy Jones, Earl-Jean McCrae, Margaret Ross
The forerunner of Ray Charles' Raelettes, the original Cookies were Margie Hendrix, Ethel "Earl-Jean" McCrea and Pat Lyles, 1962


Members:
(1954-1956)
Dorothy Jones - 1st soprano
Beulah Robertson - 2nd soprano/lead
Ethel (Darlene) McCrae - alto/baritone/bass

(1956-1959)
Dorothy Jones
Darlene McCrae - alto/baritone/bass
Margie Hendryx - 2nd soprano/lead

1960-1965)
Dorothy Jones - lead/soprano
Margaret Ross - lead/soprano
Earl-Jean Mcrae - lead/alto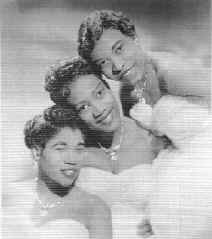 1954 Cookies
(L-R) Beulah Robertson, Darlene McCrea, Dorothy Jones.
Dorothy Jones, the founding member of the trio, was born in South Carolina, but as a child moved to Brooklyn. At seven she joined the choir of the First Baptist Church in Coney Island. She continued singing, drifted into backup session work, and later brought Brooklyn friends Earl-Jean McCrea and Margaret Ross into the business. McCrea born in North Carolina, moved at the age two to Brooklyn, finished high school and was working as an IBM operator when Jones brought her into the record business. They Recorded for Lamp Records in 1954. Together they became the Cookies making their debut at The Apollo Theatre on Amatuer Night, winning the contest. There they were spotted by an Jesse Stone of Atlantic Records, who brought them to the label for vocal sessions in 1955.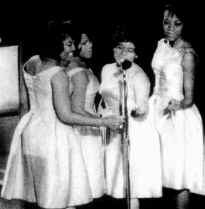 The Raelettes 1960
(L-R) Pat Lyles, Margerie Hendrix, Gwen Berry, Darlene McCrea.
They recorded three sessions under the Cookie name and had a Top Ten R&B hit with "In Paradise" in 1956. There, they did back-ups for many singers on the Atlantic roster, including LaVern Baker, Ruth Brown and Ray Charles. They also backed Joe Turner and Chuck Willis on their hit recordings in 1956 before becoming Ray Charles' Raelettes. When Margie Hendrix decided to go with Ray Charles full-time as a vocalist, she was replaced in the Cookies by Margaret Ross.
It was during their time at Atlantic that Neil Sedaka found them, used them on some of his early RCA hits, and later recommended them to Carole King for backup work on Tony Orlando's recordings. While working on one of Orlando's sessions, Don Kirshner heard them improvising around the piano and asked them to record for Aldon.
Almost six years later, a new trio emerged as the Cookies on Dimension, with only McCrea from the first group in its lineup. They became staples on most Aldon sponsored sessions, doing backup vocals for Neil Sedaka, little Eva, and Carol King, while having two Top Ten R&B, and one Top Twenty pop hit in 1962 ("Chains") and 1963. "Don't Say Nothing Bad (About My Baby)' was their biggest, reaching number three R&B (number seven pop) in 1963. "Girls Grow Up Faster Than Boys" was their last chart hit reaching a respectable number thirty-three in November 1963 as the British Invasion brought their success to an end.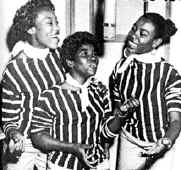 At Atlantic Studios 1955
(:L-R) Darlene McCrea, Beaulah Robertson, Dorothy Jones
Soon there after McCrea left the Cookies to pursue a solo career. Her first single on the Colpix label was a Goffin/King composition "I'm Into Something Good" that reached #38. Herman Hermits would cover "I'm Into Something Good" only four months later and take it to the top of the charts.
One of the impressive things about the Cookies was that each girl was a potential lead singer, and in combination, their voices blended beautifully. Often on the Dimension records, the vocals would be shared by all three girls, sometimes underpinned by a trademark interjection from Earl-Jean, e.g "so girl you better shut your mouth", "thirty-six; twenty-one; thirty-fiiiiive" (name those tunes!) Sometimes however, one particular girl would get a lead to herself. Dorothy, for example was practically solo on "Stranger In My Arms", the flip of "Chains" - it was very similar to her Columbia 45, and could well have been done at the same session. Margaret was the main voice on "Softly In The Night" - she also got the lead on "Only To Other People" and what is for many the ultimate Cookies track, "I Never Dreamed". (The Sequel "Complete Cookies" compilation incorrectly credits Dorothy as lead on these tracks) Earl-Jean of course did her own thing on Colpix, but always remained a Cookie. If you want to hear and compare each girl individually, look no further than their original version of "On Broadway", where each girl takes one line at a time in the verses - first Earl-Jean, then Dorothy, then Margaret. Towards the end of their stay at Dimension, it seemed that Margaret was increasingly the preferred vocalist. Margaret had an identifiable trademark sob in her voice that added a sincerity to any song she graced. Witness the impressive list of girl-group classics that she led:- "I Never Dreamed", "Please Don't Wake Me", "Baby Baby I Still Love You", "Make The Night A Little Longer", "One Wonderful Night". Margaret Ross is surely one of the unheralded greats, and yet she was probably the least recognized of the trio, her name never having appeared solo on a label.1

In late 1966 the Cookies signed with Warner Brothers. In April 1967 they released their last record. And as they say that's how the Cookies crumbled.