Sam Cooke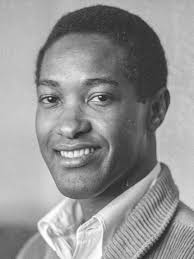 Songwriter and performer Sam Cooke was one of the most popular and influential black singers to emerge in the late '50s, successfully to synthesize a blend of gospel music and secular themes and provided the early foundation of soul music. Cooke's pure, clear vocals were widely imitated, and his suave, sophisticated image set the style of soul crooners for the next decade.



A young Sam Cooke
Photo courtesy ABKCO


Charles Cook and his wife Annie Mae
Photo courtesy ABKCO


Highway QCs.
Top L to R: Gus Treadwell, Jake Richards, Marvin Jones Bottom L to R: Sam Cook, Credell Copennd Jr., Lee Richards
Photo courtesy Barbara Cooke and ABKCO


Soul Stirrers circa 1952
Top L to R; Sam Cooke, J.J. Farley, Paul Foster, R.B. Robinson
Bottom: S.R. Crain
Photo courtesy Speciality Records

Sam Cooke was born in Clarksdale, Mississippi on January 22, 1931, but grew up in Chicago, where his father Charles became a minister in the Church of Christ Holiness Church. By age nine Sam, with his two sisters, formed a gospel trio the Singing Children. As a teenager, he was a member of the nationally famous Highway Q.C.'s (so named because their home base was the Highway Baptist Church) with his younger brother, L.C. Cook. It was here that they sang with all the leading gospel groups of the day when they passed through Chicago. It was also where J.W. Alexander, tenor and manager of the Pilgrim Travelers, first saw the young Cooke. The Pilgrim Travelers were the second gospel group recorded by Specialty and Alexander soon became the label's chief gospel scout. In 1949 he brought the Soul Stirrers to Specialty.
In December 1950 Robert Harris the Soul Stirrers electrifying lead singer quit the group. R.B. Robinson spoke up for the young Cooke and in 1951, at the age of nineteen, he became lead vocalist of the Soul Stirrers, with whom he toured and recorded for six years. The Soul Stirrers were one of the top acts on the all night gospel circuit. The group recorded for Aladdin records in the 1940s and in 1948, they signed with Specialty Records.
Specialty, founded by Art Rupe in 1946, in it's first two years issued only up-tempo blues recordings. In 1948, Rupe discovered the wide open field of gospel and concentrated the next few years on gospel and boogie based blues to the exclusion of most other forms of music.
In 1950, Cooke's first session with the group produced "Jesus Gave Me Water." With his soaring vocal leads Cooke brought "style" to the gospel format. Though "Jesus Gave Me Water" betrays the youth and experience of the twenty year old Cooke it showed the potential Alexander saw in him.
Cooke soon became a gospel superstar. With the times changing soon Alexander was pressuring Rupe to let Cooke issue records in the popular field. Constraints against gospel performers performing secular material were strong and woven deep into the fabric of the black community. However, the monetary and worldly rewards for singing gospel could never equal those for singing to the masses. Cooke gave in and recorded "Lovable" under the name Dale Cook. Cooke's voice was to unique not to be recognized. Lovable sold 25,000 copies.
"Lovable" set off a backlash from his gospel fans and the Soul Stirrers were booed whenever they made a personal appearance. Cooke was released by the Soul Stirrers and replaced by Johnny Taylor. In the next five months there were no more releases by "Dale Cook" or even Sam Cooke.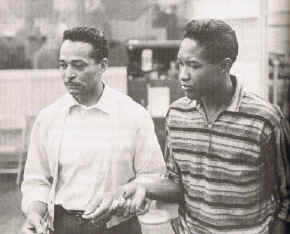 Bumps Blackwell and Sam Cooke
Bumps Blackwell, Specialty's chief A&R man asked for his release. With royalties due, Blackwell was offered Cooke's recording contract in lieu of cash. Blackwell accepted and signed Cooke with Keen Records, a new label started by Bob Keane.
Cooke sang his new songs with the same conviction he had brought to gospel music. In 1957 he released "You Send Me" which became a number #1 hit and sold 1.7 million copies. "You Send Me" established Cooke as a commercial artist and as an original pop stylist. In February, 1958 Specialty filed a lawsuit claiming that Cooke had actually written and recorded "You Send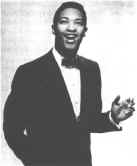 Me" while still under contract to Specialty, then recorded it for Keen. That being so the rights would have belonged to Specialty. Cooke claimed the song had been written by his brother, who was under no such restraints.
The musical pattern in "You Send Me" was the basis for most of Cooke's first year with Keen. They were love songs, with pretty arrangements and sung with a rolling, medium tempo.
In early 1959, Cooke released "Everyone Like To Cha Cha Cha" (#31) which represented a change in dance style before he returned to the two step with "Only Sixteen" (#28).
In 1959 Cooke left Keen over a royalty dispute. In1960 he signed with RCA and began writing blues, gospel inflected songs. After he joined RCA Victor, Keen issued his second biggest hit up to that time, the million selling "Wonderful World."
Cooke's first release on RCA barely made the middle of the pop charts. It did a little better R&B, but not much. To add insult to injury, A Cooke written song "Nobody Loves Me Like You" became a hit for the Flamingos later in the spring.
Even without hits, Cooke continued to be a big hit on the one nighter and R&B circuit. In March, he toured the Caribbean to sold out houses.
On September 6, Cooke and his wife became parents of a seven pound two once baby girl they named Tracy. A week earlier RCA released "Chain Gang" since signing with RCA. It peaked at number two on both the Pop and R&B charts and became his fourth gold record.
In the next ten months, he released four records which included "Cupid." They all should have been best sellers, but only sold in medium quantities., Why they failed to sell is one of those quirks that drive record executives mad.
It wasn't until "Twistin' the Night Away" in January, 1962 that Cooke got back on track to stay. It was a number one R*B and Top Ten pop hit. Next came "Having' a Party' which was a sequel to "Twistin' the Night Away." Now Cooke teamed up with Lou Rawls to sing "Bring It on Back To Me," an old gospel song.
| | | | |
| --- | --- | --- | --- |
| Lisa Boyer | Bertha Franklin | The crime scene | Hacienda Motel |
With a live LP in the Top 30, Cooke was in L.A. partying when he met 22 year old Elisa Boyer at a club on December 11, 1964. They drove to South Central where they registered at the Hacienda Motel as Mr.and Mrs. Sam Cooke. Later Boyer left the room with most of Cooke's clothing. Cooke wearing one shoe and a jacket broke into the motel's office where he thought Boyer was hiding. There he found Bertha Franklin the motel's manager who shoot him three times with a .22. killing Cooke on December 11, 1964. The manager of the motel, Bertha Franklin claimed Cooke had tried to rape a twenty one year old woman Elisa Boyer and then turned on her. The coroner's office ruled the death as justifiable homicide. Over thirty five years later there remain questions about the circumstances of Cooke's death and there has been talk about reopening the investigation.

J.W. Alexander, Lou Adler, Sam Cooke and Zelda Samuels
photo courtesy J.W. Alexander
Two months after his death his song "Shake" peaked at #7 on the pop charts. Cooke's songs have been covered by both rock and soul singers. "A Change Is Gonna Come" was released in 1965 after his death and charted at #31. It represented a return to Cooke's roots, placing him back in the spiritual setting from which he had first emerged just nine years before.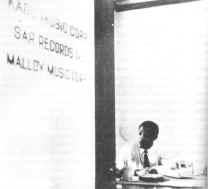 photo courtesy Bill Millar

Cooke was a ground breaking black music capitalist. He owned his own record label (SAR/Derby), music publishing company (Kags Music), and management firm with offices in the Warner Brothers Building in Hollywood.. His influences can be heard in the work of artists as varied as Michael Jackson and the Heptones, but is most profoundly felt in the singing of Otis Redding, Rod Stewart, and Al Green. The 1994 compilation Sam Cooke's SAR Records Story 1959-1964 suggests that his impact as a producer, though less widely recognized, was no less important.

Gravestone at Forest Lawn Cemetery Glendale, California
Sam Cooke was a true superstar in his lifetime. After his death, his legend became even larger. His influence can be heard in the precise phrasing of Smokey Robinson, in the conscientious songwriting of Marvin Gaye, in the raw emotion of Lou Rawls and in Aretha Franklin's controlled passion.
Sam Cooke was inducted into the Rock and Roll Hall of Fame in 1986
Soul Stirrers were inducted as an early influence into the Rock and Roll Hall of Fame in 1989.