Booker T. and the MG's
| | |
| --- | --- |
| Original MGs - Booker T. Jones, Steve Cropper, Al Jackson and Lee Steinberg | Donald "Duck" Dunn, Booker T. Jone, Steve Cropper and Al Jackson |
Best remembered historically as the studio band for Stax-Volt Records during the 60s, Booker T. and the MGs created the "Memphis Sound behind the hit recordings by Carla and Rufus Thomas, Otis Redding, Sam and Dave, among others.



The Mar-Keys Booker T. Jones began working at Stax Records in Memphis as a saxophonist in 1960. In 1962 Booker T. and the MGs were formed as the house band for Stax-Volt Records. Steve Cropper and Donald Dunn, who had been members of the Mar-Keys, played on the groups' 1961 instrumental hit "Last Night." Dunn remained with the Mar-Keys until 1964 when he replaced the group's original bassist Lee Steinberg. In the early '60s, Booker T. and the MGs provided the instrumental backing for Carla Thomas ("Gee Whiz") and her father Rufus Thomas ("Walkin' the Dog:). The reputation as a band in their own right was established in 1962 with their instrumental hit "Green Onions."
| | | | |
| --- | --- | --- | --- |
| Steve Cropper | Donald Dunn | Al Jackson | Booker T. Jones |
Over the next seven years, the group recorded independently, backed various Stax acts while individuals pursued their own careers. Jones worked with artist-producer William Bell and co-wrote the blues classic "Born Under a Bad Sign." In 1966, Jones received a degree in music from Indiana University. Crooper supervised the recordings of Otis Redding and co-wrote hits by Wilson Pickett ("In the Midnight Hour:), Eddie Floyd ("Knock On Wood"), and Otis Redding ("Dock of the Bay"). Al Jackson produced blues guitarist Albert King. Booker T. and the MGs served as the backing band for Sam and Dave's "Hold On I'm Coming" and "I'm a Soul Man."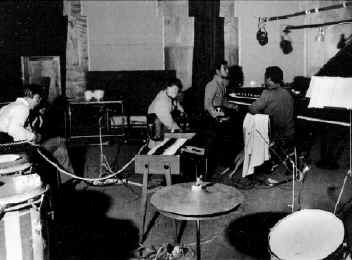 In the Stax Studio
From left: Steve Cropper, Donald "Duck" Dunn, Booker T. Jones, Al Jackson Jr.
On their own Booker T. and the MGs had rhythm and blues hits with "Hip Hug-Her," "Groovin'," "Soul Limbo," and "Time Is Tight." "Goovin'," "Time Is Tight," and "Soul Limbo" also became pop hits along with "Hang'em High." In 1967 the group toured Great Britain in support of Otis Redding, Sam and David, Eddie Floyd, Carla Thomas, and others. They backed Otis Redding at The Monterey International Pop Festival in June 1967. In 1969 Cropper recorded With A Little Help from My Friends and, with Albert King and gospel patriarch "Pop" Staples Jammed Together.
In 1970 Booker T. and the MGs quit being the Stax house band, officially disbanding in 1972. Jones moved to California and joined A&M Records as a staff producer. There he supervised the recording sessions for Rita Coolidge, his wife Priscilla (Rita's sister), and Bill Withers. In there early '70s he recorded three albums with his wife, plus the solo album Evergreen. Cropper continued with session work and producing at Stax-Volt until 1975, when the label folded. Cropper then moved to Los Angeles.
The group was planning a reunion when Al Jackson was shot to death in Memphis October 1, 1975. The band did reunite with Willie Hall on the drums for Universal Language, and Jones later recorded three solo albums for A&N. Jones, Cropper, and Dunn recorded with others as the RCO All-Stars. Cropper and Dunn recreated their distinct style behind The Blues Brothers on tours and albums as well as in the movie The Blues Brothers in 1980. Jones produced Willie Nelson's 1978 album Stardust. In 1988 Booker T. and the MGs reunited with drummer Anton Fig to play at Atlantic Records' fortieth anniversary show at Madison Square Garden and subsequently stayed together for several years to perform as Booker T. and the MGs. October 1992 Jones, Cropper, and Dunn joined session drummer Jim Keltner to serve as the house band for the four hour Bob Dylan tribute at Madison Square Garden. In 1994, Jones, Cropper, and Dunn recorded their first album in seventeen years, That's the Way It Should Be, with session drummers. Cropper and Dunn reunited in the Blues Brothers Band for 1998 movie Blues Brothers 2000.
Booker T. and the MGs were inducted into the Rock and Roll Hall of Fame in 1992
May 13, 2012 Don Dunn died in his sleep following a concert in Toyko at the age of 70.
Lewis Steinberg July 21, 2016 at the age of 82.
Al Jackson was fatally shot by home intruders on October 1, 1975.