AMERICAN PIE by Don McLean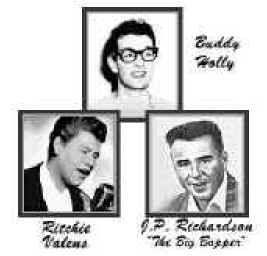 The lyrics to the song are left justified with comments indented. I have attempted to note where the interpretation is questionable (in red) so feel free to drop me a line if you have any answers..


Was American Pie name of the plane in which Buddy Holly died?
The entire song is a tribute to Buddy Holly and a commentary on how rock and roll changed in the years since his death. McLean seems to be lamenting the lack of "danceable" music in rock and roll and (in part) attributing that lack to the absence of Buddy Holly et. al.
A long, long time ago...
"American Pie" reached #1 in the US in 1972, but the album containing it was not released until later. Buddy Holly died in 1959.
I can still remember how That music used to make me smile. And I knew if I had my chance, That I could make those people dance, And maybe they'd be happy for a while.
One of early rock and roll's functions was to provide dance music for various social events. McLean recalls his desire to become a musician playing that sort of music.
But February made me shiver,
Buddy Holly died on February 3, 1959, in a plane crash in Iowa during a snowstorm.
With every paper I'd deliver,
Don McLean's only job besides being a full-time singer-songwriter was being a paperboy.
Bad news on the doorstep... I couldn't take one more step. I can't remember if I cried When I read about his widowed bride
Holly's recent bride was pregnant when the crash took place; she had a miscarriage shortly afterward.
But something touched me deep inside, The day the music died.
The same plane crash that killed Buddy Holly also took the lives of Richie Valens ("La Bamba") and The Big Bopper ("Chantilly Lace.") Since all three were so prominent at the time, February 3, 1959, became known as "The Day The Music Died."
So...
(Refrain) Bye bye Miss American Pie,
**Don McLean dated a Miss America candidate during a pageant and broke up with her on February 3, 1959. (Unconfirmed interpretation)
I drove my Chevy to the levee but the levee was dry, Them good ol' boys were drinkin' whiskey and rye Singing "This'll be the day that I die, This'll be the day that I die."
Driving the Chevy to the levee almost certainly refers to the three college students whose murder was the subject of the film 'Mississippi Burning.' The students were attempting to register as black voters, and after being killed by bigoted thugs their bodies were buried in a levee. Them good ol' boys being: Holly, Valens, and the Big Bopper, They were singing about their death on February 3. One of Holly's hits was "That'll be the Day"; the chorus contains the line "That'll be the day that I die."
(Verse 2) Did you write the book of love,
"The Book of Love" by the Monotones; hit in 1958. "Oh I wonder, wonder who... who, who wrote the book of love?"
And do you have faith in God above, If the Bible tells you so?
Now do you believe in rock 'n roll?
The Lovin' Spoonful had a hit in 1965 with John Sebastian's "Do you Believe in Magic?". The song has the lines: "Do you believe in magic" and "It's like trying to tell a stranger 'bout rock and roll."
Can music save your mortal soul? And can you teach me how to dance real slow?
Well I know that you're in love with him 'Cause I saw you dancing in the gym
Back then, dancing was an expression of love, and carried a connotation of commitment. Dance partners were not so readily exchanged as they would be later.
You both kicked off your shoes
A reference to the beloved "sock hop." (Street shoes tear up wooden basketball floors, so dancers had to take off their shoes.)
Man, I dig those rhythm 'n' blues
Before the popularity of rock and roll, music, like much elsewhere in the U. S., was highly segregated. The popular music of black performers for largely black audiences was called, first "race music," later softened to rhythm and blues. In the early 50s, as they were exposed to it through radio personalities such as Allan Freed, white teenagers began listening, too. Starting around 1954, a number of songs from the rhythm and blues charts began appearing on the overall popular charts as well, but usually in cover versions by established white artists, (e.g. "Shake Rattle and Roll," Joe Turner, covered by Bill Haley; "Sh-Boom," the Chords, covered by the Crew-Cuts; "Sincerely," the Moonglows, covered by the McGuire Sisters; Tweedle Dee, LaVerne Baker, covered by Georgia Gibbs). By 1955, some of the rhythm and blues artists, like Fats Domino and Little Richard were able to get records on the overall pop charts. In 1956 Sun records added elements of country and western to produce the kind of rock and roll tradition that produced Buddy Holly.
I was a lonely teenage broncin' buck With a pink carnation and a pickup truck
"A White Sport Coat (And a Pink Carnation)," was a hit for Marty Robbins in 1957. The pickup truck has endured as a symbol of sexual independence and potency, especially in a Texas context. (Also, Jimmy Buffet does a song about "a white sport coat and a pink crustacean." :-) )
But I knew that I was out of luck The day the music died I started singing...
Refrain
(Verse 3) Now for ten years we've been on our own
McLean was writing this song in the late 60's, about ten years after the crash.
And moss grows fat on a rolling stone
It's unclear who the "rolling stone" is supposed to be. It could be Dylan, since "Like a Rolling Stone" (1965) was his first major hit; and since he was busy writing songs extolling the virtues of simple love, family and contentment while staying at home (he didn't tour from '66 to '74) and raking in the royalties. This was quite a change from the earlier, angrier Dylan.

The "rolling stone" could also be Elvis, although I don't think he started to pork out by the late sixties. he-he!

It could refer to rock and rollers, and the changes that had taken place in the business in the 60's, especially the huge amounts of cash some of them were beginning to make, and the relative stagnation that entered the music at the same time.

Or, it could refer to the Rolling Stones themselves, many musicians were angry at the Stones for "selling out." I discovered that John Foxx of Ultravox was sufficiently miffed to write a song titled "Life At Rainbow's End (For All The Tax Exiles On Main Street)." The Stones at one point became citizens of some other country merely to save taxes.
But that's not how it used to be When the jester sang for the King and Queen
The jester is Bob Dylan, as will become clear later. There are several interpretations of king and queen: some think that Elvis Presley is the king, which seems rather obvious. The queen is said to be either Connie Francis or Little Richard. See the next note.

An alternate interpretation is that this refers to the Kennedys -- the King and Queen of "Camelot" -- who were present at a Washington DC civil rights rally featuring Martin Luther King. (There's a recording of Dylan performing at this rally. The Jester.)

The third interpretation is that the jester could be Lee Harvey Oswald who sang (shouted) before he was shot for the murder of the King (JFK).
In a coat he borrowed from James Dean
And a voice that came from you and me
Bob Dylan's roots are in American folk music, with people like Pete Seeger and Woody Guthrie. Folk music is by definition the music of the masses, hence the "...came from you and me."
Oh, and while the King was looking down The jester stole his thorny crown
This could be a reference to Elvis's decline and Dylan's ascendance. (I.e., Presley is looking down from a height as Dylan takes his place.) The thorny crown might be a reference to the price of fame. Dylan has said that he wanted to be as famous as Elvis, one of his early idols.
or...
Lee Harvey Oswald being the jester who ended the reign of JFK and "stole his crown."
The courtroom was adjourned, No verdict was returned.
This could be the trial of the Chicago Seven.
but its more likely to be...
The fact that no verdict was returned for the assassination of JFK because the assassin was killed so the court was adjourned.