| | |
| --- | --- |
| Ike Turner and Jackie Brenston | |
The turning point for Phillips occurred on March 5, 1951 That was the day that Ike Turner and his band featuring Jackie Brenston drove from Clarksville, Mississippi to Memphis to see Phillips. It seems that the band had been working on a song called "Rocket 88, after the Oldsmobile that they decided to play for him.
It seems while driving from Clarksdale, guitarist Willie Kizart's amp fell off the top of the car, breaking the speaker cone. This distorted to sound making the guitar sound like a saxophone. Phillips choose to over amplify it making it the centerpiece of the rhythm track. With Kizart playing simplified boogie riff in unison with Ike Turner on piano, Raymond Hill contributed two tenor sax solos and Jackie Brenston a highly confident vocal. Phillips ran off some dubs and sent them to the Chess brothers that same night. Released on April 1951, "Rocket 88" reached the charts in May, hit number one in June and eventually became the second biggest R&B record of the year.

Chester "Howlin' Wolf" Burnette
In the spring of 1951 Phillips recorded a demo session with Chester Burnett a.k.a Howlin' Wolf. Wolf recorded "How Many More Years" and "Baby Ride With Me". It is believe that Phillips sent dubs to RPM/Modern and possibly Chess. It was almost certainly agreed that RPM agreed to sign Wolf, but this was the time Phillips was and the Biharis were having there falling out over Rocket 88 and he sold Wolf's contract to Chess. He re-recorded "How Many More Years" and "Moanin' at Midnight" which formed his first single. Howlin' Wolf's last recorded in the Sun studios in October 1952. Phillips soon became strained with the Chess Brothers which led to the founding of Sun Records.

Johnny London
Despite the national exposure Phillips could hardly pay the bills. He quit the radio station to concentrate his time solely on recording activities. Beginning to face competition for local talent he decided to sell records through his own label. He decided to call his company Sun because he believed it was the universal power. The first Sun release in March 1952: "Drivin' Slow" was by Johnny London, a sixteen year old black saxophone player.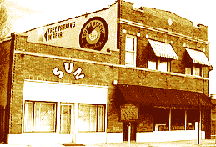 About this time Phillips faced a problem with the company's name. It seems there was another Sun label in Albuquerque, New Mexico that had been founded at about the same time. However nothing came of it.
Another problem was the Memphis based Duke label. Duke signed local pianist John Alexander, whom they renamed Johnny Ace. Ace's first release "My Song" became a number one R&B hit. The label then signed Bobby Bland who Phillips had recorded briefly for Chess. Poised to become a big factor in the R&B market. Success brought Duke the same problems faced by other small independents the inability to collect on the shipments of "My Song". In July 1952 they were forced to sell to Don Robey at Peacock Records in Houston.
During the summer of 1953, Elvis Presley came to the Memphis Recording Service to make a record. Presley recorded "My Happiness" and "This Is Where Your Heartache Begins" to give the record to his mother, Gladys, for a birthday present.The fact is that Gladys' birthday was in the spring and it is more likely that Presley made the record for himself, to hear how he sounded.

Marion Keisker
Either Sam Phillips or his assistant, Marion Keisker noted that Presley had a good feel for ballads and that he should be invited back.Almost a year later, in May June 1954, Keisker Phillips called Presley back for an audition. On Saturday, June 26, 1954, Elvis came to Sun Studios for an audition. He tried in vain to sing a song Sam was working with entitled, "Without You." Sam had Elvis sing most his repertoire.

The Starlight Wranglers circa 1953
L to R: Bill Black, Tommy Sealey, Doug Poindexter Milliard You (steel guitar) Clyde Rush, and Scotty Moore.
photo coutesy Colin Escott

Sam called Scotty Moore and with Bill Black, the bass player from Scotty's band, the Starlight Wranglers, and told them to work up some material. Scotty and Bill auditioned Elvis on Sunday, the Fourth of July, 1954, at Scotty Moore's house. Scotty Moore and Bill Black were not overly impressed with the young crooner either. He could sing a little bit, and there was this indefinable quality that made you want to like him. Scotty called Sam. They agreed a session would be useful to see what they had.
On Monday evening, July 5, 1954, Elvis, Scotty and Bill went to Sun Records for their first recording session. They were nervous despite Sam Phillips' efforts to loosen things up. They worked in vain on the Bing Crosby hit, "Harbor Lights," and on the country ballad, "I Love You Because." Finally they took a break late in the evening. During the break Elvis picked up his guitar and started clowning around, playing the fool on ``That's Alright Mama," the Arthur "Big Boy" Crudup blues song. Elvis went up-tempo as first Bill, and then Scotty, joined in. In the control booth Sam Phillips heard the sound, the "new" music, he had been looking for. He stuck his head out the door asking, "What are you doing?" The boys answered, "We don't know." Turning on the tape Sam said, "Well, back it up, try to find a place to start, and do it again." Rock n' roll was born.

During the next eighteen months Sam Phillips worked tirelessly promoting Elvis. Sam was Sun Records. He produced, engineered, and marketed the Sun label. Elvis Presley, his rising star, took all his attention. It was retail marketing, one record distributor, one record store, at a time. Sam loaded up his Cadillac with records and hit the road, traveling from city to city sixteen hours a day. In addition he booked engagements for Elvis and the Blue Moon Boys, the name of the new group, in venues like the Grand Ole Opry and the Louisiana Hayride. The Elvis Presley phenomena had begun, and its engine was Sam Phillips.

First WHER Station in Holiday Inn


WHER 1000 Beautiful Women
Marion Keisher second left Becky Phillips front right


Becky Phillips at WHER
Phillips launched radio station WHER on October 29, 1955. Each of the young women who auditioned for the station assumed there would only be one female announcer position, as was the case with other stations at that time. Only a few days before the first broadcast did they learn of the "All Girl Radio" format. It was the first all girl radio station in the US, as almost every position at the station was held by a woman
RCA Signing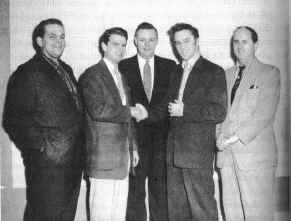 (L to R: Bob Neal, RCA attorney Coleman Tily, Presley, Col. Tom Parker)
Photo courtesy Sam Phillips Family
By November 1955, Elvis Presley was on the verge of mega-stardom. He was a regional sensation throughout the South. Colonel Tom Parker had taken over his management. The music world was a buzz with rumors of how Elvis would enter the national scene. Sam Phillips sold Elvis Presley's contract to RCA Victor for 35,000 dollars, the highest amount paid at that time for a recording artist. He saw it as business decision that would benefit both himself and Elvis. Elvis deserved a national record distributor and Sam needed capitol to develop the talent that was coming to Sun Records based on Elvis's success.

A young Carl Perkins
Photo courtesy Stan Perkins


Johnny Cash


Jerry Lee Lewis


Roy Orbison

Charlie Rich
With the success of Presley, other young country singers were drawn to Sun Records. Among them were Carl Perkins, Johnny Cash, Jerry Lee Lewis, Roy Orbison and Charlie Rich. Sam Phillips soon abandoned blues recording and concentrated on this new music, called rockabilly. Sun Records produced hit after hit. Carl Perkins was on the verge of major stardom with "Blue Suede Shoes," but was involved in a serious automobile accident which left him unable to cash in on his popularity. Jerry Lee Lewis had two giant smashes in "Whole Lotta Shakin' Goin' On" and "Great Balls of Fire". On a tour of England, the newspapers revealed that Lewis had married a 13 year old girl while not legally divorced from his previous wife. Lewis had to cut the tour short and come home, his career temporarily in ruins. Jerry Lee Lewis continued recording for Sun for several years but he never recovered from the bad publicly to have a hit of the magnitude of his first two. He was able to revive his career later by moving into country music on the Mercury Record label. Johnny Cash was probably the most consistent record seller on Sun but left the label for Columbia in 1958.