Attempting to revived Orbison's sales. Sun's new musical director Bill Justis, gave him one of his first

tries at writing rock and roll, "Chicken Hearted," a novelty song. Released in December 1957, it was Orbison's last on Sun as a contracted artist.
By this time Orbison, never really comfortable with rockabilly, was disillusioned with the way Phillips was handling his career. After "Chicken Hearted" flopped, Orbison returned to Texas with his new bride, Claudette Frady, from Odessa.
Orbison knew that his talents were being misdirected at Sun, and events to come would prove it. After his return to Texas he began to question if he wanted to continue to be a performer.
As a writer, Orbison had a fleeting hit for Warren Smith with "So Long I'm Gone." He did even better when Jerry Lee Lewis revamped "Go! Go! Go!" as "Down the Line" the b side of "Breathless," Johnny Cash recorded "You Tell Me."

Claudette circa 1957
But it was the success of "Claudette," named for his wife, which went to the top on the flip side of the Everly Brothers' "All I Have to Do Is Dream," that made Orbison seriously consider writing. Orbison brought out his Sun contract by signing over all his copyrights (except "Claudette") and affiliated himself with the Everly's music publisher, Acuff-Rose.

Fred Foster and Roy Orbison
Orbison during his last RCA session had a conversation with the session bassist Bob Moore, who was buying part of a small Washington, D.C. based Monument Records. Upon learning that RCA wasn't going to renew Orbison's contract, Moore went to Monument's owner Fred Foster who promptly sign him.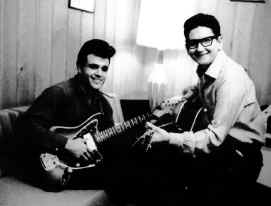 With songwriting partner Joe Melson
Orbison went back to Texas where he began writing with Joe Melson, who led a local group called the Cavaliers in Midland. After, a few false starts, Orbison and Melson came up with a song called "Uptown," which sold better than any Orbison record since "Ooby Dooby," peaking halfway up Billboard's Hot 100.

British tour with the Beatles and Gerry and the Pacemakers
Orbison's first peak period was from 1961 to 1964. During this time he moved between snarling blues rock and his mainstay, the romantic ballad with crescendoing falsetto and strings. With his twangy guitar and belcanto tenor, Orbison had a number of hits that include among them: "Only the Lonely' (#2 1960), "Running Scared" (31, 1961), "Crying" (#2, 1961), "Dream Baby" (#4, 1962), "In Dreams" (#7, 1963) and "Oh, Pretty Woman" (#1, 1964). Orbison co-wrote almost all his hits and often produced them as well. Successful in the U.S, Orbison was also a smash in Britain where in 1963 he toured with the Beatles and Gerry and the Pacemakers.
Heartbreak, a common theme in Orbison's music, shadowed his life as well. His marriage to Claudette was sweet and sour. He was away from home for long stretches at a time, she was young reportedly having an affair. They were divorced in November, 1964 only to remarry the following August. While touring in England in March 1966 he was nearly killed in a motorcycle accident. He broke an ankle and performed the rest of the tour seated on a stool Three months later in 1966, he was riding motorcycles with his wife, Claudette, whose name was the title of a tune he wrote in 1955 and the Everly Brothers recorded in 1958,.when a truck driver pulled out in front of her. She died an hour later at the age of twenty-five.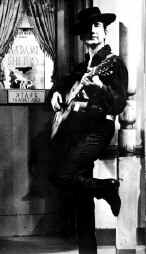 Picture fom The Fastest Guitar Alive
Following his wife's death in 1966, Orbison's career went on hold. However, he did appear in the 1967 film The Fastest Guitar Alive.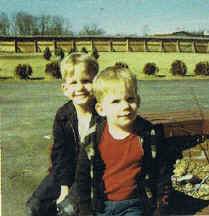 L to R: Roy DeWayne and Anthony King, spring 1968
In 1968, Roy was on tour in England when he learned of a second tragedy. Two of their three sons, Roy Dewayne and Anthony King, had died in a fire at their Nashville home.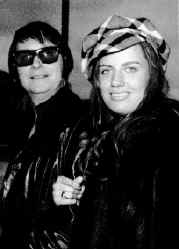 Roy and Barbara
In 1969, he re-married German born Barbara Wellnoener-Jacobs, a woman he met while on tour of Britain. A year later they moved to Dusseldorf and in October 1970, they had a son. Following his wife's death in 1966, Orbison's career went on hold. Orbison's

popularity remained strong in Britain where he had appeared at London's Talk of the Town club even as his popularity in the U.S. was ebbing.
Refusing to join rock 'n' roll revival shows and Orbison seldom toured in the United States after the late '60s.
After steady work through the '70s, he recorded albums for Mercury, Monument, and Electra in 1975, 1977, and 1979 respectively, he returned to American touring and saw Linda Ronstadt score a Top 10 pop and country hit with "Blue Bayou."
He spent five years without a recording contract. In January 1978, years of cigarette smoking and Southern fried cooking caught up with him, and he underwent heart bypass surgery at St. Thomas Hospital near Nashville.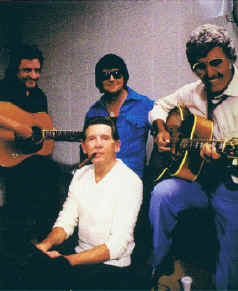 Class of 55
L to R: Johnny Cash, Roy Orbison, Carl Perkins
Front: Jerry Lee Lewis
Orbison opened the new decade as the opening act on the Eagles' 1980 tour and a Grammy winning duet with Emmylou Harris "That Lovin' Feeling' Again on the Roadie soundtrack. A 1981 comeback show in New York City was both a commercial and critical success.That same year Don McClean had a Top 10 hit with "Crying." In 1982 "Oh, Pretty Woman" was a hit for Van Halen and would later be revived again as the title theme song of the 1990 hit film Pretty Woman. In 1986 Orbison rejoined Sun Records alumni Johnny Cash, Carl Perkins, and Jerry Lee Lewis for Class of '55. However, Orbison's comeback really began when director David Lynch used "In Dreams" in a startling scene in his film Blue Velvet. In 1987 In Dreams: The Greatest Hits, which presented newly recorded versions of Orbison's was released, and the taping of an all star tribute show "A Black and White Night." Taped in Los Angeles' Coconut Grove the tribute starred Orbison, with backing by Bruce Springsteen, Elvis Costello, Bonnie Raitt, k.d. lang, Jackson Browne, Jennifer Warnes, Tom Waits, and J.D. Souther.
Over the years, Orbison came to realize that he had been a victim of questionable accounting practices by record companies and the publishers of his song. Being a nice guy, and as long as he was making money he decided to not rock the boat. In the lean times of 1982, after hearing Elvis Presley had been owed money, but was never paid, Orbison decided to do something about it. He sued Acuff-Rose publishers for $50 million in back royalties.

k.d. lang and Roy Orbison


The Traveling Wilburys
Back L to R: Jeff Lynne, Bob Dylan, George Harrison
Front L to R: Tom Petty, Roy Orbison
In 1987 Orbison's duet remake of Crying" with k.d. lang hit #42 on the country charts. A chance meeting with Bob Dylan, George Harrison, Tom Petty, and Jeff Lynne led to the formation of the extremely successful Traveling Wilburys. At the same time Orbison was completing work on his next solo album Mystery Girl, which included the hit Orbison-Lynne-Petty composition "You Got It" (#9, 1989), which became Orbison's first Top Twenty hit in 25 years.

Orbison was on the brink of a major solo comeback when on December 6, 1988 he died suddenly of a heart attack in Madison, Tennessee, at the age of 52. The posthumously released Mystery Girl (#5, 1989) became the highest charting album of his career and eventually was certified platinum. Virgin records later assembled King of Hearts for 1992 release.
Roy Orbison was inducted into the Rock and Roll Hall of Fame in 1987.

Roy Orbison