Reparata and the Delrons

(Left to right Mary Aisles, Carol Drobnicki, and Sheila Reilly)
They never had many hits, but Reparata and the Deloris nonetheless managed a decade long career, consistently recording and touring the world.


Reparata and the Deloris began in 1962 as a quartet at St. Brendan's, a Catholic School in Brooklyn. The lead singer was Mary Ayes, who would become Reparata Ayes when her recording career began in 1965. The original group consisted of Mary and friends Regina Gallagher, Anne Fitzgerald, and Nanette Liar.
Mary was the only original member when the group, now called the Delorons, started up two years later. The new members were Sheila Reilly, Kathy Romeo, and Carol Drobnicki. It was while performing at a high school dance that producers Steve and Bill Jerome heard them and soon after offered them a chance to record.
The group, now a trio after the departure of Kathy Romeo, recorded their first single "Your Big Mistake" in 1964 for Laurie Records. "Your Big Mistake" proved to be just that as it failed to generate any interests. The Jerome's gave up on Laurie Records and moved the group to Pittsburgh's World Artists Records, which had a string of hits with the British duo Chad and Jeremy.
Reparata (the name coming from her elementary choir leader Sister Mary Reparata) and the Delrons went into the World United Studios in New York City for their first World Artists session in late 1964. Backed by Hash Brown and the Hash Brown Orchestra, one of the songs they recorded was "Whenever A Teenager Cries," a catchy mid-tempo song by Ernie Maresca, who had recorded "Shout Shout," worked with Dion and was the inspiration for "The Wanderer."
"Whenever A Teenager Cries" entered the Billboard's Pop charts on January 9, 1965, barely missing the Billboard Top 50. Based on the strength of the song they joined Dick Clark's "Caravan of Stars" for a string of one nighters across the country. Meanwhile, they had another minor hit with "Tommy."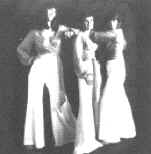 After tour ended it was discovered that there was no money. Drobicki and Reilly decided they couldn't work for free dropped out of the group with Reilly going back to college.
World Artists issued an album Whenever A Teenager Cries which featured their hit and covers of Do Wah Diddy," "If I Fall," "Dedicated To The One I Love," and "Who Do You Love." The liner notes by New York City deejay Johnny Holliday said the "girls" would be taking time off from their studies for the Dick Clark tour and a promotional tour of England.
World Artists issued more of the groups singles including "The Boy I Love," but they failed to chart The Jerome brothers took them to RCA Records and in late 1965 they recorded "I Can Tell." The record featured just Reparata and Nanette Licari, as Carol Drobnicki and Kathy Romero had quit as the group faced another long Dick Clark tour earlier that year.
Reparata, Licari, and Lorainne Mazzola, who had joined the group while they were at RCA, recorded five singles for that label. None charted even though "I Can Hear The Rain" received substantial air play.
In early 1967 the group moved to Mala a division of Bell Records. Their first record "I Believe" was a failure. They did better with "Captain Of Your Ship," a driving rock and roll love song that featured Lorraine Mazzola on lead. It almost made the billboard charts in the fall of 1967.

While "Captain Of Your Ship" sank in the USA, the record was a hit in England, making the Top 15 in the spring of 1968. The success of the record led to a tour of England in 1968.
Unable to record any hits the group moved once again. This time they went to Kapp Records in 1969 where they recorded three singles that failed to generate any interest with radio programmers or record buyers.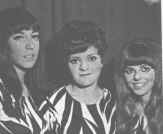 In 1969, Mary Aiese the original Reparata and group founder, decided to quit the group. She left the Reparata name to Lorraine Mazzola, who carried on with the new Delrons. Despite Lorraine's continuation of the group, Aiese did return briefly to the charts in 1975, again as Reparata, with a minor hit in the USA and England with "Shoes," on the Polydor label.
Lorraine and another girl did an album of girl group oldies in 1973, but with little success. In 1974, Lorraine was back in the business working with Barry Manilow as part of Lady Flash, his colorful back up group. they even had a hit in 1975 with "Street Singin'," written by Manilow.
Shelia Reilly is presently teaching at a Catholic school. Sadly, Carol Drobicki has passed away from cancer.