The Raindrops

Laura Greenwich, Ellie Greenwich, and Jeff Barry
The Raindrops existed for one reason only. That was to sing songs written by Jeff Barry and Ellie Greenwich, successful songwriters from Leiber-Stollers Trio Music in the Brill Building.The Raindrops are, on one level, little more than a footnote in the much broader musical careers of Ellie Greenwich and Jeff Barry. On the other hand, as a studio singing group, they assembled one of the more impressive bodies of popular vocal music of the early '60s to come out of the Brill Building, the early '60s successor to Tin Pan Alley of the 1920s, which also served as proving grounds for the likes of Phil Spector, Don Kirschner, and numerous other luminaries of American pop-rock.


Jeff Barry (b. Jeffrey Adelberg, April 3, 1939, Brooklyn, New York) and Ellie Greenwich (b. Oct. 23, 1940, Brooklyn) were from two families related by marriage, and first met at a family gathering in 1944 when they were age five and four, respectively.
Berry's family moved to Newark, New Jersey where he listened to Country and Western; writing his first song "I Gotta Gun, I Gotta Pony, I Gotta Sweetheart Too" at the age of seven. Greenwich's family moved to Levittown, Long Island where she began writing songs in junior high school even as she studied music, and led a girl trio called the Jivettes while still in high school --Greenwich's instrument at the time was the accordion.
Barry graduated from Erasmus Hall High School in 1955, put in some army service, and afterward attended City College in Manhattan. In 1959 Adeberg recorded his first record "Hip Couple" for RCA Records under his self-created professional name Jeff Barry. Meanwhile, Ellie Greenwich, a student at Holstra University, released her very first commercial recording in 1958 (under the name Ellie Gaye), entitled "Cha-Cha-Charming," on RCA. Neither of their records sold well.
Barry entered the music business in a more successful manner in 1959 as a songwriter working for E.B. Marks Publishers.

Barry and Greenwich met once again at a Thanksgiving dinner in 1959 at Greenwich's aunt's house. Barry was married at the time. Barry's first chart hit was "Teenage Sonata" by Sam Cooke. The big success came along the next year Top Ten pop hit "Tell Laura I Love Her," one of the most haunting and notorious of the teenage "death songs" that became popular in the early '60s. Ray Peterson scored a huge hit with it that year. As his marriage began to crumble, Barry began including Greenwich in his activities, paying her $15 a session to record some demos of his songs. By the end of the 1960, Barry was divorced, and he and Greenwich began dating, writing, and recording demos together at the Brill Building, where Barry's publisher employer was based. A few more of Barry's records were released, as were Greenwich records credited to Ellie Gee and Kellie Douglas. None of them sold.

Greenwich graduated Hofstra and auditioned for a staff writing position with Lieber and Stoller. They hired her for Trio Records for $100 a week. In collaboration with writers like Ben Raleigh and Tony Powers, Greenwich got a half dozen of her songs recorded. Meanwhile, Barry recorded as a singer with several groups, including the Redwoods for Epic Records and the Spartans for Web Records.
Their marital partnership began on October 28, 1962, but their songwriting partnership had to wait, as each was signed to a different publishing company. They finally linked up in business a year later, and spent much of that time collaborating with Phil Spector on such songs as "Da Doo Ron Ron," "Then He Kissed Me," "Be My Baby," and "Baby I Love You."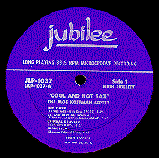 They began recording together commercially with "What A Guy," a song originally intended for a vocal group called the Sensations. Their demo was considered so good that the record company, Jubilee, decided to release it, and chose to credit it to "The Raindrops." The demo got to No. 41 on the charts, considered a respectable beginning in those days, especially for a non-existent group. The next Raindrops single, "The Kind of Boy You Can't Forget," got to No. 17, an unabashed hit.

Now there was demand for the Raindrops, including publicity stills. The photos that were issued featured Barry and Greenwich, and Ellie's younger sister Laura, who otherwise had nothing to do with the group whatsoever. Personal appearances were rare, although they did occur, with Ellie and demo singer Beverly Warren), miming to a dead microphone, with Barry replaced by Bobby Bosco.

The Raindrops LP was issued by Jubilee in late 1963, which mostly consisted of the best Barry-Greenwich demos punched up with extra overdubbed vocals, including "Da Doo Ron Ron," "When The Boy's Happy (The Girl's Happy Too)," "Hanky Panky," and "I Won't Cry." The album's release was accompanied by a third single, "That Boy John," which might've been a hit but for the fact that it barely had a chance to get any airplay before President John Kennedy was assassinated in November of 1963.

None of the Raindrops' remaining recordings fared any better, partly owing to the fact that they were inevitably competing with other groups on their best material. The arrival of the Beatles in 1964 heralded a wave of British acts that not only had a more powerful sound (most of those groups were self-contained, and almost all had pretty extensive performing credentials) that teenagers wanted, but could do great covers of Barry-Greenwich songs themselves. Manfred Mann's version of "Doo Wah Diddy" is the most well known, a huge international hit, but other bands, including the original Moody Blues ("I Have A Dream") plundered their song book. The Raindrops' sound turned out to be a little too rooted in the pre-Beatles past, a kiss-of-death in those days.

The Raindrops simply ceased activity, although Barry and Greenwich continued to enjoy hits as songwriters, their real professions in any case. Their most visible work was in association with producer George "Shadow" Morton and the girl group the Shangri-Las ("Remember," "Leader of the Pack," "Out In The Streets") and Phil Spector ("River Deep, Mountain High"), who was the only American producer who seemingly managed to bridge the gap between the two eras of pop music.
"Jeff and I lasted as a writing team about as long as we lasted as a married team - a little less than five years. We tried to write together right after the split up, but it was awful. We couldn't sit and write "Baby, I Love You" with divorce papers sitting right next to us"....Ellie Greenwich in Off the Record
The couple's marriage ended in late 1966, although they continued to write songs together on a less frequent basis. Although Barry and Greenwich continued to see success as songwriters into the late '60s and beyond, they would never regain even a chance at the spotlight that they'd had a decade earlier.
In 1973, Verve Records attempted to record Ellie Greenwich in a sort of Carole King mode with Let It Be Written, Let It Be Sung, but the chemistry just wasn't there, and the album was never more than a cult favorite among serious pop listeners.
One of the last projects that Barry and Greenwich collaborated on as writer/and producers was The Meantime, a revival of The Raindrops. Their single came out on Atco Records in 1967, to little success. Ellie attempted to and establish herself as a solo singer. A few singles and albums were released. Thereafter, she turned to writing and singing jingles. Clarence Clemons and Ellen Foley have recorded some of her newer songs and she occasionally did back-up vocals. In the mid-80s, Greenwich was the subject of the Broadway play Leader of the Pack. Behind the scenes, she formed Hook, Line and Sinker, a jingle company to write/produce/sing commercials for Clairol, Revlon, McDonald's and Hebrew National Hot Dogs.

photo courtesy Ron Dante Online
(l to r Jeff Barry, Ron Dante, and Andy Kim)
Berry went on to produce hits for the Monkees and the Archies, producing all of the latter's 45's and albums. Berry went on to head Steel Records, producing and sometimes writing for Illusion, Andy Kim and Robin McNamara; to co-write/produce Bobby Bloom's "Montego Bay," numerous sides for the persuasions, John Travolta, and the sound track to The Idolmaker (1980). Barry is now in semi-retirement in Bel-Air, California.

| | |
| --- | --- |
| Ellie Greenwich | Jeff Barry |

In May 1991, Ellie Greenwich and Jeff Barry were inducted in the same ceremony into the Songwriters' Hall of Fame, in recognition of a pair of careers that have spanned the 1950s to the 1990s.