The Platters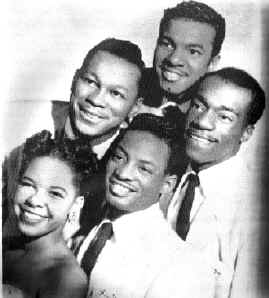 Clockwise from bottom left
Zola Taylor, Tony Williams, Paul Robi, Herb Reed, Dave Lynch

Featuring a smooth sophisticated sound and the superb lead tenor of Tony Williams, the Platters were among the most successful black vocal groups of the '50s. One of the first such groups regularly to ascend the pop charts and enjoy massive popularity with white audiences, the Platters helped launch doo wop music and influenced generations of vocal groups with their harmonies and arrangements.


Members:
Tony Williams - lead replaced by Sonny Turner 1960
Zola Taylor
David Lynch - second tenor
Alex Hodge - baritone replaced by Paul Robi
Herb Reed - bass
The Platters were founded Los Angeles, California in 1953, the same year original members Tony Williams, David Lynch, Alex Hodge, and Herb Reed were signed by manager Buck Ram to Federal Records. Ram had originally met the Platters while they were working as parking lot attendants.

Buck Ram
Buck had a long career as an arranger for big bands like Duke Ellington, Tommy Dorsey, Cab Calloway, Glenn Miller, and Count Basie after earning a law degree at University of Illinois and studying music at Southwestern University.
After a few unsuccessful records, Ram replace Hodge with Paul Robi and to soften the group's sound added Zola Taylor, who belonged to one of his other acts Shirley Gunter and the Queens. Their seventh Federal single "Only You" became their first regional hit. Buck then signed them to Mercury Records with another group he managed the Penguins.
Tony Williams was the groups lead singer in the years that they enjoyed a series of hits 1955 to 1960.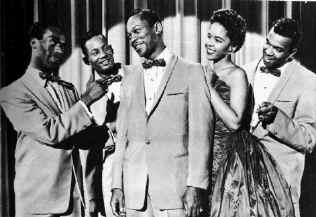 At Mercury they became a top vocal group and nightclub act. They also appeared in a number of movie films among them The Girl Can't Help It and Rock Around The Clock.
The first recording session with Mercury included a re-recording of "Only You." Mercury's A&R man Bob Shad, wanted to drop the song until Ram volunteered to play piano for the musician who had to leave early. This was the only session he ever played on, but he was determined to get it recorded because he knew the song could become a hit.

On July 3, 1955 "Only You" entered the charts and soon rose to #1 R&B and #5 Pop. It stayed on the charts 39 weeks and was the first rock and roll record to beat its white cover record for the race in the Top Ten.
The Platter's next release "The Great Pretender" was issued in November 1955 and became their second #1 R&B and first #1 Pop hit. This began a streak of eleven two-sided hits.
In 1958 they introduced "Twilight Time" on Dick Clark's American Bandstand Saturday night TV show. A film of the Platters performing the song was used for promotion and might have been the first music video.
"Twilight Time" became #1 on Pop and R&B charts in the spring of 1958.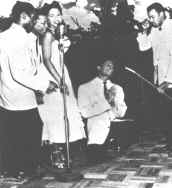 In October 1958 Mercury released "Smoke Gets In Your Eye's" which had been recorded in France while The Platters on tour. It reached #1 Pop on June 19, 1959, for three weeks and #1 R&B.
The summer of 1959 four male members of the group were arrested in Cincinnati and were accused with having sexual relations with four female minors, among them three white girls. The men were acquitted but, public reaction caused some radio stations to pull their single "Where" off the air.
1960 saw their last top ten record "Harbor Lights (#8 Pop, #15 R&B).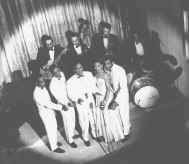 After 20 Mercury singles the label changed the credits to read The Platters featuring Tony Williams. It appeared on the 1953 Ebb Tide (#56).
Tony Williams left the group in August,1960 to pursue a solo career signing with Reprise Records, but never approached his success with the Platters. In the 1980s he performed in a group featuring his wife Helen.
Sonny Barnes was hired to take Williams place, but lasted less then a year. Barnes was replaced by Charles "Sonny" Turner who stayed with the group through most of the sixties
Mercury continued issuing Williams led Platters singles with "It's Magic" (#92) their last charter in early 1962. Mercury refused to release any records with a lead other than Williams. Buck Ram, a lawyer by trade, convinced Mercury of the error of their decision. However, relations between the group and the company were strain and there were no more hits with Mercury after 1962.
Zola Taylor left in 1962, for personal reasons and was replaced by Sandra Dawn. Taylor led a colorful life, but the world wasn't prepared for her 1984 confession that she had an affair with the thirteen year old Frankie Lymon beginning in 1956 while the Platters and the Teenagers were on tour together. She also claimed to have married Lymon in Tijuana in1965, but couldn't produce a marriage license.
Paul Robi was the next to leave with his spot being taken by Nate Nelson, a former Flamingo. Nelson was still with the Platters when he died of heart disease in 1984.
The Platters always worked, but it took four years to get back on the charts while Mercury continued releasing old songs they had recorded up to1964, the last being "Little Things Mean a Lot."
In 1966, the Platters signed with Musicor Records. Sounding like the Four Tops, the group had hits with "I Love You Thousand Times (#31 Pop)," "With This Ring" (#14 Pop, #12 R&B) and "Washed Ashore."
When the Platters were originally formed, each member, including Ram owned a percentage. As the members left Ram bought their shares and eventually owned the Platter's name. Former members formed their own Platters, but were successfully sued. In 1974 the Buck Ram Platters were recording for Mercury again. There were no hits, but the money was made in touring.

The seventies saw Ram and Williams fighting over who owned the Platter name. Ram won the case but, in 1989 the rights were returned to Robi. Robi died of cancer in 1989. His widow won back in 1995 from Ram the writing and publishing interests to much of the Platter's catalogue.
The Platters were inducted into the Rock and Roll Hall of Fame in 1990.