Johnny Otis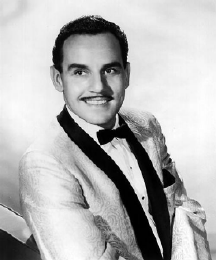 A pioneering figure in the development of R&B following the demise of the big bands in the late '40s, Johnny Otis was the most prominent white figure in the history of black R&B.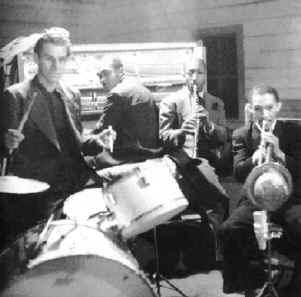 Otis with Count Otis Matthews and his West Oakland House Stompers 1941
Johnny Otis, a son of Greek parents, grew up in a black residential area of West Berkeley, Californian Vallejo, across the bay from San Francisco. Otis took up drums as a teenager and later learned piano and vibraphone. Otis had no serious interest in music until the age of twenty. In 1941, while attending a Count Basie concert, Otis was so impressed by the drummer Jo Jones, that he began intensive studying of the drums.
Johnny Otis Orchestra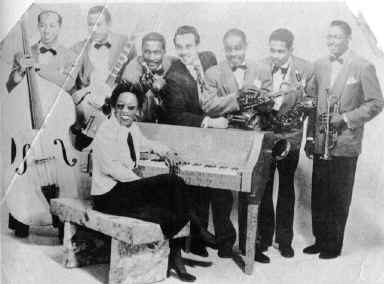 L to R: Mario Delegarde, Pete Williams, Lady Dee Williams, Don Johnson, Johnny Otis, Lorenzo Holden, Walter Henry, Lee Graves
Otis made his professional debut in 1939 with the West Oakland House Rockers. Leaving Berkeley in 1941, Otis toured with several "territory bands." He settled in Los Angeles in 1943, where he first played in the bands of Harlan Leonard and Count Prince Otis Mathews, who played the casinos in Las Vegas. In 1943, he formed the Otis-Love Band with Preston Love and they were hired to play at the Barrelhouse Club in Omaha, Nebraska. In 1943, while fronting his own band the Johnny Otis Orchestra, Otis was featured at the Club Alabam in Los Angeles. A trip to Chicago in October 1946 led to his band backing the Ink Spots on their worldwide tour. That year his recording of "Harlem Nocturne" on the Excelsior label was a big enough hit to start him on a series of tours that lasted twelve years.
| | |
| --- | --- |
| Johnny Otis and a thirteen year old Little Esther | Mel Walker, Johnny Otis, Little Esther |
As the big band era declined, Otis reformed his orchestra into a combo featuring twin saxophones, trumpet, trombone, with himself on the vibes. Settling in Los Angeles in 1948, he opened his own Barrelhouse Club. It was there that he discovered the Robins, Mel Walker and Little Esther. After negotiating a deal with Savoy Records in 1950, Otis produced three of the year's top records: "Cupid's Boogie by Little Esther," "Mistrustin' Blues" by the Robins, and his own "Double Crossing Blues," which also featured the Robins and Little Esther.
| | |
| --- | --- |
| Otis with Don Robey owner of Peacock/Duke Records, circa 1952 | Otis with Little Willie John, circa 1953 |
Otis served as an "artist and repertoire" man for King Records and was instrumental in the discovery of several other important rhythm and blues artists; Willie Mae Thornton, Jackie Wilson, Little Willie John, and Hank Ballard. The Johnny Otis Rhythm and Blues Caravan, which crisscrossed the country, was the forerunner of the later traveling rock and roll revues. Otis recorded under his own name on the Mercury and Peacock labels. He produce the sessions and fronted the studio band for Little Richard, Willie Mae Thornton and Johnny Ace on Peacock/Duke. He wrote "The Wallflower" (aka Dance With Me Henry) and co-authored "Hound Dog".
| | |
| --- | --- |
| At Dig Records - 1955 | |
Otis produced the R&B hits "Hound Dog" for "Big Mama Thornton in 1953 and the classic "Pledging My Love" for Johnny Ace in 1955. He formed Dig Records in 1955 and recorded for Capitol Records from 1957 to 1959. Otis wrote the following hit songs "The Wallflower (Roll With Me Henry) for Etta James (1955), "So Fine" for the Fiestas (1959), "Everybeat of My Heart" for Pips (1961), as well as his own hit "Willie and the Hand Jive" (1958) on the Capitol label.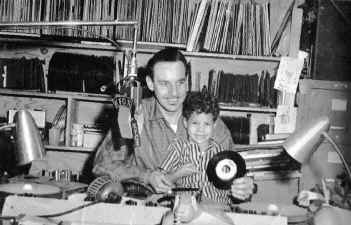 At KFOX with John (Shuggie) Otis Jr.
In 1955 he became a deejay at KFOX radio in Los Angeles while still playing local clubs. While not on tour himself, Otis was busy promoting many of the local dances. During the fifties Otis, a man of extraordinary talents, seemed to be everywhere.

Pictured are (from left to right): Mario Delagarde (bass), Walter Henry(alto and baritone sax), Lorenzo Holden (tenor sax), Mel Walker (vocals), Mrs. Love Jordan (tutor for Esther who was 14 at the time), Lou Wiener (bus driver), Esther Phillips (Little Esther-vocals), Earl Warren (manager - formerly lead alto-vocalist with Count Basie), Johnny Otis, Lucille Washington (Esther's mother), Don Johnson (trumpet), "Lady Dee" Devonia Williams (piano), George Washington (trombone), Redd Lyte (vocals) and Pete Lewis (guitar).
Otis' stage shows were something else. They would open with him doing a solo on the drums and vibes that would last ten minutes before the rest of the band would come on stage. There were always a female vocalists (Little Esther, Willie Mae Thornton, and Marie Adams) that could really shout the blues. They would then be followed by a male vocalist (Mel Walker) who was smooth with the ballads. The show climaxed with a vocal group (the Robins) followed by a number or two by the Otis band with Otis frantically switching back and forth from the drums and vibes. All the while his dark Greek complexion led most in the audience to believe he was black.

Johnny Otis and Marie Adams who fronted The Three Tons of Joy
Otis recorded for King Records in the early '60s, seldom toured and by the mid-60s was out of the music business and in California politics becoming deputy chief of staff for Democratic congressman Mervin Dymally. In 1968 he autobiography Listen to the Lambs was published.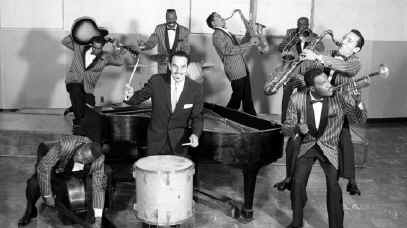 Johnny Otis Show 1960
Frank Zappa convinced Otis to return to the studio and the result was the album Cold Shot for the Kent label, with his son Shuggie, on the guitar. The album's success led to a contract with Epic Records that produced Cuttin' Up.
For the 1970 Monterrey Blues Festival, Otis put together an old-time revue that featured Joe Turner, Roy Brown, and Little Esther. in 1971, he toured the Far East with his revue, followed by a trip to England the next year. he started his own label Blue Spectrum in 1974, recording Joe Turner, Pee Wee Crayton, Joe Liggins, and Charles Brown.
In 1981 Bruce Iglauer of Alligator records convinced Otis to record a new album. The New Johnny Otis Show was released the following year and Otis soon returned to touring with the new revue, performing at supper clubs and the 1984 Monterey Jazz Festival. In the early '90s Otis moved to Sebastopol, California, where he opened the Johnny Otis Market. He hosted live revue type music at the market on weekend evenings and live broadcasts of the performances began on KPFA radio station in Berkeley, California, in 1994. Some of his works as a visual artist were published by Pomegranate Artbooks in 1995.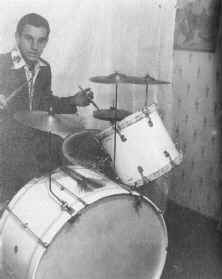 Few people have given as much to rhythm and blues music as Johnny Otis. He worked tirelessly to make the music accessible to the masses, probably because as a White man who frequently passed for Black he new the culture from the inside. And he loved it.
Johnny Otis died of natural causes January 17, 2012 in the Altadena section of Los Angeles.
Johnny Otis was inducted into the Rock and Roll Hall of Fame in 1994