Notable Guitars

Gibson ES-150
Gibson Inc.
Kalamazoo, Michigan
Around 1937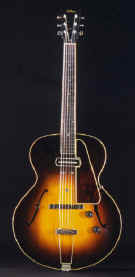 Introduced in 1936, this was the first Spanish-style electric guitar to achieve commercial significance, thanks in part to Charlie Christian, an inventive jazz soloist who gained prominence with the Benny Goodman Sextet. Christian took what had been considered a novelty and brought it to the forefront as a lead instrument.

Gibson's first electric Spanish guitar, the ES-150's design featured a one-piece steel bar surrounded by the pickup coil and two magnets below the strings, rather than the earlier horseshoe configuration with magnets directly surrounding the strings. This new pickup was nicknamed the "Christian" in honor of the great guitarist with whom it is associated.
Les Paul Log
Les Paul
Around 1940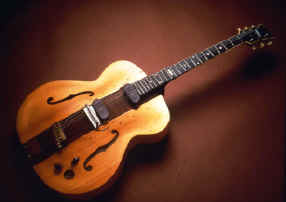 During the 1930s, inventive individuals experimented with guitarbodies made from a solid piece of wood rather than soundboards over ahollow chamber—partly for ease of fabrication, partly to preventfeedback.

One of the most prominent innovators was Les Paul. He made this guitar by taking a 4x4-inch solid block of pine, fitting it with two homemade electronic pickups, and then gluing on the halves of a hollow-body guitar to make it look slightly more conventional.

Around 1946, Paul took his "log" idea to Gibson. Although the company did not use his design as a prototype, it did work with him and use his name to promote its first line of solid-body guitars in the 1950s.


Rickenbacker Electro Hawaiian, the Frying Pan
Electro String Instrument Corporation
Los Angeles, California
Around 1931

Crafted from a single piece of wood, this lap-steel guitar was the prototype for a cast-aluminum model nicknamed the Frying Pan. The first commercially successful electric guitar, its electromagnetic pickup is essentially the technology used on all electric guitars today.

Working for Adolph Rickenbacker, George Beauchamp filed his first U.S. patent application for the Frying Pan in 1932, shortly before the guitar went into commercial production. A second, greatly revised application was submitted in 1934.

Although the Frying Pan was already on the market, two successive patent examiners questioned whether the instrument was "operative."To prove that it was, Adolph Rickenbacker sent several guitarists to perform for the examiners at the Patent Office in Washington, D.C.

After many such delays, the patent was finally granted in 1937. By that time, though, other inventors had developed and marketed electric guitars of their own.

Fender Stratocaster
Fender Electric Instrument Company
Fullerton, California
1954

The Stratocaster is arguably the most successful and influential electric guitar ever produced. It is easily identified by its double cutaways, contoured body, and three pickups. It also features Fender's vibrato or tremolo system that allows players to raise or lower the pitch of the strings. In the hands of Buddy Holly, Jimi Hendrix, Buddy Guy, Eric Clapton, Bonnie Raitt, and many others, the "Strat" has become an American icon.Bearing serial number 0100, this particular
instrument was probably the first Strat to be shipped for retail sale. It features the standard two-tone sunburst finish used on early Fender
models.

Fender Precision Bass
Fender Electric Instrument Company
Fullerton, California
1955-56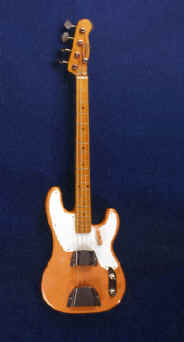 Leo Fender revolutionized the music world with his 1951 electric Precision Bass, and guitarist Monk Montgomery is credited with making the instrument a musical sensation. Although there were earlier stand-up electric basses, the "P Bass" was the first to be played like a standard guitar. It was also the first guitar to have the
distinctive double cutaways.

By far the most famous and popular electric bass ever made, its name is often used generically for any electric bass guitar. This model is finished in shell pink, a very popular custom color of the time.

Fender Jazzmaster
Fender Electric Instrument Company
Fullerton, California
1958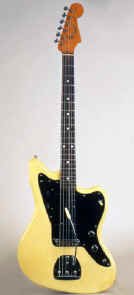 This is a prototype of Fender's Jazzmaster model that was introduced as the new top-of-the-line guitar in 1958. It was the first guitar to have an asymmetrical waist and to feature a switch allowing quick changes between rhythm and lead tones.

Fender was attempting to market the instrument to jazz musicians, thus the name. Instead, it became the guitar of choice for surf bands like the Beach Boys.

Gibson Les Paul Standard or Sunburst
Gibson Inc.
Kalamazoo, Michigan
1959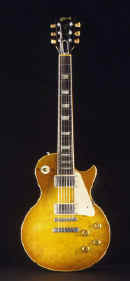 After its introduction in 1952, Gibson's Les Paul model went through a variety of modifications that culminated in the classic Standard, or Sunburst, in 1958. Its maple cap on a solid mahogany body and the newly perfected twin-coil humbucking pickups produce a sound that is highly suitable for rock music.

Famous players like Jimmy Page, Jeff Beck, and Duane Allman helped this guitar become one of the most popular ever. Les Paul Standards dating from 1958-1960 are among the most sought-after guitars on the vintage market.

Fender Broadcaster with Amplifier
Fender Electric Instrument Company
Fullerton, California
1950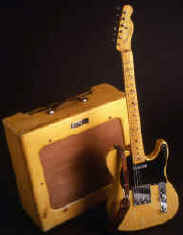 The Broadcaster, Fender's first mass-produced solid-body electric guitar, initially was derided by competitors as too simple and lacking in craftsmanship. Yet everything about its patented practical design, such as the bolt-on neck, was optimal for production in large quantities.

This guitar, serial number 27, was one of the first Broadcasters sold. In 1951, due to a trademark infringement claim, the model's name was changed to Telecaster in honor of another popular invention—television.

The many famous artists who have played the Telecaster, such as Jimmy Bryant, Buck Owens, Keith Richards, and Bruce Springsteen, propelled it to the status of a classic.
Gretsch 6120 Chet Atkins
Fred Gretsch Manufacturing Company
Brooklyn, New York
1959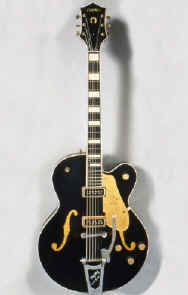 Introduced in 1955, the 6120 was co-designed by, and made for, Chet Atkins to feature his signature style of fingerpicking. The model was also popularized by Eddie Cochran and Duane Eddy. Like other Gretsch guitar models, the 6120 changed constantly; by 1959 the Bigsby vibrato was added as a standard feature.

This hollow-body electric guitar was Atkins's personal instrument and appeared on the 1961 Chet Atkins' Workshop album cover.

Gretsch White Penguin
Fred Gretsch Manufacturing Company
Brooklyn, New York
1956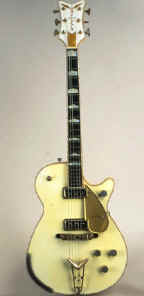 This rare solid-body electric model is one of fewer than 100 manufactured. Introduced in 1955, the White Penguin never appeared in the Gretsch catalog, despite the top-of-the-line appointments, like the "Cadillac" tailpiece, for which Gretsch was known. It was part of the Duo-Jet series and is the solid-body companion of the more popular electric archtop model, the White Falcon.

Gretsch was best known for its hollow-body electrics, which were favored by the company's primarily jazz and country music clientele.