The Fleetwoods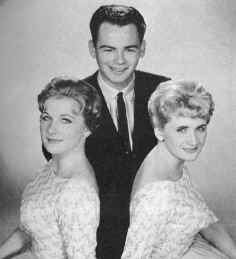 L to R: Barbara Ellis, Gray Troxel and Gretchen Christopher
The Fleetwods were unique among the vocal groups in that their angelic, mellow style proved popular not only with their predominantly white pop audience, but with R&B fans, too.


Members:
Gary Troxel
Barbara Ellis
Gretchen Christopher
In 1958, Barbara Laine Ellis, and Gretchen Diane Christopher wanted to form a singing group in their hometown of Olympia, WA, to entertain at school functions during their senior year.In an attempt to come up with a trio or quartet, they auditioned other girls, but none qualified. They then decided to work as a duo with instrumental accompanist. They enlisted Gary Robert Troxel from nearby Centralia, to play the trumpet.
The girls harmonizing was fine, but the trumpet was out of place. A suggestion was made to have Gary wordlessly vocalize the trumpet part. Thus, by accident, was born the unique sound of the Fleetwoods - who were then known as Two Girls and a Guy. Immediately popular in Olympia, they performed quiet versions of rock and roll hits "Goodnight My Love, "Confidential," and "Runaround."
Up until that time, the Pacific Northwest had largely been ignored as a producer of rock and roll records. Still, the area between Portland and Seattle, there was a sizable teen audience that was happy for entertainment.
The local success of Two Girls and a Guy did not go unnoticed in Seattle. Bonnie Guitar was preparing to launch her own Dolphin label and was looking for a musical group with appeal to teens. Guitar put out the word she was auditioning recording acts. A talent Scout in Olympia sent in a tape of a song co-written by Two Girls and a Guy called, "Come Softly." Guitar was impressed enough to invite them to Seattle to audition. The group did a few rock and roll standards before they were asked to do "Come Softly," a simply tune which the female and male lead voices alternated. The group soon found themselves in the recording studio.
Renamed "Come Softly To Me," it defied easy categorization. Among the quietest rock and roll recordings, it possessed a definite folk style enhanced by a muted acoustical guitar accompaniment by Guitar. The three voices had angelic quality. Not classic rock and roll, but because it was aimed to appeal to teenagers it was, neither was it purely pop.

The group now needed a less cumbersome name. The name Fleetwoods was proposed - either from the Fleetwood Cadillac or from the Fleetwood telephone exchange in Olympia.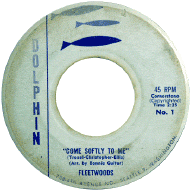 In mid-February 1959, "Come Softly To Me became the first release on Dolphin Records. As the record was breaking in the Northwest, production was halted a month later because there was already a company called Dolphin that brought suit. Also, Guitar lacked the resources to press and distribute the large orders she was receiving. Guitar made an agreement with Liberty Records where Liberty temporarily released "Come Softly To Me' on it's label before any serious momentum was lost. Dolphin Records was renamed Dalton records with a new logo.
"Come Softly To Me" now started to sell in even larger quantities. the Fleetwoods made their first national appearance on March 14, on The Dick Clark Show, and were on the The Ed Sullivan Show on April 5."Come Softly To Me' moved up the charts, into the Top Twenty in two weeks and on to Number One by mid-April.
The Fleetwood's second single "Graduation's Here" lacked the qualities of "Come Softly To Me," but was a favorite of teens through the summer.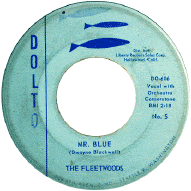 Coming up with new material was a problem. Though they wrote their first singles, they didn't consider themselves songwriters. They relied on others for most of their stage act and needed something unique for their third release. They found it in "Mr. Blue." Released in August, it was a million seller, staying near the top of the charts through the end of 1959.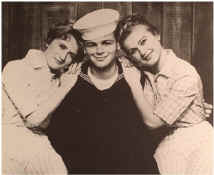 The follow up to Mr. Blue," "My Outside Window" did not do well. Just as they should have gone on the road to promote their latest release, Gary was drafted into the Navy. Assigned to a destroyer that was alternately stationed at San Diego and Alameda near Oakland, the female Fleetwoods met Troxel in Hollywood for recording sessions during shore leaves. This arrangement last until 1962.
The result was the high quality of the recording material faltered. They were unable to spend the considerable amount of time normally required in each session. They were pushed to re-work material to the expectations of their fans. On close inspection, it was clear that the critical balance of voices within the group had change. The gentle instrumental backing had given way to pianos and full instrumentation. On "Runaround," their summer hit of 1960, the new change was readily apparent. . "Runaround" was the first single by the Fleetwoods to have been a hit for another artist, the Three Chuckles in 1954.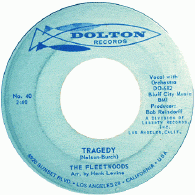 After a poor showing of "The Last To Know" and "Confidential", the Fleetwoods returned to the Top Ten with "Tragedy." By now, the Fleetwoods sound more like a solo effort by Troxel with the female voices singing harmony in the background.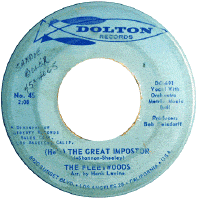 After "Tragedy," the Fleetwoods released "(He's) The Great Imposter" and "Lover By Night," Strangers By Day." Each sold more than 200,000 copies. however, between those records were "Billy Old Buddy" and "Sue is Lonesome Downtown," which sold poorly.
The Fleetwood's last charted single came in the summer of 1963 with "Good Night My Love. The group continued releasing singles on Dolton - eight more over the next two years.. However, with the coming of the Beatles and the British Invasion, there was little demand for a trio singing sweet harmony and their recording contract was allowed to expire.
After a six years of success, the Fleetwoods went their separate ways. The group reformed in the early 70s to meet the demand for oldies acts. By the late 1970s, Gary was working at a plywood plant near the Canadian border, Barbara managed a mobile home park in Ontario, CA and Gretchen continued to perform solo on occasion while becoming a housewife and instructor of modern dance. In 1982 Gretchen and Gary were working the oldies circuit with a new partner Cheryl Huggins. Gary was in and out of the group for a time, while Gretchen trained replacements. By 1984, the Fleetwoods were booked in Canada with Gretchen the only original member. Jobs for the Fleetwoods came in spurts: a week at Expo '86, an evening in Seattle. In the 1990s, the Fleetwoods consisted of Gretchen, Karen Cohn and Gene Howard. on the strength of their past hits, they performed across the country, from Southern California Exposition to Madison Square Garden in New York City.
Both Gretchen and Gary have legal rights to the Fleetwoods name, and have web sites.
The Fleetwoods - Gretchen Christopher
The Fleetwoods - Gary Troxel