Their next song "Wake Up Little Susie" came right in between. The opening guitar was more thrilling and the vocals more urgent. The song by the Bryant's was on the

risqué side dealing with a teenage couple that had fallen asleep at a drive-in movie and got caught sneaking home.
From 1957 to 1959, they had six top ten songs on the country charts and seven top ten's on the pop charts. Many of these recordings were written by the Bryants, whose country-flavored compositions helped to add a new dimension to rock-and-roll. Three songs that were written by Felice and Boudleaux Bryant and recorded by the Everly Brothers reached number one on the pop charts: "Wake Up Little Susie," "All I Have To Do Is Dream," and "Bird Dog". "Cathy's Clown" was their fourth and final number one pop hit in 1960.
The Everly Brothers left Cadence in 1960 over a royalty dispute and signed with Warners for a million-dollar, ten-year contract. Although this meant that they lost their production team and the Bryants' songwriting, everything went well at first. Don's "Cathy's Clown" was their biggest-selling single, and Phil's "When Will I Be Loved", "Walk Right Back", and "Ebony Eyes" all did well.
It was reported by 1961, that Don was addicted to Ritalin, at that time considered to be a vitamin laced version of methamphetamine. With his behavior becoming increasingly erratic it was reported Don attempted suicide. In an attempt to break the habit he underwent Electro-shock therapy.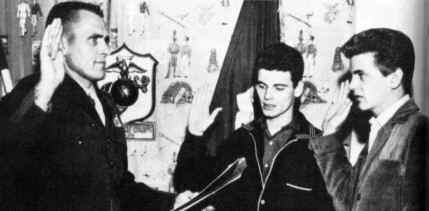 Enlisting in the Marines 1961
Photo courtesy Heidi Ploen Collection
With the likelihood of being drafted for two years in the Army, on November 21, 1961, both Everlys joined the Marine Corp Reserves for six months. While in the Corps during the first half of 1962, they had a Top Ten hit with "Crying In the Rain," but their military commitment restricted them from capitalizing with club dates and tours.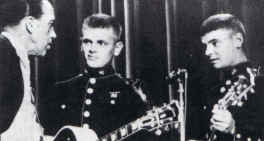 Ed Sullivan Show 1962
Photo courtesy Heidi Ploen Collection
On February 13, 1962, Don in his Marine dress uniform married movie starlet, Venetia Stevenson, in the chapel at Camp Pendleton, California. Five days later while still honeymooning in New York City, the boys made an appearance on CBS-TV's The Ed Sullivan Show in their dress uniforms. Don and Phil were released from the Marines on May 24, 1962. Three weeks earlier Warner Brothers issued "That's Old Fashion (That's the Way Love Should Be)" which became their second Top Ten single in a row. It was also their last.
Their career began to slow down in 1962 after a six-month stint in the Marines. That November while in Britain rehearsing for a tour Don collapsed on stage and Phil had to finish the tour alone. By the time of the onslaught of the British Invasion in 1964 their career had pretty much run their course.
The Everly Brothers continued on in the entertainment business. They had a summer television series on CBS. However, Don and Phil were both having personal problems. The unrelenting performance schedule led to an addiction to speed for both. Don had a nervous breakdown.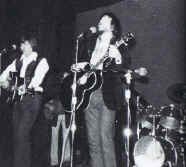 Last show Knott's Berry Farm 4/14/1973
Photo courtesy Jay Berman Collection
Disagreements through the late 60s and early 70s; climaxed in July 14,1973, midway through a concert in Knots Berry Farms in Los Angeles. In the middle of the second of three scheduled shows, the manager came on the stage and stopped the show. He told the audience that he was upset with Don's sloppy performance. Phil smashed his guitar, stormed off, and Don announced that The Everly Brothers had split. According to Don, the Everly Brothers "died ten years ago." Ten years of solo career doldrums followed.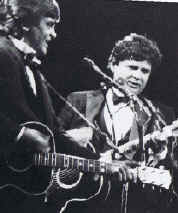 Royal Albert Hall reunion concert
Photo courtesy Jay Berman Collection
On September 23,1983, the Everly Brothers made peace with each other and reunited as a singing duo at the Royal Albert Hall in England. They recorded some albums together in the 80's that made it to the best seller charts. They retained their popularity in England. In 1990, Don's daughter Erin was married briefly to Axl Rose of the rock group Guns N' Roses.

The Everly Brothers were inducted into The Rock and Roll Hall of Fame 1986

The Everly Brothers