(clockwise Elvis, Vernon, and Gladys Presley in 1956)
Presley returned on January 4, 1954 and recorded "Casual Love Affair" and "I'll Never Stand In Your Way" at which time he met Sam Phillips. Later the spring Phillips called him to record "Without You," a song Phillips had received as a demo. Despite numerous takes Presley failed miserably and at Phillips request just began singing songs in the studio. It was at this time Phillips began believing that he had found what he had been looking for "a white man with the Negro sound and the Negro feel".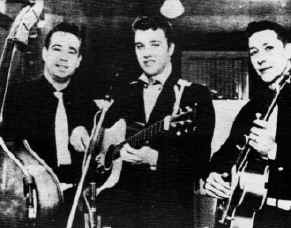 Elvis with the Blue Moon Boys - Bill Black and Scotty Moore
Phillips enlisted lead guitarist Scotty Moore and bassist Bill Black to work with Presley. Though July 4, 1954 is often sited as their first meeting, the three had actually been practicing for several months. On July 5, 1954, they recorded "I Love You Because," "Blue Moon of Kentucky," and "That's All Right".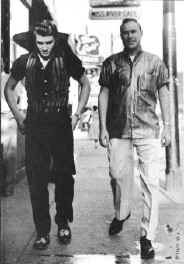 Presley with Dewey Phillips
Two days later Memphis disc jockey Dewey Phillips played "That's All Right" on his Red Hot and Blue show on radio station WHBQ. Audience response was overwhelming and later that night Presley came in for his first interview. Scotty Moore became his manager and "That's All Right" b/w "Blue Moon of Kentucky" became his first local hit. On September 25, Presley made his first and last appearance at the Grand Ole Opry.

Elvis at Louisiana Hayride circa 1954
In October Presley appeared on the Louisiana Hayride, a popular radio program that appeared regularly through 1955. In March 1955, he made his television debut on the local television broadcast of the Hayride. Meanwhile "Good Rockin' Tonight" b/w "I Don't Care if the Sun Don't Shine" were becoming hits in the Memphis area.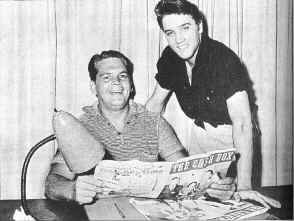 Bob Neal and Elvis
In early 1955, Moore quit managing Presley, but would continued playing in his band for several years. Bob Neal, a Memphis disc Jockey, became Presley's new manager. Colonel Thomas Parker would first entered Presley's career when he helped Neal make some tour arrangements. Still considered a country act, Presley continued to play locally, and in April went to New York to audition unsuccessfully for Arthur Godfrey's Talent Scouts program. On May 13, his performance in Jacksonville started a riot, "Baby Lets Play House" b/w "I'm Left, Your Right, She's Gone" was released and reached #10 on the national Country & Western chart in July.
| | |
| --- | --- |
| Col. Thomas Parker | |
That September Presley had his first #1 country record "Mystery Train" b/w "I Forgot to Remember to Forget. By this time Colonel Parker, despite the agreement with Neal, had become increasingly involved with Presley's career and had negotiated for RCA to purchase Presley's contract from Sun Records for $35,000. Presley received a $5,000 advance that he used to buy his mother a pink Cadillac.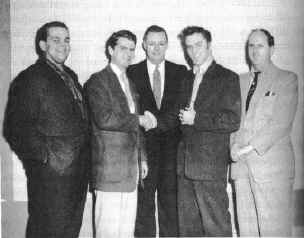 Contract Signing
L to R: Bob Neal, Sam Phillips, Elvis Presley, Tom Parker
After signing with RCA Presley became a national star in 1956. He went to Nashville to record his first records for RCA. Among them was "Heartbreak Hotel.." On January 28, 1956, he made his television debut on the Dorsey brothers' Stage Show, followed by six consecutive appearances. In March Parker became Presley's manager for which he was to receive 25% of his earnings. The contract lasted Presley's lifetime and beyond.
| | | | |
| --- | --- | --- | --- |
| Presley on Dorsey Show 1956 | Presley on the Milton Berle Show | Presley and Ed Sullivan | Elvis with Steve Allen |

Presley appeared on the Milton Berle, Steve Allen, and Ed Sullivan television shows. That April Presley made his debut in Las Vegas at the New Frontier Hotel, but the two week engagement was cancelled after a week due to poor audience response. In August Presley began filming his first film Love Me Tender. Released three months later it recouped its filming cost of $1 million in three days. His singles that year included "Heartbreak Hotel," "I Was the One," "Blue Suede Shoes," "I Want You, I Need You, I Love You," "Hound Dog," "My Baby Left Me, "Anyway You Want Me," "Love Me Tender," "Don't Be Cruel," "Love Me," and "When My Blue Moon Turns To Gold" were all certified gold.

Promising not to "bump and grind" Presley sings to a hound dog (Sherlock) during his Steve Allen Show appearance
In early 1957 Presley became the target of criticism by teachers, clergymen, and even other entertainers who thought his style was to suggestive. Even being nicknamed "Elvis the Pelvis" by one writer. On January 6, he made the last of his three appearances on the Ed Sullivan Show and was shown only from the waist up.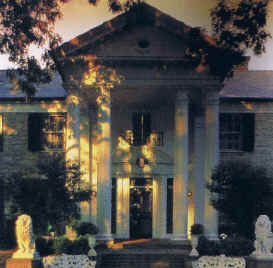 In March 1957 Presley purchased Graceland, a former church and converted it into a twenty three room mansion. In February "All Shook Up" began an eighteen week stretch at number #1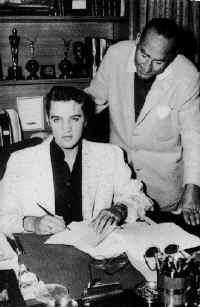 Signing movie contract as Hal Wallis watches
Presley was the first rock star to crossover into films with consistent commercial success. Loving You, his second film, was released in July 1957 and "Teddy Bear" from it's soundtrack went to #1 on the pop, country, and R&B charts, as did "All Shook Up" and "Jailhouse Rock," the title song from his next movie.


Elvis with draft notice
That December he received his draft notice, but was given a 30 day deferment to complete the filming of King Creole. Presley's first four feature films are considered his best. Originally Presley intended to be a serious actor, but unfortunately after he left the service, the choice of roles was left entirely to Colonel Parker with poor results. Since Presley would not tour until the early Seventies, it was through these movies that his fans most fans saw him and that alone accounted for their massive success.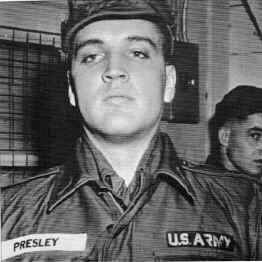 On March 24, 1958 Presley entered the Army. The next months saw number one hits with "Don't" and "I Beg You." A few months later he went on leave to be with sick mother. Gladys Presley died the day after his arrival home in Memphis, on August 14, 1958. Presley would call her death the greatest tragedy in his life. He returned to the Army and was shipped to Bremerhaven, West Germany. In January 1960 he was promoted to sergeant and was discharged that March.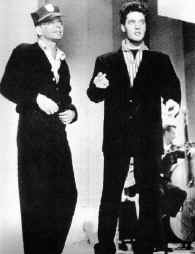 During his time in the service Colonel Parker continued to release singles recorded before his departure so his fans wouldn't forget him. a number of these were hits including "Wear My Ring Around Your Neck," "Don't Cha Think It's Time," "Hard Headed Woman," "Don't Ask Me Why," "One Night," "I Got Stung," "A Fool Such as I," "I Need You, I Love You," "A Big Hunk O' Love," and "My Wish Came True". In 1958 alone Presley earned over $2 million. After his release from the Army in March 1960, he recorded his first stereo record, "Stuck On You" and later that month he taped a TV program with Frank Sinatra, The Frank Sinatra Timex Special.

"Elvis", "Elvis Presley" and "Graceland" are Registered Trademarks of Elvis Presley Enterprises,
Inc. © 1996 E.P.E., Inc.