Duane Eddy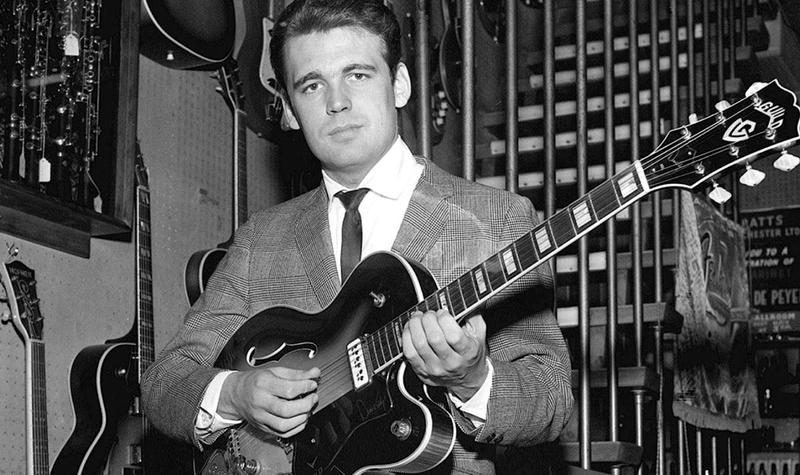 Rock and roll's best selling instrumentalists, Duane Eddy scored a series of pop hits between 1958 and 1963 that featured a deep "twangy" sound produced by playing the guitar's bass strings.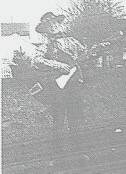 Eddy at nine years old
Duane Eddy's instrumental hits from the late '50s can sound unduly basic and repetitive (especially when taken all at once), but he was vastly influential. Perhaps the most successful instrumental rocker of his time, he may have also been the man most responsible (along with Chuck Berry) for popularizing the electric rock guitar. His distinctively low, twangy riffs could be heard on no less than 15 Top Forty hits between 1958 and 1963. He was also one of the first rock stars to successfully crack the LP market.
Duane Eddy was born in Corning, New York, in 1938. Eddy started playing the guitar at age five and moved with his family to Phoenix, Arizona area at thirteen. At sixteen he dropped out of high school, obtained a Chet Atkins model Gretsch guitar, performing locally, and met multi-instrumentalist Al Casey in 1955. It was while playing with Casey's group, that Eddy devised the technique of playing lead on his guitar's bass strings to produce a low, reverberant "twangy" sound.

On American Bandstand
In 1957 Eddy met Lee Hazlewood, an Arizona disc jockey who wrote songs and published music. By the late '50s, Hazlewood had branched out into production and had his own recording studio Before Duane began recording, his principal influence had been Chet Atkins, but at Hazlewood's suggestion, he started concentrating on guitar lines at the lower end of the strings. His opening riff of his debut single, "Movin' and Groovin'," co-written with Hazelwood, would be lifted for the Beach Boys five years later to open "Surfin' U.S.A." The song was sent to Dick Clark and Eddy was signed to a contract with Jamie Records. It was the next 45, "Rebel Rouser," that would really break him as a national star, reaching the Top Ten in 1958. Opening with a down-and-dirty, heavily echoed guitar riff, it remains the tune with which he's most often identified.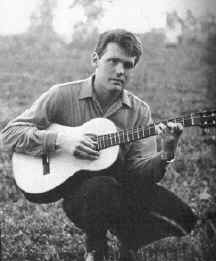 Eddy's phenomenally successful run of hits over the next few years was to some extent a variation on the "Rebel Rouser" theme. With cowboy whoops from the backup band helping driving things along, they weren't nearly as innovative as work of Link Wray during the same era, but they were much more popular. The singles -- "Peter Gunn," "Cannonball," "Shazam," and "Forty Miles of Bad Road" were probably the best -- also did their part to help keep the raunchy spirit of rock & roll alive, during a time in which it was in danger of being watered down. Much of that raunch was not solely due to Eddy himself, but to the honking sax solos of Steve Douglas, who would go on to become one of the top session players in the industry. Duane would have his biggest hit, however, in 1960, when he sweetened the twang with strings for the movie theme "Because They're Young."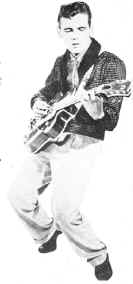 Eddy's records were also huge influences on legions of budding guitar players. In England, the Shadows no doubt took Eddy as one of their chief inspirations for their spare, moody sound, as one listen to their most famous hit, "Apache," makes obvious. More subtly, his influence can also be heard in the work of George Harrison. For evidence, listen to the growling riffs that decorate the verse of "I Want to Hold Your Hand."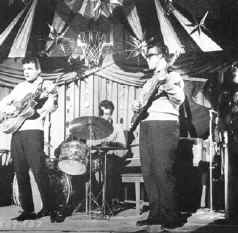 Eddy started to lose momentum in the early '60s, and left Hazelwood and the Jamie label in 1962 for the much bigger RCA. There he had a moderate hit with instrumental version of " The Palladin Ballad," the theme from the CBS television western Have Gone Will Travel, in which he also appeared "(Dance with the) Guitar Man," which featured an atypical chorus of female chorus dubbed the Rebelettes (actually Darlene Love and the Blossoms), would be his last Top 20 hit that same year. His albums -- often based on loose themes, like A Million Dollars Worth of Twang, Twisting with Duane Eddy, and Surfing with Duane Eddy -- kept him afloat to some degree. But his style doggedly refused evolution, although scattered cuts indicate he was capable of abandoning the twang for more bluesy or straight-out rock sounds.
The British Invasion wiped Duane out commercially, although he recorded intermittently for RCA, Colpix, and Reprise through the '60s with little success. Eddy appeared in a straight dramatic role in the 1968 motorcycle movie The Savage Seven and later moved to California. He backed B.J. Thomas's 1972 hit "Rock and Roll Lullaby" and produced Phil Everly's 1973 album Star Spangled Springer. He moved to Lake Tahoe in 1976 and had a British-only hit with " Play Me Like You Would Play Your Guitar" in 1975 and a country only hit with "You Are My Sunshine," backed by Waylon Jennings and Willie Nelson.

Duane Eddy 1986
Eddy returned to live performing in 1983, backed by Ry Cooder and Steve Douglas In 1986, he enjoyed a brief comeback when the Art of Noise built their "Peter Gunn" hit around his guest contributions; Paul McCartney, George Harrison, Ry Cooder, and Jeff Lynne all helped produce a 1987 album. It's that run of late-'50s and early-'60s hits, though, for which he'll principally be remembered.
Duane Eddy was inducted into the Rock and Roll Hall of Fame in 1994
Duane Eddy Career Synopsis