The Danleers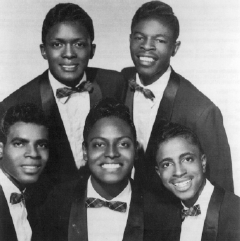 Top: l to r: Roosevelt Mays, Nat McCune
Bottom (l to r) Willie Ephraim, Jimmy Weston, Johnny Lee
The Danleers formed while teenagers in Brooklyn in 1958. The group's only big hit "One Summer Night" came the summer of 1958. Written by the group's manager Danny Welch it featured the lead voice of Jimmy Weston


Members -Mercury Records
Jimmy Weston - lead
Johnny Lee - first tenor
William Ephraim - second tenor
Nat NcCune - baritone
Roosevelt Mays - bass
Members - Mercury Records
Jimmy Weston
Louis Williams - first tenor
Douglas Ebron - second tenor
Terry Williams - baritone
Frankie Clemons - bass replaced by Bill Carey
Artist Biography by Craig Harris
With their debut single "One Summer Night," the Danleers became one of the most successful vocal groups of the late '50s. Written by the group's songwriter/manager Danny Webb and recorded during their first recording session, the tune reached the pop Top Ten and sold over a million copies. The Danleers were one of many vocal groups that arose out of the street corners, playgrounds, and tenement hallways of Brooklyn. Originally a quintet, featuring lead singer Jimmy Weston, baritone singer Nat McCune, bass vocalist Roosevelt Mays, and tenors Johnny Lee and Will Ephraim, the band's sound was reinforced by the addition of Webb.

Initially released on the Amp-3 label, "One Summer Night" quickly became a local hit and attracted the attention of Mercury, who reissued the tune in June 1958.

After performing at Alan Freed's Labor Day Extravaganza at the Brooklyn Fox Theater, the Danleers were invited to join Frankie Avalon, Bobby Darin, Eddie Cochran, Connie Francis, Dion & the Belmonts, Buddy Holly & the Crickets, Clyde McPhatter, and the Coasters in a nationally touring road show.

"One Summer Night" marked the last success for the Brooklyn-based group, however. After three attempts to recapture the momentum of "One Summer Night" failed, the group was dropped by Mercury. Reorganized, with different personnel, by Weston, the Danleers released two singles in the mid-'60s that failed to revive their early success.
The Dells


Clockwise from top: Chuck Barksdale, Mike McGill, Vance Allison, Johnny Carter, Marvin Junior
One of the most durable acts in vocal group history, the Dells stayed together for for thiry-five years with only one member change


Members:
Johnny Funches - lead - replaced by Johny Carter 1958
Marvin Junior - first tenor
Verne Allison - second tenor
Lucius McGill - baritone - replaced by Mickey McGill
Chuck Barksdale - bass replaced by Calvin Carter
After nearly four decades of recording an incredible legacy of hits, The Dells have made only one personnel change in their entire professional career. Perhaps that's why the venerable R&B vocal group can boast such a remarkably consistent track record. The quintet from Chicago's south suburbs has weathered stylistic shifts from doo-wop and soul to disco and urban contemporary, and every permutation in between. Their harmony remains as striking as ever, with Marvin Junior's earthshaking lead enduring as the group's focal point. Signing with Vee-Jay in 1955, their creamy vocal blend on

"Oh,What a Night" gave The Dells their first major R&B hit the next year, but it would be nearly a decade before they returned to the winner's circle with another dreamy classic, "Stay in My Corner." By then Chicago's R&B sound had changed drastically -- doo-wop was dead and soul was king -- but The Dells adapted effortlessly, regularly scaling the charts for the Chess subsidiary Cadet with "There Is," "Always Together," "Give Your Baby a Standing Ovation," and a marathon remake of "Stay in My Corner" that afforded Junior's booming baritone room to roam. Seemingly an indestructible force (turning up on the R&B charts as recently as 1984), the succinct harmonies of The Dells span entire generations of R&B history. ~ Bill Dahl, All-Music Guide
The Dells were inducted into the Rock and Roll Hall of Fame in 2004
The Del Satins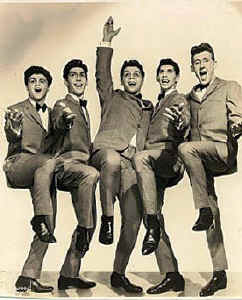 The Del Satins were one of the best white male doo wop groups.


Members:
Stan Sommers - lead - replaced by Carl Parker
Les Cauchi - first tenor
Richie Greene - second tenor
Freddie Ferrara - baritone
Tommy Ferrrara - bass
R&B artists the Del-Satins had few peers as practitioners of white doo-wop in the 60s. They were formed in 1958 in Manhattan, New York, USA, by Stan Ziska (lead), Fred Ferrara (baritone), his brother Tom Ferrara (bass), Leslie Cauchi (first tenor) and Bobby Fiela (second tenor). The Del-Satins was chosen as their name in open tribute to their principal influences, the Dells and Five Satins. Under the new name they secured a recording contract with End Records.Their debut single, 'I'll Pray For You', was released in 1961. New management was sought with Passions manager Jim Gribble, who found them a more permanent contract at Laurie Records. Their label star Dion was at the time grappling with diminishing chart returns after an impressive start, and wanted to replace his existing backing band, the Belmonts, with a 'rockier' troupe. The Del-Satins were instantly sent to work on Dion's new song, 'Runaround Sue', a two-week number 1 in the Billboard charts. Although their contribution to the hit was substantial, the Del-Satins received none of the credit. They stepped out on their own for 'Counting Teardrops' for Winn Records, before reuniting with Dion for 'The Wanderer', which stalled just one place short of the number 1 spot in the US charts. The follow-up, 'Lovers Who Wander', peaked at number 3, emphasizing the power of the Dion/Del-Satins coalition. While the combination was charting once more with the kazoo-led 'Little Dianne', the Del-Satins released 'Teardrops Follow Me', their first own-name outing to garner serious sales, after which they found regular work on television (Alan Freed) and radio (Freed and Murray The K). Back with Dion for the number 5 'Love Came To Me', the Del-Satins' own 'Does 'My Love Stand A Chance' did not fare well. In 1962 they moved to Columbia Records as part of Dion's new contract, which began with a version of the Drifters' 'Ruby Baby', another substantial hit at number 2. Still frustrated by their lack of recognition, in 1963 the Del-Satins auditioned for Phil Spector but declined his subsequent invitation to record with him. Meanwhile, in appreciation for their past efforts on his behalf, Dion wrote a song for the Del-Satins for single release, 'Feeling No Pain', but without his name to accompany it there was no chart return. Two more hits with their mentor followed, 'Donna The Prima Donna' and 'Drip Drop', before new manager Jay Fontana found the group a home at Mala Records. This relationship lasted for only one single, 'Two Broken Hearts', before three more efforts at B.T. Puppy Records. These included a rendering of the Drifters' 'Sweets For My Sweet', but afterwards Ziska left (for the Magnificent Men) and was temporarily replaced by Carl Parker. In 1966 the Vietnam War robbed the group of Cauchi and Tommy Ferrara, but the Del-Satins continued to play live with the addition of Richard Green, Mike Gregorio and Johnny Maestro (ex-Crests). When Cauchi returned he and the Del-Satins became Brooklyn Bridge. In 1991 the original Del-Satins re-formed for nostalgia shows.
The Dubs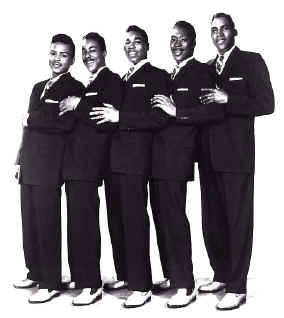 Left to right: William Carlise, Richard Blanton, Tommy Grate Cleveland Still, James Miller
The Dubs were the outgrowth of two fine but short lived mid-50s rhythm and blues groups, the 5 Wings and the Scale-Tones.


Members:
Richard Blandon - lead
Cleveland Still - first tenor
Cordell Brown - second tenor - replaced by William Carlisle
Tommy Grate - bass
James Miller - baritone
The Dubs made one of the mid-'50s' more endearing ballad records, "Could This Be Magic," in 1957. It wasn't a huge hit, but still became a doo wop classic. The group, featuring lead vocalist Richard Blandon, continued recording for Gone, Musictone, ABC, End, Josie, Wilshire, Lana, Candlelite, Johnson, and Clifton through the mid-'70s, but never enjoyed any success or made any headway outside doo wop circles. ~ Ron Wynn, All-Music Guide
The Duprees


From the left: John Salvato, Mike Arrnone, Joe Canzano, Joe Santollo, Tom Bialaglow, 1962
The Duprees made every ballad sound like an old standard


Members:
Joe Vann - lead - replaced by Mike Kelly
Joe Santollo - first tenor
John Salvato - second tenor
Mike Arnone - baritone
Tom Bialaglow - bass
One of the final Italian doo wop groups to make a wave in the early '60s, the Duprees were in some senses not a rock & roll act at all. They relied on updates of pre-rock pop standards for most of their material, dressed up in classy big-band arrangements. Their New Jersey street-corner roots were still audible in their doo wop harmonies, giving their treatments of moldy oldies enough of a contemporary flavor to compete in the rock and pop marketplace. They were very good at what they did, and in 1962-63, they were very successful: "You Belong to Me" (previously recorded by Jo Stafford, Patti Page, Dean Martin, and Joni James) made the Top Ten, and "My Own True Love" (from the soundtrack of Gone with the Wind), "Have You Heard," and "Why Don't You Believe Me" were also Top 40 hits. The Duprees were already retro when they were at their peak, and were washed out by the British Invasion, although they continued to record throughout the late '60s, sometimes in a Jay & the Americans/Vogues style. ~ Richie Unterberger, All-Music Guide
The Earls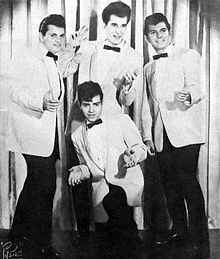 Back L to R: Robert Del Din, John Wray, Eddie Harder
Bottom: Larry Chance
A truly innovative group, the Earls interepted rhythm and blues ballads in their own rock and roll style



Members:
Larry Chance (real name Larry Figueiredo) - lead
Robert Del Din - first tenor replaced by Ronnie Calabrese
Eddie Harder - second tenor
Lary Palumbo - baritone
John Wray - bass - replaced by Bob Moricco

Among the more revered white doo wop groups, the Earls began as the High Hatters. They formed in 1957 at the Tecumseh Social Club in the Bronx. Lead vocalist Larry Figueiredo changed his name to Larry Chance; he was joined by Bob Del Din, Eddie Harder, Larry Palumbo, and Jack Wray. They started recording for Rome in 1961. They scored their lone hit in 1963 with "Remember Then" for Old Town. It barely cracked the R&B Top 30 (number 29), but they continued until 1970, when they disbanded. The Earls gave it another try in 1975 with Chance on board again, this time singing with Ronnie Calabreese and Tony Olbert.
Nino and the Ebb Tides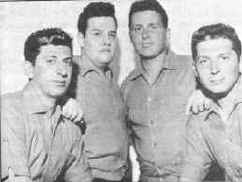 One of the first purveyors of rock nostalgia, Nino and the Ebb Tides started as the Ebbtides from the Bronx, in 1956


Members:
Antonio Aiello - lead
Tony Delesio - second tenor
Vinnie Drago - baritone
Rudy ? - Bass
Formed in the Bronx, New York, USA, the Ebb Tides (as they were originally called) featured classmates Antonio 'Nino' Aiello (lead), Tony Delesio (baritone), Vinnie Drago (bass) and Rudy (tenor). Their recording debut, 'Franny Franny', came after meeting talent scout Murray Jacobs in 1957. By the end of the year they had extended their title to Nino And The Ebb Tides and transferred to Recorte Records. Their second single, 'Puppy Love', saw Delesio and Rudy replaced by Tony Imbimbo (baritone) and Ralph Bracco (tenor). This sold well in the New York area, but, like its successors, 'I'm Confessin'' and 'Don't Look Around', it failed to make any national headway. In 1960 Tony DiBari replaced Bracco and the group moved to Marco Records. This resulted in only one single, 'Someday', before they joined Madison Records. Their first effort for Madison was a version of 'Those Oldies But Goodies (Remind Me Of You)', but its impact was dulled by a competing version by Little Caesar And The Romans. The Ebb Tides followed up with another nostalgic doo-wop record, 'Juke Box Saturday Night'. This at last brought them mainstream success. Like its predecessor, it used snatches of familiar doo-wop classics in the background, and peaked at number 57 in the US charts. Despite the breakthrough, Madison was suffering financial difficulties and the Ebb Tides moved on again, this time to Mr Peacock Records. However, 'Happy Guy' failed to chart, though more damaging was the group's decision to pass on a song written by Ernie Maresca, 'The Wanderer', which became a massive seller for Del-Satins. The Ebb Tides folded in 1965 after a handful of singles for ever more obscure labels. They did reunite in 1971, however, and again in the 80s for a series of 50s revival show
The Edsels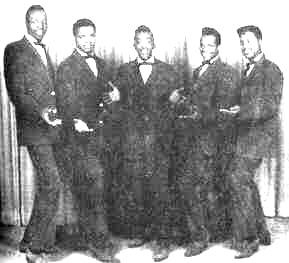 L to R: Marshall Sewell. Larry Green, George Jones Jr., Harry Green, James Reynolds
If you don't succeed now, pray someone plays your record later, is a bit of advice that would have beenpresscient for the Edsels.

Members:
George Jones Jr. - lead
Larry Green - first tenor
Harry Green - baritone
James Reynolds - second tenor
Marshall Sewell - bass
A brief encounter with fame came for the Edsels when they recorded the doo wop masterpiece "Rama Lama Ding Dong." Originally released in 1959, the single became a hit some three years after its initial release, thanks to the efforts of diligent record collectors and disc jockeys.

Taking their name from Ford's legendary failed automobile, the Edsels formed in the tiny mill town of Campbell, OH, in the late '50s. The group consisted of lead vocalist George Jones, Jr., James Reynolds, Marshall Sewell, Harry Greene, and Larry Greene. The group auditioned for a local Ohio music publisher in 1958. Through the publisher, the group landed a record deal with the small Dub Records. The Edsels' first single was a song Jones had written, "Rama Lama Ding Dong." The first pressings on Dub Records were mislabeled "Lama Rama Ding Dong."

"Rama Lama Ding Dong" became a local hit, but made no impact nationally. In 1961, disc jockeys began playing the song again because it sounded similar to the Marcels' current hit, "Blue Moon." Within a few months, the single was re-released on Twin Records -- this time with the correct song title -- and it quickly scaled the pop charts, peaking at number 21. Ironically, the group had broken up by the time "Rama Lama Ding Dong" became a hit in 1961.
The Elegants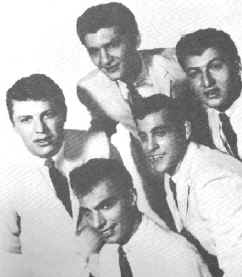 (clockwise from top) Frank Fardogno, Carmen Romano, Jimmy Moschella, Vito Picone, Artiie Venosa
A Mozart melody became an inspiration for these five singing teenagers in Staten Island, New York


Members:
Vito Picone - lead
Artie Venosa - first tenor
Frank Fardogno - second tenor
Carmen Romano - baritone
Jimmy Moschella - bass
This New York doo wop group earned notoriety for their masterpiece "Little Star" in 1958, which topped both R&B and pop charts. They were a White ensemble led by Vito Picone, With Arthur Venosa, Frank Tardogno, Carmen Romano, And James Mochella. All had been in other groups before uniting as The Elgins. They continued recording for Hull, United Artists, Limelight, Photo, IPG, and Laurie through the '50s, '60s and into the '70s, but never had another hit, despite cutting a number of solid ballads. There were two other editions in the mid-'60s, Vito Piccone with the Elegants and Vito & The Elegants. ~ Ron Wynn, All-Music Guide
The Eternals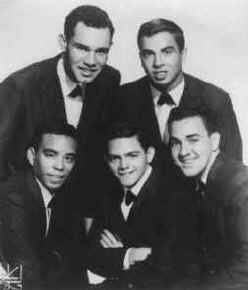 The Eternals were a novelty-record vocal act with a Latin styling


Members:
Charlie Girona - lead
Fred Hodge - first tenor
Ernie Sierra - second tenor
Arnie Torres - baritone
Alex Miranda - bass
Artist Biography by Bryan Thomas

These Eternals were a vocal group who scored big with "Rockin' in the Jungle"; the "other" Eternals were based in Winnipeg, Manitoba, and recorded several cover songs that became Canadian hits in the late '60s.

The Eternals formed during the late '50s, in the Freeman Street neighborhood of the Bronx, where the quintet -- Charlie Gerona on lead, Fred Hodge on first tenor, Ernie Sierra on second tenor, Arnie Torres on baritone, and Alex Miranda on bass -- started out singing in junior high school as the Gleamers, cutting their teeth on covers by the Flamingoes and the Spaniels; Gerona, meanwhile, was crafting songs in the humorous pop tradition of the Coasters, the Cadets, and the Olympics. Soon the Gleamers were calling themselves the Orbits, and developing a sound all their own. A novelty Gerona penned for the holidays, "Christmas in the Jungle," which came complete with jungle sounds and bird calls (mostly done by Torres) received airplay from the Murray the K and WABC's disc jockey Bruce Morrow's shows and soon became their calling card.

Their new manager, Bill Martin, a friend of Morrow's, then turned them on to Melba Records chief Morty Craft, who put the group in Beltone Studios in late spring of 1959 to record the song, which by now had been changed to "Rockin' in the Jungle." The group also felt that a new name was in order and crowned themselves the Eternals, no doubt hoping for everlasting success. "Rockin' in the Jungle" was released in early summer on Craft's new Hollywood Records label, becoming an immediate hit in New York (number 11 locally). On July 13th, the song hit Billboard's national Pop Charts, where it lodged at number 78. The Eternals' second novelty release -- "Babalu's Wedding Day" -- was just starting to break, when the Etemals' manager felt compelled to sue shady booking agents who were apparently attempting a less-than-ethical move on the group. As a result of the court case, "Babalu's" distribution was stopped and the Eternals were denied their shot at stardom. (The single became a jingle on WABC disc jockey Bob Lewis' radio show and helped kept the group's image alive for years to come).

In January 1961, the Eternals' last single was issued through Morty Craft's Warwick Records. The A-side was written by new member George Villanueva, who also sang lead, and should have been a hit but more legal entanglements kept the record from charting. The group disbanded in 1962, but by 1972 they re-emerged for a show at the Academy of Music (the lineup now featured Ernie Sierra, George Villanueva, Arnie Torres, Richard Sierra, and Hector Garcia). Another lineup -- Sierra, Villanueva, Herman Velez, Tito Santiago, and Freddie Clavel -- are still going strong today on the oldies circuit.