The Passions


One of Brooklyn's white doo wop groups, the Passions helped further the career of two top writers/artist


Member:
Jimmy Gallagher - lead
Tony Armato - first tenor
Albee Galione - second tenor
Vinnie Acierno - baritone
Artist Biography by Ron Wynn

An above-average white doo wop ensemble from Brooklyn, the Passions' abilities often exceeded the quality of their material. They began as the Sinceres, then changed their name to the Passions when they began recording in the late '50s. Lead vocalist Jimmy Gallagher, Tony Armato, Albie Gallone, and Vinnie Acierno comprised the group. They never managed either an R&B or pop hit, despite doing sessions for Audicon, Diamond, Jubilee, and Octavia. Their debut for Audicon, "Just to Be With You," made significant impact, but they couldn't sustain the momentum. Another beloved Passions number is "Gloria."
The Pastels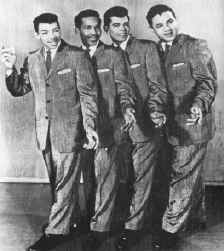 L to R: Tony Thomas, J.B. Willingham, Richard Travis, Dee Irwin
One of the few American vocal groups to form outside the continental U.S., the Pastels came together in Narasarssuak, Greenland


Members:
Dee Irwin - lead
J.D. Willingham - baritone
Tony Thomas - second tenor
Richard Travis - first tenor

Artist Biography by Jason Ankeny

Doo wop group the Pastels formed in 1954. At the time, lead DiFosco "Dee" Erwin, first tenor Richard Travis, second tenor Tony Thomas, and baritone Jimmy Willingham were all stationed at a U.S. Air Force base in Narsarssuak, Greenland, and their first live appearances were in conjunction with military showcases. According to Marv Goldberg's profile in the December 1977 edition of Yesterday's Memories, all four Pastels were eventually transferred to Washington, D.C., and following a well-received performance at the USAF's annual "Tops in Blue" talent show, the group decided to pursue a record contract, eventually landing with the small Hull label. Their debut, "Been So Long," hit retail in November 1957, and when it seemed poised for breakout success, Chess Records licensed the disc for national distribution, reissuing the single on its Argo subsidiary a month later. In early 1958, "Been So Long" reached the R&B Top Five, also crossing over to
number 24 on the Billboard pop chart. After extensive touring as part of DJ Alan Freed's Big Beat Show, the Pastels returned to the studio to cut a follow-up, "You Don't Love Me Anymore." The record failed to match the success of its predecessor, however, and when their third Argo release, "So Far Away," met the same fate, the group dissolved in early 1959. Dee Ervin returned to his native New York City and mounted a solo career, scoring a 1963 hit with his cover of the World War II-era favorite "Swinging on a Star."
Randy and the Rainbows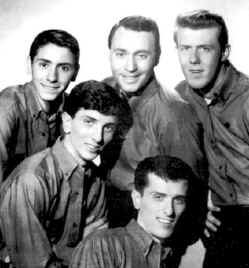 One of the last pop doo wop groups to make the Top 10 before the Beatles invaded America


Members:
Dominick "Randy" Safuto - lead
Frank Safuto - first tenor
Sal Zero - second tenor
Mike Zero - baritone
Ken Arcipowski - bass
One of the last pop doo wop groups to hit the top 10 before the Beatles barnstormed American radio (acutely Dion & the Del -Satins were the last. reaching number six with "Drip Drop" on December 28, 1963), Randy & the Rainbows were a Maspeth, Queens, quintet with hopes of lasting success that were dashed by the death of a president and foreign "invasion". In 1959, 12-year-olds Dominick Safuto, his brother Frank, cousin Eddie Scalla, and Rosalie Calindo on Lead formed the Dialtones.

They managed one obscure single, "Till i heard it from you", for George Goldner's Goldisc Label in 1960. The Hilight of that session might have been the period the Dialtones spent sitting in the studio waiting room with idols Little Anthony & the Imperials awaiting their turn to record. In 1961 Goldisc tried again, releasing the Dialtones single for another shot at the charts. It didn't work. Dom (Lead) then joined up with friend Mike Zero (Baritone) to form a new group with Mike's brother Sal (Second Tenor) and Ken Arcipowski (Bass) as the Encores. When the Grover Cleveland High School Quartet decided to fill out their sound as a quintet, Dom convinced his brother and ex-Dialtone member Frank (First Tenor) to Join, and they renamed themselves Junior & the Counts.

The Counts started Playing church festivities, sweet sixteens, and the like until they came to the attention of frank Carrarie, who became their manager and introduced them to songwriter Neil Levenson. Neil brought them to bright tunes productions, which was really the creative base of singing-group-turned-producers the Tokens.

The Tokens produced the Group on two songs written by Levinson titled "Denise" and "Come Back", but before they could issue them on Rust subsidiary Laurie Records, a more commercially acceptable group name had to be chosen. The Schwartz Brothers, owners of Laurie, renamed them Randy & the Rainbows.

Dom became Randy and "Denise" became a monster hit. By August 24th it was number 10 nationally. with its gust-of-wind styled "oohs" on the into, a Four Seasons type of arrangement, and Randy's attractive lead, "Denise" crossed over the R&B chart on September 14th and peaked at number 18. It reached as high number two on New-York's local Radio Charts.

A cross country tour grew out of "Denise's" success, and the five 16 years olds were living in fantasyland performing alongside Dionne Warwick, the Chiffons, Timi Yuro, Darlene Love and the Four Seasons. They also did Murray the K's Brooklyn Fox Labor Day show for 10 days and were in awe of the talent around them, including Ben E. King, The Ronettes, The Miracles, The Dovells, The Chiffons, The Tymes, Little Stevie Wonder, The Angels (Whose "my boyfriend's back" beat them out of the top spot in New York), The Shirelles, Jan & Dean, Gene Pitney, and for one day only (as the poster said), The Beach Boys.

The Rainbows' next release, "Why do kids grow up", was a similarly infectious doo wop rocker that was released in the fall of 1963. It stopped, along with the country's heartbeat, when one week later President John F. Kennedy was assassinated. The record was affected (as countless others); due to lack of interest during the country's turmoil, it barely charted nationally (#97, December 14, 1963).

From there on Rust singles like "Dry your Eyes", "Little Star" (The Elegants song), and "JoyRide" had little support and not much of a chance when the British invasion hit America.

The group continued to perform, but mostly on New York area one-nighters. They appeared on Jerry Blavat's Philadelphia TV show as well as on Clay Cole's New York TVer.
The Rays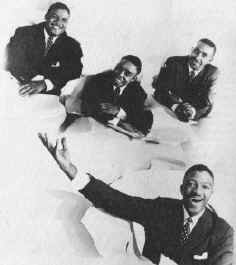 To L to R: Dewey Jones, Harry James, Walt Ford
Bottom: Hal Miller
The Rays were probably the music business's most fortunate beneficiaries of the effects of subliminal message.


Members:
Harold "Hal" Miller - lead
Walter Ford -first tenor
Davey Jones - second tenor
Harry James - baritone
This R&B group consisted of Harold Miller (b. 17 January 1931), tenor Walter Ford (b. 5 September 1931), second tenor Davey Jones (b. 1931) and baritone Harry James (b. 1932). It was formed in New York in 1955, when two refugees from the Four Fellows (of 'Soldier Boy' fame), Miller and Jones, teamed up with James and Ford. They first recorded for Chess with no success, then moved to the Philadelphia-based Cameo label in 1957 and achieved lasting fame, albeit as one-hit-wonders, with 'Silhouettes.' The song went to number 3 both R&B and pop in late 1957. The flip-side, the rousing jump led by Ford, 'Daddy Cool', received solid play and briefly charted. These songs are much better known than the Rays, having been remade innumerable times. Herman's Hermits in 1965 and Cliff Richard in 1990 both took 'Silhouettes' up the charts, while British revivalist band Darts, in 1977, and Boney M in 1976, each took 'Daddy Cool' into the UK Top 10.
The Regents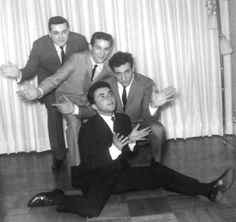 An Italian doo wop group from the Bronx, the Regents began in 1958 as the Montereys


Members:
Guy Villari - lead
Sal Cuomo first tenor
Charles Fassert - second tenor
Don Jacobucci - baritone
Tony Gravana - bass
Artist Biography by Andrew Hamilton

Guy Villari (lead), Sal Cuomo (first tenor), Ernie Maresca (baritone), and Chuck Fassert (second tenor) formed in the Bronx, NY, in 1958 as the Montereys. Signing with Seville Records, they cut two Maresca songs that went unreleased, and soon Donnie Jacobucci replaced a disappointed Maresca. They recorded their demonstration records at the Regents Sound Studios, prompting a name change to the Regents, but their first release didn't happen until 1961, three years after they
started.

"Barbara Ann" was recorded in 1958, but more than 50 recording companies said "no," causing them to disband before 1959 rolled around. Jacobucci's younger brother Eddie revived the Regents by accident. His group, the Consorts, lacked original songs for an audition so they cut a version of "Barbara Ann" from an old demo Eddie found around the house. When the owner of Cousins Records heard the song, he decided to put it out, not by the Consorts, but by the Regents. With Eddie replacing Guy, the original group reunited, and Cousins released "Barbara Ann" in March of 1961. The stuttering doo wop became a number one record in New York; the demand was overwhelming and Cousins leased it to Roulette/Gee for worldwide distribution and saw it soared to number 13 pop and number seven R&B.

A second single, "Runaround," charted at number 28 pop and number 30 R&B; a third single, "Liar," didn't chart, and neither did a fourth,"Oh Baby." They disbanded but emerged in 1964 as the Runarounds, waxing and releasing five singles on as many labels. The Runarounds were Villari, Fassert, Ronnie Lapinsky, and Sal Corrente; their first single, "Unbelievable," on Nat King Cole's short-lived KC label in 1963 didn't sell nor did their last, "You Lied," on MGM in 1967. Again they separated but reunited as the Regents in 1973 to play the oldie circuit. A copy of "Barbara Ann" on the Cousin label fetches around 1,200 dollars; the same recording on Gee sells for 25 dollars or less.