Bo Diddley

Bo Diddley, was an American singer, guitarist, songwriter and music producer who played a key role in the transition from the blues to rock and roll. His use of African rhythms and a signature beat, a simple five-accent hambone rhythm, is a cornerstone of hip hop, rock, and pop music.


Born in McComb, Mississippi, as Ellas Otha Bates, he was adopted and raised by his mother's cousin, Gussie McDaniel, whose surname he assumed. In 1934, the McDaniel family moved to the South Side of Chicago, where he dropped the Otha and became Ellas McDaniel. He was an active member of Chicago's Ebenezer Baptist Church, where he studied the trombone and the violin, becoming so proficient on the violin that the musical director invited him to join the orchestra. He performed until he was 18. However, he was more interested in the pulsating, rhythmic music he heard at a local Pentecostal church and took up the guitar.

Inspired by a performance by John Lee Hooker, he supplemented his income as a carpenter and mechanic by playing on street corners with friends, including Jerome Green in the Hipsters band, later renamed the Langley Avenue Jive Cats. Green became a near-constant member of McDaniel's backing band, the two often trading joking insults with each other during live shows. During the summers of 1943 and 1944, he played at the Maxwell Street market in a band with Earl Hooker. By 1951 he was playing on the street with backing from Roosevelt Jackson on washtub bass and Jody Williams, whom he had taught to play the guitar. Williams later played lead guitar on "Who Do You Love?" (1956).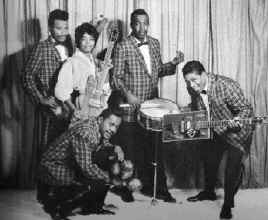 Back left to right: Lester Davenport, Norma-Jean Wofford and Frank Kirland
Front: left to right: Jerome Green and Bo Diddley
Photo courtesy Michael Ochs Archives
In 1951, he landed a regular spot at the 708 Club, on Chicago's South Side, with a repertoire influenced by Louis Jordan, John Lee Hooker, and Muddy Waters. In late 1954, he teamed up with the harmonica player Billy Boy Arnold, the drummer Clifton James and the bass player Roosevelt Jackson and recorded demos of "I'm a Man" and "Bo Diddley". They re-recorded the songs at Chess Studios, with a backing ensemble comprising Otis Spann (piano), Lester Davenport
(harmonica), Frank Kirkland (drums), and Jerome Green (maracas). The record was released in March 1955, and the A-side, "Bo Diddley", became a number one R&B hit.

On November 20, 1955, Diddley appeared on the The Ed Sullivan Show. When someone on the show's staff overheard him casually singing "Sixteen Tons" in the dressing room, he was asked to perform the song on the show. Seeing "Bo Diddley" on the cue card, he thought he was to perform both his self-titled hit single and "Sixteen Tons". Sullivan was furious and banned Diddley from his show, reputedly saying that he wouldn't last six months. Chess
Records included Diddley's cover of "Sixteen Tons" on the 1960 album Bo Diddley Is a Gunslinger.

Diddley's hit singles continued in the 1950s and 1960s: "Pretty Thing" (1956), "Say Man" (1959), and "You Can't Judge a Book by the Cover" (1962). He also released numerous albums, including Bo Diddley Is a Gunslinger and Have Guitar, Will Travel. These bolstered his self-invented legend. Between 1958 and 1963, Checker Records released eleven full-length Bo Diddley albums. In the 1960s he broke through as a crossover artist with white audiences (appearing at the
Alan Freed concerts, for example), but he rarely aimed his compositions at teenagers.

In 1963, Diddley starred in a UK concert tour with the Everly Brothers and Little Richard along with the Rolling Stones.




The Duchess
Photo courtesy Michael Ochs Archives
Diddley included women in his band: Norma-Jean Wofford, also known as The Duchess; Gloria Jolivet; Peggy Jones, also known as Lady Bo, a lead guitarist (rare for a woman at that time); Cornelia Redmond, also known as Cookie V; Debby Hastings, who led his band after guitarist Jim Satten resigned..

Diddley on tour in Japan with the Japanese band Bo Gumbos Over the decades, Diddley's performing venues ranged from intimate clubs to stadiums. On March 25, 1972, he played with the Grateful Dead at the Academy of Music in New York City. The Grateful Dead released part of this concert as Volume 30 of the band's concert album series, Dick's Picks. Also in the early 1970s, the soundtrack of the ground-breaking animated film Fritz the Cat contained his song "Bo Diddley", in which a crow idly finger-pops to the track.

Diddley spent some years in New Mexico, living in Los Lunas from 1971 to 1978, while continuing his musical career. He served for two and a half years as a deputy sheriff in the Valencia County Citizens' Patrol; during that time he purchased and donated three highway-patrol pursuit cars.[33] In the late 1970s, he left Los Lunas and moved to Hawthorne, Florida, where he lived on a large estate in a custom-made log cabin, which he helped to build. For the remainder of his life he
divided his time between Albuquerque and Florida, living the last 13 years of his life in Archer, Florida, a small farming town near Gainesville.

In 1979, he appeared as an opening act for The Clash on their US tour. Blues Brothers.

On May 13, 2007, Diddley was admitted to intensive care in Creighton University Medical Center in Omaha, Nebraska, following a stroke after a concert the previous day in Council Bluffs, Iowa.The next day, as he was heading back home, he seemed dazed and confused at the airport; 911 and airport security were called, and he was immediately taken by ambulance to Creighton University Medical Center and admitted to the intensive care unit, where he stayed for several days. After tests, it was confirmed that he had suffered a stroke.Diddley had a history of hypertension and diabetes, and the stroke affected the left side of his brain, causing receptive and expressive aphasia (speech impairment).The stroke was followed by a heart attack, which he suffered in Gainesville, Florida, on August 28, 2007.

Bo Diddley died on June 2, 2008, of heart failure at his home in Archer, Florida.

Bo Diddley was inducted into the Rock and Roll Hall of Fame in 1987